Belay Shades

Frame Fit

Colors

Reviews

Prices

Search Within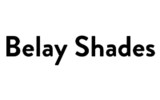 Compare at $50.00
Closeouts
Reviewed by Ryan from Pittsburgh on Thursday, November 10, 2016

I ordered these after having a transformative experience using my friend's Belaggles, but balking at the price of the Belaggles ($90). These definitely help. But the prisms are small, and framed all around. So the range of vision is pretty small, which means that after your climber moves beyond 35 ft or so, you have to start tilting your head back, even with the glasses. This was not the case with the Belaggles, which had a much wider angle of view. I have now used this pair for maybe a total of 10 hours of actual belaying, and my neck still gets belayer's neck, though much more slowly than without the glasses. I'm writing this review because I've decided to upgrade to a better pair.

Verified Buyer

Reviewed by JuJu from Colorado on Monday, October 17, 2016

Great for belaying. Take a bit to get used to and definitely be careful with them on uneven ground. The cord that is supposed to keep them around your neck when not in use though sucks. Invest in an upgrade.

Verified Buyer

Reviewed by scottyclimbs from chattanooga on Wednesday, August 17, 2016

Heavy, and prisms too low angle for steep routes. Still found myself craning my neck to look up. Cool tortoise shell frames, though.
Receive email updates for new Belay Shades items