Bell Canoe 14' Yellowstone Solo Royalex Canoe with Vinyl Rigging
Item #1148E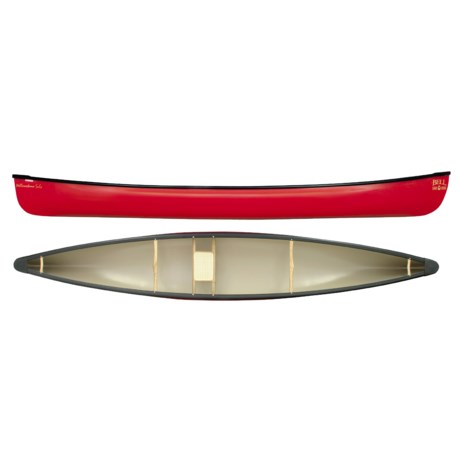 Overview
About Bell Canoe 14' Yellowstone Solo Royalex Canoe with Vinyl Rigging
2nds. Designed for the adventure-seeking soloist, the agile Yellowstone solo touring canoe from Bell Canoe is ready for your next downriver excursion or reservoir jaunt.
Royalex Construction
Cane seat
Vinyl gunwale
Weight capacity: 650 lb.
Length: 14'
Width: 30"
Depth: 12-½"
Weight: 47 lb.
Material: Vinyl and ABS (Royalex)
2nds. USA.
Boats are cosmetic 2nds and may come with minor blemishes, not unlike those that will be incurred on the first outing. To ensure your satisfaction, please inspect upon arrival and notify Sierra Trading Post immediately with any problems. Delivery Charge: $125. Must ship via truck within the continental U.S. only. Cannot be applied to special shipping offers.
Specs
Specs about Bell Canoe 14' Yellowstone Solo Royalex Canoe with Vinyl Rigging
Reviews
About Bell Canoe
Bell Canoe Works builds canoes that are legendary for their unique feel on the water. Each Bell Canoe design represents the collaboration of canoe racer Ted Bell and designer David Yost, who understand and celebrate all canoeists from day-trippers to hardcore backcountry paddlers. Bell offers a world-class canoe for every paddling application, from extreme whitewater canoes and solo touring canoes to standard touring models for wilderness adventures and fishing. Resilient materials, hydro-dynamically balanced hulls and a unique differential rocker design make Bell canoes forgiving, efficient and easy to maneuver in just about any type of water. Whatever type of paddling you do, the quality and performance of a Bell canoe will make your time on the water more memorable and enjoyable.