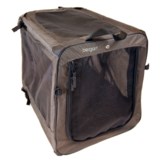 Closeouts. Bergan's dog travel crate keeps your pet contained either at home or on-the-go. Constructed of lightweight steel poles and durable fabric, it folds easily for transit and is sturdy enough to securely contain pets when in use.
Average Rating based on
3
reviews
4.333333
0
5
Verified Buyer

Reviewed by cora from central new york on Saturday, August 2, 2014

We needed a soft crate for our 3 yr old 80 lb great pyrenees lab mix. She's a ball full of energy but enjoys being in a crate. I wouldn't recommend any soft crate for a dog that would try to get out. The crate is lightweight, sturdy, very well made and it's HUGE! Perfect size width and length but hight is just a little more than needed. Overall we highly recommend it and for the price, it cannot be beat. We are looking forward to bringing it on our summer vacation- so easy to transport and our pup will have a safe place to be if she needs a break:)

Reviewed by Furi from St. Louis Missouri on Thursday, March 20, 2014

Very happy with this crate especially considering the cost. I'm 5'2 and in my 60s so it is a little bulky and heavy but no more than other crates costing triple the price. I would highly recommend this object

Reviewed by Borzoi from ID on Thursday, October 3, 2013

The size of this crate is great, as are the proportions. It has good width, which will help prevent tipping and which is more comfortable for long-legged dogs than narrower crates. I do see some issues with it though. The pole carrying system seems a bit flimsy, and with a lot of wear and tear, I think it might fail. Since I have not had this crate long, I can't assess durability. But it lacks protective pads under the bottom corners, which can wear through. The poles are not spring loaded, they are fixed length. Unlike other crates, they do not go on the inside, and they do not actually butt directly into the frame. They go into pockets on the outside instead, and are held in place by tension on them from a fabric flap. So, you have to be sure to get them all the way down, which in a crate this size is easier done by 2 people than by 1 person. That's a disadvantage. Once you do get the pole all the way down where it needs to be, you have to make sure it's centered well on the fabric flap, otherwise it pops out to one side or the other. Due to the tension of the poles on fabric because they are not butted into the rest of the metal frame, there will be wear in these areas. They do have a thin plastic covering one end where the pole sits, and the flap fabric is doubled; but still, this whole system is a real weak point. Love the size, would rather have paid a little more and had the poles be the usual spring-loaded ones that butt directly into the metal frame from inside the crate, rather than this external, hokey system. Do love the size however. Only time will tell about durabilty.