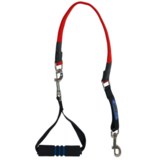 Closeouts. Bergan's EZ Steps stretch dog leash is the most comfortable way to take a stroll with your pooch. Strong and durable Mighty Max rubber eases strain caused by dogs that have a tendency to pull or jump.
Average Rating based on
6
reviews
4.833333
0
5
Verified Buyer

Reviewed by JennyN from McGrady, NC on Wednesday, June 4, 2014

Comfortable dog leashes (for the human of the duo, anyway) are hard to find. There are two features that make this leash just about perfect. First, the handle is fashioned so that the leash doesn't tighten around your hand when your dog pulls. Second, the leash has a kind of stiff elasticity (the colored part of the leash) that gives you a break if your dog leaps forward or to the side. It is not a cushy kind of give that lets your dog leap far, but a more business-like give that, again, gives you a small respite but doesn't let your dog get much mileage out of an improper leap. The leash is durable and beautifully made with heavy-duty fasteners that allow you to lenghten the leash, if you wish, by adding an extra piece. Buy one before they sell out!

Reviewed by none from Indiana on Wednesday, May 21, 2014

I have a Malonois/Hound mix. A good girl but both stubborn/smart breeds. She pulled harder than a horse. .She was a terror to take on a walk until this leash. This leash stopped it. She realized the first walk that if she pulled she snapped herself back. I make clicking sounds to come along and now if I click she hurries back to me. Suddenly a very well behaved dog and the leash and handle are comfortable for me too. Walks are fun now. One note, its very easy to unattach the handle snap if you grab the leash. I grabbed the bottom of the leash once when she wanted to run into a huge dog's yard and the handle came undone and the dog was suddenly loose. Thankfully I had taught her the "halt" command, hence the 4 stars. Otherwise dog fight may have ensued.

Verified Buyer

Reviewed by The Fisherman from Pennsylvania on Monday, May 19, 2014

We have been using the leash for a week or so and it appears to be made well. The handle is very comfortable. Our old leash would dig into our hand when we took our very excited 7 month old Goldendoodle pup for walks around the neighborhood. The stretch in the leash (Max about 2 feet because our dog is very strong - Over 50 LBS) allows us to train and correct him without risking injury to his neck.

Verified Buyer

Reviewed by Karen from Texas on Thursday, April 17, 2014

I have arthritis in my hands. This leash does not close up on my hand reducing pain and damage. The middle of the leash is slighly elastic so my can pull some and it does not pull me. I love it!

Verified Buyer

Reviewed by DogLover5934 from Utah on Wednesday, April 9, 2014

This leash appears to be well-made. It is a little shorter than I had hoped, but makes a good lead for when you want your dog right next to you. The clips make it possible to hook 2 dogs together. Time will tell how well this lead holds up. So far, so good.

Reviewed by Mainer from Maine on Thursday, March 20, 2014

I have developed terrible tendon pain in my elbows from my dogs pulling on their leashes. The EZ Steps dog leash is the cure! I have a boxer mix and a lab mix which, when combined, outweigh me. Walking can be a match of wills, but no more! I couldn't be happier!