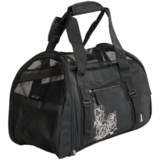 Closeouts. Designed for in-flight use, Bergan's Signature Series Comfort pet carrier features a removable fleece travel bed that's easy to wash, offers lots of ventilation and has easy zip access to supply treats and comfort for your furry friend.
Average Rating based on
5
reviews
4.600000
0
5
Verified Buyer

Reviewed by Vegas Lou from Las Vegas, NV on Friday, October 31, 2014

I ordered the "Large" carrier and they sent me a "small" that was a different size and color but I didn't mind because it's for my cat and he can easily fit inside the smaller one. This carrier bag is really nice and compact and looks super comfortable for your pet. There's a nice cushiony pad inside for comfort and the straps and bottom are very sturdy. I also think the zippers are very high quality with plenty of vent / air holes so I feel safe putting my furry friend inside. Just beware that an animal no larger than a small cat will fit comfortably inside. No matter the size, this is a very nice item and a great buy.

Verified Buyer

Reviewed by catfostermom from Inland Empire, CA on Tuesday, August 12, 2014

As an alternative to the hard plastic carrier, I thought I'd give this a try for the great STP price. Many practical and thoughtful features. Cats were fascinated by it immedately and felt comfortable spending time inside - their choice. I understand this may be too large for airline travel, but for trips to the vet or any car travel, this is great. I have looked at softside carriers and resisted because some are very expensive; thanks, STP, for the opportunity to own one. I think it will be far easier to carry and maneuver than the hard plastic kind.

Verified Buyer

Reviewed by nickygsmom from Boston on Friday, July 18, 2014

I like the partial zip for the head to peek out, and the faux pocket that you can use to pet your pet is very clever! My dog liked the carrier almost immediately, and once she was in, she didn't want to come out. However, I did dock one star for the main zippers. I thought it would have been smart to have two way zippers for those days when you can't remember which side the zipper is on and your dog happens to be struggling. This may have been a good safety decision on the part of the designers, as one way zippers tend to stay put more than 2-way. The fleece bed is great. Overall, a very good product and great value.

Verified Buyer

Reviewed by jpmrn from Keene Valley, NY on Tuesday, June 24, 2014

This is a wonderfully designed dog carrier. It has mesh on all sides so the dog can see out. It unzips in a way that only their head could stick out if you wanted. There is a comfy mat, easily washable, even a shoulder strap for carrying. The problem is that it is too big for most airlines today. The only airline I could find that allowed this size was American Airlines. It would be great for trains or buses if allowed or even car travel.

Reviewed by Craftymom from Ohio on Saturday, June 14, 2014

Bought this to replace a hard plastic carrier for our cat. It's so much easier to get in and out of the car as well as being nice and roomy for our pet. The bed is plush and is attached to the floor of the carrier with Velcro to keep it from sliding. Allows for great visibility and is easy to carry with attached shoulder strap. Another great buy from STP!!