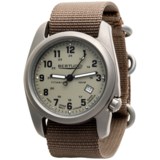 Closeouts. The signature style that inspired the look of this whole brand, Bertucci's A-2T Original classic watch is ruggedly handsome and reliably accurate -- a real weekend warrior timepiece.
Average Rating based on
18
reviews
4.500000
0
5
Verified Buyer

Reviewed by Kayak Man from Tampa Bay, FL on Saturday, June 21, 2014

This is my second Bertucci watch in 9-years. I am a 12-month a year seakayaker. That means my watch is in salt water a minimum of eight hours a week. My first watch lasted 9-years in this tough environment. I upgraded to a little better model this time. The reason was that the case is completely titanium. I do a lot of kayak camping and the A-1 actually glows at 3:00 am in a dark tent. Also, the watch comes with a ten year battery. This means that I don't have to take off the back of the watch for ten years. Because of the environment I paddle in, getting the battery changed is always a crab shoot to see if the jewler sealed the watch correctly. If you want a rugged watch, this is it.

Verified Buyer

Reviewed by Mary from Sacramento on Saturday, June 21, 2014

This is a great watch. You can't hear the ticking, it's easy to read, the date is convenient (although it must be reset when the month has fewer than 31 days), and it glows well enough through the night if it gets a little sun during the day.

My only problem was that it was too big for my wrist. I have an average woman's wrist size. I will try to explain: The band is stiff and it is not attached at the ends of the face; it is one piece that travels under the face and over the top and bottom. This causes a problem because it can't come down around your wrist from the face at a 90 degree angle; it bulges out first and leaves a lot of room if you don't have a large wrist, no matter how tight you make it.

Solution: I thought I would have to send it back, but I really wanted to make it work. I just replaced the band with black elastic from my elastic collection (I am an avid seamstress) and it looks great. It fits well, is comfortable to wear and is easy to take on and off.

Verified Buyer

Reviewed by Wrist Watcher from California on Saturday, June 21, 2014

I like timepieces which are a bit out of the ordinary, without making me squint or come down with carpal tunnel syndrome. It keeps quite accurate time and has not been adversely affected by my fishing (float tubing in ponds to surf casting the Pacific) "expeditions" which leave very little dry. This is a relatively subtle departure from the Wenger wardrobe, yet, it still grabs a few glances. Not as many as the Lancaster purchased last year, but, you have to change them around.

Verified Buyer

Reviewed by Buffalo Bob from Kent, WA on Wednesday, May 28, 2014

Good fit with high quality.

Verified Buyer

Reviewed by John from tennessee on Thursday, May 22, 2014

This is my second of these watches. The price was good, they look good, and are easy to read in light and dark. My first watch lasted two years, then needed a new battery, and now keeps erratic time. I expected the watch to last 5 or 10 years. It did not. Otherwise it is terrific.

Verified Buyer

Reviewed by richardbailey from California on Tuesday, May 20, 2014

I am very happy with the watch and continue to be happy with the service.

Verified Buyer

Reviewed by Mathew from CA from CA on Tuesday, May 20, 2014

The watch is surprisingly light and good looking. I like th screw down stem and raised bezel to protect the front glass. If it had tritium lights it would be perfect. That watch is $400 so I got a screaming deal on this one at about $70. Good watch at a good price. I'd but another one if I needed it.

Reviewed by None Given from Washington on Monday, May 5, 2014

I have had this watch for about a week. I know, it hasn't been too long yet. That being said, I have yet to find hardly any negative reviews on-line. The watch is just the right size and the band is perfect. It has a 22mm 2-ring Maratac Zulu style band. I personally prefer the 2-ring band as the 4-ring bands that are so popular amongst the tacti-cool crowd, is too bulky. While it only has a 3 year battery, I expect the watch itself will last for years. I also expect the band will last for a long time. The whole thing is overbuilt.

What I like:
1- nylon one piece band. It dries fairly quick (a few hours), but more importantly, it breathes. I can shower with it on, dab it dry, and wear it until it dries with no discomfort. Virtually all of my previous watches have had the Casio-style rubber/plastic bands that don't breathe. I have to take them off every night to let my skin air out under the watch. With the Bertucci nylon band, I can leave it on all the time, even when I sleep.
2- It has a date window. I don't need to know the month, but I often need to know the date. I forget from day to day what the date is, and I like having it available.
3- The mineral crystal is recessed. Mineral crystal is scratch resistant enough, but because it's recessed, it has a fair amount of extra protection. If one really wanted to, as of this review Bertucci will replace the mineral crystal with sapphire crystal for about $50.
4- I have worn the watch overnight and the luminescence is readable all night. I'm not sure why others have complained it only lasts a few hours.
5- It is hackable (everything stops when you pull out the crown) and the second hand is dead-on to the tick marks. The second hand ticks one second at a time (quartz movement) unlike the automatic movements (Seiko 5s and others) that tick several times a second.
6- The crown and the back screw down. This helps ensure water resistance. This one has 100m water resistance, which doesn't mean what it seems. 100m water resistance simply means it's suitable for swimming, snorkeling, sailing, etc, but not diving.

Neutral:
1- The movement is made in Japan. Some of the older Bertuccis (that I suspected might be showing up on clearance on STP) have Swiss movements. This watch has a Japan movement with the 3 year CR 2012 lithium battery (some of the newest Bertuccis have a 10 year lithium battery).
2- The date wheel is not perpetual. In other words, it goes to day #31. If it's April with only 30 days, you have to reset the date to the 1st for it to be accurate.

The best part is I got an awesome deal on this watch! While most places it sells for $100+ and is worth that, I had a substantial coupon and some other discounts I received from STP as part of their deal flyer mailings.

Verified Buyer

Reviewed by RTF nypd from New Jersey on Thursday, April 24, 2014

Seems like a good purchase. Good looking, seems well made, received compliments; only have it a week.
Great price!

Verified Buyer

Reviewed by Just Me from Montana on Friday, April 18, 2014

This was a worthwhile purchase. So far the watch functions accurately; it is easy to read and good looking. The band is comfortable and seems rugged. It's a lot more watch than one expects for this price... highly recommended!