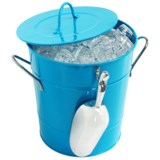 Closeouts. Perfect for picnics and parties alike, BIA Cordon Bleu's ice bucket with scoop is designed with a handy hook on the side for keeping the scoop close by.
Average Rating based on
11
reviews
3.909090
0
5
Reviewed by ryushin from San Diego, CA on Monday, March 17, 2014

I re-purposed this piece to use in my kitchen for compost. The plastic liner, nice fitting lid & color suit my needs. I line the inside plastic piece with a small produce bag & collect garbage for my compost pile. It holds two or 3 days worth without odors releasing. Happy, happy, happy.

Reviewed by Sandy from WI on Wednesday, February 26, 2014

When I received this ice bucket it was damaged-a couple dents & paint was cracking & chipping in 2 spots. Customer service was incredible & immediately shipped out a new one that was in perfect quality, without requiring me to go through the burden of returning the damaged bucket! That's what I call service! I would highly recommend Sierra Trading Post based on the great service they provided. The bucket is nice, I wish the hook to hang the scoop on was a bit longer, but for the price it is very cute & functional.

Reviewed by Aging1 from Midwestern Wisconsin on Wednesday, February 19, 2014

This ice bucket is attractive as well as functional. I purchased the green one which is a great color for outdoor partying. One minor drawback is that the scoop could fit better on the side. Otherwise, I love the look and it's much better than digging into a cooler or freezer all of the time.

Reviewed by grmom from grand rapids, mi on Tuesday, February 18, 2014

Bucket arrived with liner cracked on the bottom. STP promptly replaced the entire bucket and said I was not the first to have this problem. The liner is very thin and I don't know if the new one will last - but the bucket is cute and I'll use it regardless. Also, the hook on the side from which the scoop hangs is a bit problematic - it's a bit of work to get the scoop to attach easily - may just leave the scoop on top of bucket for ease of guests' use. Ordered this product with a 40% discount, don't know if it is worth "full" STP price...but I'm happy at my cheapo price.

Reviewed by Tira from Utica, NY on Monday, February 10, 2014

This ice bucket is very nice, the color is great, it is a nice size ice bucket, and the spoon is also an ideal feature. I recommend this ice bucket, it is made well, and it is reasonably priced for the quality!

Reviewed by Gretchen from Chicago on Wednesday, January 22, 2014

I purchased two of these buckets, one in green and one in blue. The colors are perfect and fit nicely in with my entertaining decor.

I am using the blue one as an ice bucket - fits the bill!

The green one I have repurposed into my countertop compost holder. We just remove the inner liner to take the compost out to the backyard. It's a perfect, simple product for this use. I may add a charcoal filter to the lid to reduce any smells (but really we take the compost outside frequently so no need to add the filter just yet). A similar bucket marketed as a compost holder costs more than $50, so using this simple ice bucket was perfect for our needs and budget.

Reviewed by Christina from MD on Wednesday, January 1, 2014

this item arrived with a crack on the interior plastic bucket and the metal outside was damaged at the top with paint peeling. I would have kept it if I could have removed the plastic liner, but it was stuck pretty good. I liked the size and color, was planing on using it for a counter top compost bin. Will be returning it. Other reviews did mention that their inner basket was cracked but I thought I would take a chance, oh well.

Reviewed by Sarah from Cambridge, ma on Tuesday, December 31, 2013

Comes in bright colors, is easy to clean, and has a nice external hook for the scoop. Would probably work well as a champagne bucket without the lid, but I haven't tried that yet.

Reviewed by Jenny from the block from Raleigh on Monday, December 30, 2013

This is a great ice bucket for the price. I bought for my beach house since we always go through so much ice and I'm tired of serving guests from a cooler chest of ice. The plastic liner should keep the metal bucket from rusting (not sure if it's steel or aluminum, maybe rust won't be an issue anyways). The scoop is great and I love that the handle has a hook to hang it so you don't misplace it. I originally ordered this and it was shipped in a box with a bunch of other items and became dented in shipment. I called customer service and they immediately sent me another one to replace it. This time it was packed in bubble wrap. STP customer service is great. I love a deal and this is a great one!

Reviewed by Colorado Girl from Colorado on Saturday, December 7, 2013

The bucket is bigger than you'd expect. The inner liner makes it easier to clean and the scoop looks very durable. I have not put it to use yet, but I am looking forward to it!