Bills Khakis

Sizes

Style

Gender

Sleeves

Colors

Reviews

Prices

Popular Bills Khakis Products

Search Within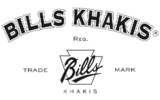 About

the

Bills Khakis

Brand
Bills Khakis don't make pants. They make Khakis... the original WWII era, comfortable, long-wearing khakis like our fathers and grandfathers wore. A phenomenon derived from the dust-colored uniforms introduced in India during the 1880's, khakis have evolved into modern man's wardrobe staple. But not all are created equal. The owner of Bills Khakis was a college student when he found a substantial pair of khakis in an Army surplus store and realized how inferior his "modern" khakis were. When his search for a reliable supplier of the vintage model proved fruitless, he did what any enterprising young man would do – he started a company to make his own. And thus it was that Bills Khakis were born. Their slogan says it all… Bills Khakis are made better by not changing a thing.
Reviewed by The Rising Wind from Up around the bend. on Wednesday, November 30, 2016

Nice close-fitting shirt fits true to size. You can't beat this price!

Verified Buyer

Reviewed by LHB from Massachusetts on Saturday, November 26, 2016

My husband can't believe how comfortable it is to have a little spandex in the pants! I told him women's pants have been made like this for years!

Verified Buyer

Reviewed by Jack from NJ on Thursday, November 17, 2016

Nice shirt. Well made and good fit. Looks great right out of the dryer with no ironing.
Receive email updates for new Bills Khakis items