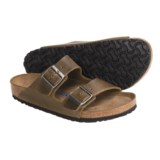 Closeouts. It's hard to go wrong in Birkenstock's Arizona sandals, especially when they feel like they were made just for your very own feet!
Average Rating based on
109
reviews
4.697247
0
5
Reviewed by A discerning socker player from Indiana on Saturday, June 29, 2013

I have a host of foot problems and have had great difficulty finding shoes to accommodate bunions and hammertoes. Unable to wear the harder bed of Birkenstocks, I found the soft bed a perfect solution. With the double straps, I can adjust each foot for each particular problem. I just had surgery on my left foot and get to wear the "lovely" black boot for 8 weeks. So while my left Birkenstock is getting a rest, the right one is getting plenty of wear (the right foot gets surgery in 3 months). I look greatly forward to the day when I can wear them both at the same time. They are the only shoe I can wear all day, and, believe me, I have a whole closet full of shoes that feel good for about 20 minutes and then I have to switch to something else. My sisters love it since they inherit a lot of very cool shoes that have hardly been worn. They ARE NOT getting my soft-bed Birkenstocks!

Cinderella, turn in those glass slippers for soft-bed Birkenstocks and you will dance the night away!


Reviewed by Nan The Farm Gal from Ozarks, AR on Friday, June 21, 2013

If you are a birk fan, you will love these. A little 'softer" than traditional ones...very subtle..I ttied the narrow and it actually fits me better. Love the blue color.

Reviewed by Barb K from Indiana on Tuesday, June 18, 2013

I have worn the Birks for many years & find them to be my go to for comfort in a casual sandal. I only wear the soft footbed shoe, due to foot problems.
I love these in the unique colors and am happy they were still available in a narrow. I have purchased several shoes from Sierra Trading Post & you always do a great job!

Reviewed by Cat from Chicago, IL on Monday, June 17, 2013

Love Birks and the soft footbed. No break-in time (except for a little chafing from the top strap). I got them in the blue color and it is very nice. I wear size 8 1/2 M and purchased size 39 N and they fit perfectly. I love the soft footbed - comfortable the second you put them on and no break-in what so ever. Highly recommend them.

Reviewed by 3dvizwiz from Boulder, CO on Monday, June 17, 2013

Another great Birk! I am finding that the narrow sizes fit my medium-to-narrow width foot better these days, and so couldn't be happier!

Reviewed by Sunlover from Milwaukee, WI on Wednesday, June 12, 2013

Always a great shoe for my kids. Wears like iron and I know they are being good to their feet!!!

Reviewed by Movin Hattie from OH on Sunday, June 9, 2013

I love the Arizona soft footbed sandals This is my second pair.
They are so much more comfortable for my sensitive feet
than the conventional foot bed. I have five pairs of
Birkenstock/ Birkis Love them one pair is 15 years old
Can't part with them.

Reviewed by Theresa from Texas on Thursday, June 6, 2013

Nice soft footbed. I like the soft. I ordere the Passion Flower Suede. The color is lighter than the picture but i like it. More of a pink than purple. Goes with everything.

Reviewed by Liz from East coast on Wednesday, June 5, 2013

Great sandals at a great price!

Reviewed by Beach Bum from The Beach NJ on Saturday, May 25, 2013

Thick, yummy suede, a great price and a soooooft footbed. What could be better than that! Thanks STP! You rock!