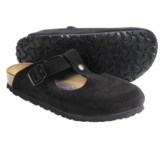 Closeouts. With Bern clogs, you still get the high-quality construction and materials that you expect from Birkenstock, but you get the added comfort of a soft, foam-cushioned footbed, too!
Average Rating based on
81
reviews
4.506172
0
5
Reviewed by Comfort Mom from Cedar Rapids, IA on Monday, October 21, 2013

I love Birkenstocks. I own probably 10 different pairs of them. Two years ago, I tried the soft footbed in a sandal, and I really did not like it. I didn't feel like in supported my foot enough. In that respect, I was a real traditionalist with my Birkenstocks. But, a year and a half ago, I developed plantar fasciitis in my left foot, and the traditional Birkenstock footbed really hurts my foot. I have tried all kinds of different shoe brands, claiming to "cure" plantar fasciitis with their footbeds, but none of them worked for me. I decided to try my soft footbed sandals again from Birkenstock, and they were really the only thing that I could wear around the house with reduced pain. So, I decided to buy some shoes, since it is too chilly outside for sandals. These shoes are like heaven! The soft footbed is truly made for those of us who love Birkenstock, but we have sensitive feet. My foot still hurts, but the pain is even less than when I wear tennis shoes. I am optimistic that this is the beginning of my road to recovery.

Reviewed by MCushman from Macedon on Friday, October 18, 2013

Love the fit and style, but they are making a squeaking sound when I walk which is odd.

Reviewed by Greenbriar5 from Champaign on Thursday, October 10, 2013

As with most Birkenstocks, these shoes fit great. I usually wear a size US 8.5-9 and got these in a 40N. As other reviewers have said, they are not really narrow. My foot is an average width--even running a bit wide across the toe box due to bunions, but these fit completely fine front to back and side to side. I do have an unsual foot in that it is "thin" from top to bottom. Thus many slip-on and clog type shoes are hard to fit for me. These are perfect because I was able to have a few extra holes puched into the strap and about an inch cut off the end of strap. Now I can buckle them as tight as I need and they fit just perfectly. I even love that you can see my socks through the holes because I like to wear fun, mismatched socks all winter. They are so far keeping me warm in the cooling fall air. I love my new Bern clogs!

Reviewed by Flanfan from San Francisco on Saturday, September 21, 2013

With the soft foot bed these are perfectly comfortable to wear all day. Made in Germany and the construction is flawless. The suede is almost furry and feels like it will last forever. Very satisfied with this clog, it's lightweight and not "clunky" like most clogs. The fun part is that if you wear socks that are colorful it shows through the top of the clog and it's a nice touch. I want to wear this everywhere.

Reviewed by HARD TO FIT/EASY TO PLEASE from COLORADO on Friday, September 20, 2013

I HAVEN'T WORN THESE YET AS IT IS STILL QUITE WARM OUT. I AM HOPING THEY WILL BE AS COMFORTABLE AS MY OTHER BIRKENSTOCKS.

Reviewed by Littlebit from AL on Wednesday, September 18, 2013

These are so comfortable. I had to reorder to size up and then I ordered two pair instead of one.

Reviewed by Kibbiedog from Florida on Tuesday, September 17, 2013

These are my new favorites. I had to return and order up a size. I loved birkenstocks before, but I really love the soft bed.

Reviewed by Sierra Trading Post Fan from Inland Emopire, CA on Saturday, August 31, 2013

It's too hot to wear these extremely comfy shoes right now, but I can hardly wait. Typical Birkenstock quality construction - soft suede and soft inside! I ordered the Regular width, thinking that they'd be worn with socks. Really comfy w/o socks but maybe a Narrow width would be better if socks aren't worn. Hurry up cool weather - I'm hoping these are going to be my new favorite shoes.

Reviewed by Active Grandma from New Jersey on Tuesday, August 27, 2013

Love these cushioned clogs. I have a wide foot and the N width fit perfectly. I like Birkenstocks for the arch support in the footbed and these will be nice for the fall to wear with socks.

Reviewed by Vintagecharm from Australia on Tuesday, August 20, 2013

These are my first Soft Footbed clogs I have bought. They fit like a glove and are so comfortable. The sizing is right and I will certainly order more in a different color.