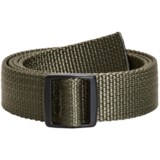 Closeouts. A perfect fit for casual and hiking pants or shorts, Bison Designs' Slider Buckle web belt is constructed of durable nylon webbing and features an easy-adjust slider buckle.
Average Rating based on
34
reviews
3.823529
0
5
Reviewed by Cam from Killington on Wednesday, November 18, 2015

Holds decently depending on pattern. As with any such belt minor loosening occurs. I use it often on swim and lightweight hike shorts.

Verified Buyer

Reviewed by formeremployee from northern california on Tuesday, November 10, 2015

I love most of my Bison Designs belts, but this one is awful. The fabric is loose, like a thick shirt. very difficult to weave through your pant loops and into itself. Too bad, I really liked the design.

Reviewed by AG from NYC on Saturday, October 24, 2015

I've got several of these belts and like them. But the buckle on this one doesn't grip the fabric enough, so it's always too loose.

Verified Buyer

Reviewed by Illinois hiker from Illinoisw on Monday, August 10, 2015

I erred in reading the description, so the belt I got is a bit long, but I figure I can cut it off. Looks like it will be great for hiking and other casual use, and it will go through airport security.

Verified Buyer

Reviewed by Steve in GA from Athens, GA on Monday, June 8, 2015

A little more flexible than the usual nylon web. I don't remember the picture being as black as the real article, but it's nice looking.

Verified Buyer

Reviewed by world voyageur from West Chester, PA on Wednesday, April 15, 2015

I have 5 or 6 Bison belts and love them, but this one is poorly designed. The web is too thick for the openings in the buckle. The one I ordered is the black one, and these comments may not apply to the other colors.

Verified Buyer

Reviewed by Daver1 from Florida on Wednesday, April 8, 2015

I have had a Bison Belt for over 10 years, this one is as good as my old one, love it

Verified Buyer

Reviewed by markdouglas from Upstate NY on Saturday, January 10, 2015

This belt is slick and slips right out of the buckle. I gave it to my son's friend who will be traveling across the country. Maybe he can use it for his equipment.

Reviewed by Anonymous from Green Valley Lake, CA on Tuesday, December 9, 2014

When I took this out of the package I noticed something looked different from the other 6 Bison belts I have. First, The color green is no longer An olive/army color green but is now a deep forest green which I do not care for. Next, the belt material is no longer webbing but more like a heavy canvas that I do not care for. I had to take a look at the package to make sure I got A real Bison belt and that's when I noticed the made "Made with imported materials" tag behind the Bison label - none of my other Bison belts have this tag.

I'm really bummed because I really like my other Bison belts, but this thing screamed Made in China as soon as I touched it - not worth the price to return so I'll use it as a strap for camping gear.

Verified Buyer

Reviewed by beachwalker from So. FL on Thursday, December 4, 2014

The web is 2.5 cm or 1 1/4 inch. The kaki color is good. I wear it with my docker type pants. The plastic buckle is small and lays flat, so it looks OK with a shirt out. I wear sun shirts designed for out or tucked in wear. It works as a quiet, plain belt for every day use.