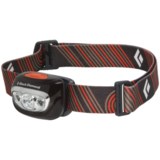 2nds. An impressively powerful light in an ultralight package, Black Diamond Equipment's Cosmo LED headlamp has three light modes and a pivoting design that allows you to angle the beam up or down.
Average Rating based on
90
reviews
4.588888
0
5
Verified Buyer

Reviewed by Bald Eagle from Iowa on Saturday, January 14, 2017

Good price on two that work great for what they are intended…two hands can be used at the campsite or at home. PLUS in an emergency situation at home or when trekking, great to have two hands handy. Finally, as a "I-canoe-in-the-Boundary- Waters-trekke," (multiple treks) it is nice to know that IF we had to paddle at night, (never recommend in the wilderness), good to have this mounted on the hat (I have velcro sewn on my hat so the light can't fall off) as both hands are needed to paddle.

Verified Buyer

Reviewed by Nebraska Climber from NE on Wednesday, January 4, 2017

We haven't taken this headlamp out yet into the wilderness (it's 7 degrees tonight!), but it so far operates well and is very bright. There are multiple settings on the light itself, which allow for a super bright beam, a combination of white led lights, and a red light. The strap is good and the design is compact but seemingly durable. The tricky part is figuring out how to change modes. At first, we could only get the super-bright main beam. With some button poking, we discovered it did successfully change modes, but it's a little weird to get used to. I haven't played around with it too much, so I think it will be fine once I get the hang of it, but that's why I give it 4 starts instead of 5. The quality of the light is fantastic. I also haven't really checked out battery life yet, but I suspect that even a bright LED will be far more conservative using juice than the old incandescent bulb headlamp that this is replacing. That one, though no longer the most powerful tech, was waterproof--which this one is not, so the old one will probably get to stick around in the box-o-camping supplies for special uses.

Verified Buyer

Reviewed by Toby from VT from Vermont on Sunday, January 1, 2017

Strong enough for night hikes and the read light is perfect for activities that require map reading without night blindness


Verified Buyer

Reviewed by Gina from Arroyo Grande, CA (Central Coast!) on Saturday, December 31, 2016

This head light is terrific. My son has already used it on the movie set where he works as a grip! Just what he needed to shine a light on his work--hands free!!

Verified Buyer

Reviewed by OutdoorLovah from KCMO on Wednesday, December 28, 2016

I can't say anything bad about this, aside from the battery door cover being a tad annoying to put back on, and the navigation through settings is tricky at first...but use your brain and you'll get it :)

Verified Buyer

Reviewed by Tim from South Carolina on Thursday, December 22, 2016

Love this light!

Verified Buyer

Reviewed by PDub from Winston Salem, NC on Wednesday, November 2, 2016

Headlamp puts out a lot of light. The light will tilt as well as adjust intensity. I own another Black Diamond light that is rechargeable, and I love it, but being able to take batteries in case it dies while hiking will make this lamp a preferred one for any extended hiking trips.

Verified Buyer

Reviewed by Prettygoodshopper from Colorado on Friday, October 28, 2016

Walking outdoors in the mountains with this head light is a game changer. Why I've waited this long I don't know. You hardly know that it's on your head and it's pretty sturdy as I have already dropped it on my hard wood floor and it did not break.

Verified Buyer

Reviewed by [...] from T on Friday, October 28, 2016

I have Black Diamond Storm headlamp.
I had bought a spare.
It's more affordable models, but excellent too.
The total weight is lighter.
It may be more useful when a short night hiking.

Verified Buyer

Reviewed by Xaq from Connecticut on Tuesday, October 25, 2016

This is my second Black Diamond headlamp. For the price, you can beat the Cosmo. The brightness is more than sufficient for my needs, it's easy to use, and it without doing much damage to my wallet.