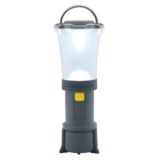 Closeouts. Black Diamond Equipment's Orbit LED lantern provides lots of illumination in a lightweight package, with a dimming switch and a collapsible, double-hook hang loop.
Average Rating based on
81
reviews
4.407407
0
5
Verified Buyer

Reviewed by 456fast from Oregon on Tuesday, December 13, 2016

It's bright, it works like it's supposed to, but I wonder how well it will stand up over time. Closed up, it's fairly sturdy, but opened, it's a little wobbly and I worry every time about pulling the lantern top out. Will I pull it too hard this time? I haven't yet, but the the loose construction worries me. I won't take this as my only light source.

Verified Buyer

Reviewed by Max from OR on Thursday, November 3, 2016

This brand is trustworthy,love it

Verified Buyer

Reviewed by senorblastico from Western Washington on Tuesday, November 1, 2016

I really like Black Diamond products and have purchased headlamps from them for myself and friends. If you have a BD headlamp you will probably be used to the interface on this lamp - click it on and it will be at max brightness, click and hold and the lamp will dim until you either let off the button or it hits the dimmest setting. If you keep holding it will start to brighten again etc. It can work as both a lantern and a flashlight (though I'm mostly interested in it as a lantern).

So far it seems to be of good quality -- I'm looking forward to having it in the tent the next time I'm in the mountains. It is small enough to bring even if you are a gram counter.

My only complaint so far is that, for the retail price, I think it should come with some batteries.

Verified Buyer

Reviewed by Sonny D from Utah on Wednesday, June 29, 2016

Fairly straightforward. Press button once, lantern turns on. Press twice for flashlight. Press and hold to dim.

It is heavier than an inflatable lantern, and I wouldn't ever take it backpacking, but car camping or midnight picnics, it excels.

Verified Buyer

Reviewed by Scouty Mom from Arizona on Monday, June 27, 2016

When I first opened up my shipping box and saw this tiny little lantern, I was quite disappointed. I mean this thing is tiny! I was going to send it back just for the fact that I thought it would be wimpy.
I am so glad that I didn't. This thing is amazing. It doubles as a flashlight and lantern and when you hold the power button down it dims the light making it perfect for using it in the tent at night. This little guy is lghtweight, hangable and super bright.

It is making its journey to scout camp this week and I am confident that it will hold up to the task at hand. Great product.

Verified Buyer

Reviewed by Joe from Louisiana on Thursday, May 12, 2016

A tiny light with a smart switch that lets you go from reading light to flashlight, with a dimmer function. Handy hanging hooks. But very tiny.

Verified Buyer

Reviewed by redeyehawk from New Hampshire on Sunday, April 24, 2016

I love this lantern . . . I use it for those nighttime trips to put another log in the wood stove or all the other stops along the way, always have hated turning on a room light and having my eyes blasted. I can switch it to flashlight mode to use on the stairs or peer outside. Haven't told any of the rest of the family about it . . . I'm sure they'll start calling me Wee Willy Winkie. Get one, also a thoughtful gift.

Reviewed by Kimberly from ohio on Monday, February 1, 2016

These are great lamps. Got one for each of my grandchildren backpack. They don't tell you but when the light lights but will not stay on it means your batteries are low not that the lamp is bad.

Verified Buyer

Reviewed by Jacobo Peterman from New England on Friday, January 29, 2016

I have a few black diamond products and trust their quality, especially that of their lights. I needed a small lantern for the upcoming hiking & camping season and this fits the bill. It barely has any weight, which is ideal for backpacking. It's bright, dimable, collapsible and has all the little features I needed. Like the little flashlight on the bottom though I probably won't use it that much.

Verified Buyer

Reviewed by Brew_moon from WI on Wednesday, January 27, 2016

Very compact, gives nice light. Awesome price--I can live with yellow for the savings.