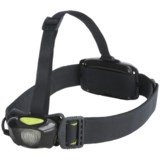 Closeouts. Black Diamond Equipment's Sprinter headlamp lets you sprint from streets to trails without missing a step. Lightweight and perfectly balanced, the double power LED has three settings and is powered by a rechargeable lithium battery.
Average Rating based on
27
reviews
4.703703
0
5
Verified Buyer

Reviewed by Park City skibike from Utah on Thursday, June 23, 2016

Headlamp died after only minimal usage. Battery no longer holds a charge. Disappointing.

Verified Buyer

Reviewed by ActiveInNE from New England on Thursday, October 22, 2015

I'm a runner and am often out at 5:00 a.m., well before sunrise. After researching different headlamps for runners, this one was clearly a favorite among reviewers. I've had it out several times already after getting it last week and I love it. Great brightness and reach on the headlamp, and I like that there is also the back red light. Also love that is is rechargeable.

Verified Buyer

Reviewed by Ralph from Ohio on Sunday, October 11, 2015

I do love the lamp. The thing I dislike is lack of adjustment. That is the only negative I see with the product. Still well worth purchasing.

Verified Buyer

Reviewed by SOlivas from Texas on Wednesday, September 2, 2015

I ordered this headlamp after some research prior to running a trail relay that would include overnight runs. It worked great and was plenty bright over the night. The light is adjustable so I was bale to angle it for what worked best on different portions of the trail based on incline. The rechargeable factor is great (remembering batteries is not one of my strengths) and the charge easily lasted for my whole run and through use as a flashlight in my tent. The only negative is that it is a bit heavy (which I was aware of based on reviews I read prior to ordering), so the top strap to keep it from sliding is definitely a must. I neglected to attach the top strap so I had to use my ponytail to hold it up although a hat with a bill would have also worked. I would probably wear a hat next time so the plastic would be off of my forehead.

Verified Buyer

Reviewed by bkuster from Moose Lake, MN on Tuesday, August 18, 2015

Although I've only owned this product a short while, it seems to be well designed and well built. It provides quite a bit of light and the intensity of the beam can be adjusted. I can't say anything about battery life because I'm still on my first charge.

Verified Buyer

Reviewed by Everyday runner from Pennsylvania on Wednesday, August 12, 2015

I purchased this headlamp as a backup to the exact same model. I use this for running and it has never slipped off or failed me. I already own one, but wanted a second for my suitcase. I think the best compliment of an item is the willingness to buy it again! It's super bright, lightweight and goes for several hours before needing a charge. Absolutely the best light out there!

Verified Buyer

Reviewed by Maka from Colorado on Thursday, February 26, 2015

I have owned many different models of headlamps. This one outshines all of the others. The LED bulb is bright with 3 settings. The tail light flashes. The headband is comfortable. Rechargeable lithium battery works well. I purchased an additional one for my son. A great value.

Verified Buyer

Reviewed by SanDiegoMitch from Pacific Beach on Tuesday, January 13, 2015

So I have never wore a headlamp and I was worried that this would be flopping around on my head while I ran. The profile of this is so close to your head and the weight is evenly distributed. I can shake my head hard and this will not move.

The light is dimmable and has a back red light which flashes.

I have only used it a couple times, and have not yet charged it, but at the moment I love this thing.

Reviewed by Judy from Wisconsin on Thursday, January 2, 2014

I use this for walking. I like the flashing red light in the back so I can also be more visible from behind. It's light weight. I haven't had to charge it yet.

Reviewed by bjcolo from ND on Saturday, December 7, 2013

No, i am not a runner, but walking the dog on dark winter evenings in ND can be treacherous. This light helps navigate snow-covered/icy sidewalks. The red flasher alerts drivers in areas where i have to walk on the street. The over-head strap allows me to wear the unit over my cap without having to be too tight or falling down off my head. It was nice that it had some charge out of the box. Love that i don't have to stockpile batteries.