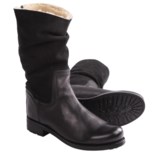 Closeouts. There's a rugged ranch quality about this knee-high boot that will bring some out-west chic to your wardrobe. Blackstone's CW98 boot is shearling-lined to beat the cold and styled with a bit of slouch in the suede shaft. Beautifully made.
Average Rating based on
11
reviews
3.181818
0
5
Verified Buyer

Reviewed by Lynn from nyc on Monday, April 20, 2015

Only worn around the house. As other reviewers have noted, they are a bit of a challenge to get on /off. I have narrow feet, so think they will work out. Definitely have to sit down and use both hands to remove. They seem very warm and I will use them for cold weather walking around.

Reviewed by Opal from Denver on Thursday, April 3, 2014

I bought them, I returned them. Why? Not because they didn't go on my feet like all the other reviewers said. I wear shearling boots without socks or with extremely thin socks and it wasn't at all difficult to put them on with nylons on. The back zipper was a little tight, but I could see that after they broke in, the leg would slouch more and it would be fine too. The reason I returned them--they just weren't cute. If I'm going to pay over $100 for a pair of boots, I would like to look down at my feet and smile. Didn't happen with these. Instead, I looked down at my feet and thought, wow, looks like cankles

Also, I was told that the shearling goes all the way to the toe. It does, sort of. At the end of what I would call the toe box, the shearling is cut to half length. So they didn't really have the shearling around the toes which is the part of my foot that gets the coldest. Tread was great, leather very nice. The quality is definitely there.


Maybe they will work for you. The only reason I didn't give them 5 stars is that they just don't have any style. I'm style challenged enough without these boots too.

Reviewed by SV from New york on Thursday, March 27, 2014

Finally gave in and ordered these boots. I was concerned about the other reviews regarding the difficulty in getting them on and off. I also had a hard time putting them on until I tried without a sock. They went on easily. You can wear them without socks as they are completely lined in shearling, or if you prefer, a thin sock. Love them. So glad I ordered them! STP has great service and fast shipping. Thanks.

Reviewed by KJB from Knoxville TN on Tuesday, February 25, 2014

Like other reviewers, I found the shaft of this boot to be way too narrow for my calf. I couldn't even zip the little zipper! I was also disappointed in the structure of the boot. They look sturdy in the photos, but they were very pliable and slouchy in person. Didn't wear them long enough to comment on comfort.

Reviewed by Midwest Captive from Iowa on Friday, January 10, 2014

I LOVE these boots. Maybe my foot is narrow, I don't know, but I can wear them with a thin wool sock and they are so comfortable and warm. Getting them off is a bit harder, but since they are my favorite boots, I'm hoping it will get easier. Very well made.

Reviewed by MarySue from New England on Thursday, December 12, 2013

These are just the right boots: warm enough for cold New England winters and dressy enough too. Sizing is just right, too. Only wish the back zipper was a little longer make it easier to put on and take off boots.

Reviewed by Jan from New York on Tuesday, November 26, 2013

I love these boots. On, they are warm and comfortable, and they look good too. Beautiful leather. A real "find", but for one important thing. They are nearly impossible to get them on and off. There is a tiny zipper at the top in the back about 2" perhaps, but it does absolutely nothing in helping to open the boot enough to get on. It was a fight to get them on and off and I don't have overly wide or long feet. I can't imagine who would be able to slip on this boot except a child maybe, and then it would be way too big. What a shame. I tried taking them on and off twice and it was almost impossible. It broke my heart that these didn't work, as I loved them in every other way. Needless to say, I returned them.

Reviewed by AK Marcia from Alaska on Wednesday, November 20, 2013

This is a beautiful boot. When I took them out of the box, I was impressed with the thickness of the shearling. BUT, when I tried to get my foot and leg in, ugh! I wear a 9.5 and have a medium width foot. I ordered a 40, my usual size. I struggled and struggled, finally getting my foot in the boot. The foot bed felt fine. Very cozy, but it took me 5 minutes to struggle out of it. The little 2" zipper just is not enough. Sadly I'm sending them back for a refund. Because I live in Alaska and don't get free shipping on returns, I won't be exchanging for a larger size. I've already paid for two shippings.

Reviewed by Mariah from Seattle on Tuesday, November 19, 2013

These are gorgeous boots, beautifully made, but I couldn't make them work for me. My usual shoe size is 9 and I bought these in 40. There was no way I could put them on wearing my Smartwool socks, so I tried with bare feet. I could wiggle them on and zip them but the foot part felt too roomy and sloppy. I tried a very thin, knee-high sock and could still get them on while my feet felt warmer and well contained. My calf circumference is 13" and I tried to tuck in thin cotton leggings but there just was not enough room in the calf. The problem might be the very thick shearling and possibly it would wear down over time but I'm not willing to wait and see. That said, the style and the workmanship are superb.

Reviewed by MH from Anchorage, Alaska on Sunday, November 17, 2013

I couldn't get my foot in-- there was not enough give in the leg part of the boot for me to be able to get my heel down into the foot part. It's not a problem I've encountered before, so it's not like I have chronically fat heels or anything.