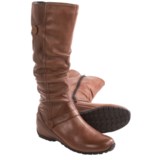 Closeouts. Slouchy style at its finest, Blondo's Marcia boots are crafted of waterproof-treated, premium leather or suede that features chic stitch and button details on the vamp and shaft. A gored collar provides a comfortable customized fit.
Average Rating based on
11
reviews
4.363636
0
5
Verified Buyer

Reviewed by Colorado Mountain Mama from Colorado on Friday, November 21, 2014

I have a hard to find shoe size (12). I was happy to see these offered in my size. This is my second pair of these boots (the other pair are gray). The suede and lining are very soft, the heel is low (which I prefer as I am very tall), and they have good traction. The opening at the top of the boot fits my slim calves just right (also hard to find). Very happy with my purchase!

Verified Buyer

Reviewed by Kris from Michigan on Thursday, October 30, 2014

Love these boots...definitely 3 season (lined, but not too hot), the right size, and I can't wait to try them (cough, cough) in the snow.

Verified Buyer

Reviewed by Mags from south carolina on Wednesday, October 22, 2014

these fit like gloves, so cute! Not sure about cushion, but I'll find out. They are very cute and cannot wait to wear!

Verified Buyer

Reviewed by dogwalker from Massachusetts on Monday, October 20, 2014

Comfortable, really good looking, narrow. I have 12 inch calves and the 14 inch boot is soooooooooo great. The black suede is striking.

Reviewed by Gianna from Ory-gone on Friday, October 17, 2014

I just received these boots today, and I have worn them since they arrived. The size is just large enough to allow half insoles for arch support, which I usually have to do in any shoes. They are soft suede, flexible yet sturdy feeling. I got the stiletto color which is grey with a tinge of blue....very versatile. They are treated leather, so I am not worried about stains or water spots. It's all good...no complaints. Good for casual or dressy occasions.

Verified Buyer

Reviewed by Santa Rosa, CA from California on Wednesday, October 8, 2014

They look and feel really nice. I loved the gray color.

However, I had read the reviews about the "tricky" fit issues, and unfortunately found that I could not keep these boots... and had to return them.

I am only a few pounds overweight, so I don't think the fitting problems have to do with that.

I ordered the 37, that often is right for me, but sometimes I can wear the 38 with a thicker insole. The feet were slightly tight, the ankles too loose, and, surprisingly, the calves were so tight, that I could not get the zipper all the way up! This has never happened before with 37 boots. And it is not like my muscles are all that enlarged.

I was sad, because I really liked the color, the suede...


Verified Buyer

Reviewed by phyllis from Oregon on Wednesday, October 8, 2014

First boots I have had that fit my slender leg and narrow heel. Are true to size. Fit is perfect for a more narrow foot.

Verified Buyer

Reviewed by k.uddu from Norway on Friday, October 3, 2014

I am quite satisfied with these boots. The fit was a bit short in length (perhaps 5mm shorter than I am used to) and the medium width seemed true to size. I have not gotten to test the grip on ice yet as it is only autumn, but so far the grip seems better than on most boots. The sole is on the thinner side, so I notice when I step on rocks, but it is not uncomfortable. The leather is truly waterproof. I am also pleased with the wool flannel lining it is not bulky and offers good insulation. As far as styling goes, these boots are for everyday wear. they look great with jeans as well as casual skirts. I give these boots 4 stars as the fit was not perfect. That said, I have ordered a second pair.

Reviewed by Gaiadog from Colorado on Friday, September 5, 2014

I ordered a half size up as I usually do in boots. The calves were super tight and the ankles were loose. I would have to fold over tall socks to make them feel secure. They could use a cushioned foot bed to be more comfortable. I have very muscular calves and average ankles. I had my mom try them on and she has small calves and they were still really loose on her. I like the wool lining and they seem like they are well made. The scrunched suede is cute but the foot part lacks luster. I ordered the charcoal color and it was a nice dark grey but not too dark.

Verified Buyer

Reviewed by Diane from Wisconsin on Friday, August 22, 2014

This is my 2nd pair of Marcia boots. I purchased the first pair in 2012 and wrote this review back then, and I feel the same way about this boot so I thought I'd use the same review. When I received my size 12 Marcia boots in the Toffee color, I tried them on and instantly knew I was wearing well-made, very comfortable, exceptional quality leather boots that fit me like a glove. I'm 5'9" and wear a size 8 in clothing. I have long feet (size 12), and slender calves. I ordered 3 different brands of boots over the last 2 months and returned all of them because they were too short in the foot bed, and extremely wide in the calf. I was really getting disgusted about the poor sizing by some well known brands and was just about ready to give up buying boots UNTIL I found these. Blondo is made in Canada and from past experience, Canada's shoe sizing is spot on. The leather is soft and smooth and I absolutely LOVE the narrow shaft on this boot that fit my slender calves perfectly. The height of the boot is in between a knee high and a mid calf, which looks very attractive with skinny jeans, leggings, or skirts. Quality, fit, comfort and sizing of this boot at this price makes this an amazing deal. Finally a BIG thank you to Blondo for making boots that fit the population of slender legged women! I'd just like to add that since this boot is being discontinued, the pricing is a steal.