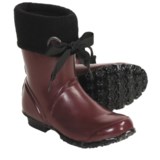 Closeouts. Be prepared for the worst weather conditions with Becca waterproof boots from Bogs Footwear. Fleece lining and flexible natural rubber protect your feet in everything from extreme cold to a summer downpour. Plus, you can spruce up your boots with the included interchangeable ribbons.
Average Rating based on
31
reviews
4.258064
0
5
Reviewed by Julia H from Oregon on Wednesday, March 5, 2014

These boots fit a tiny bit large, but have plenty of room for thick socks. They are a bit stiff around the top.

Reviewed by Sue D from Minnesota on Saturday, March 1, 2014

With all the snow in Minnesota this year, I want to be prepared for the thaw. I am sure Spring will bring us some muddy and slushy conditions. They fit okey, not concerned about the ribbons.

Reviewed by Suzeeque from Greenwich, CT on Thursday, February 27, 2014

No complaints. Warm and waterproof for Connecticut winters.Dark brown extra pair of ribbons make for a pleasant change.

Reviewed by Rachel McCollum from Michigan on Thursday, February 6, 2014

These boots are the best I've ever had! They are warm, durable, comfortable. Buying them from Sierra Trading Post was the best decision because they were so cost effective. Bogs are a great brand; I as well as other family members suffer from foot problems and I don't have any pain with these. If you are a first time Bog owner then you should know it takes some getting used to. These boots are not snug, allowing you to tuck in pants and wear warm socks. The fit is like a rain boot, loose in the leg, but tight in the foot.

Reviewed by lene from Michigan on Thursday, January 30, 2014

So tight on my calves it felt claustrophobic and the rubber was cold on my legs.

Reviewed by Bigfoot Mama from Oregon on Friday, March 1, 2013

I called bogs before ordering these boots. I wear a 10 but sometimes need an 11. I was told they run wide and to order a 10. I got them a week or 2 ago and once they are on the foot bed is comfortable. They hit my calf at a weird spot and now I have a lovely ring bruise on my leg. Getting the boots on is a challenge and takes a lot of wiggling and pulling. Getting them off is even more difficult especially if they are wet. I have to use the sole of the other boot to help pry them off my foot. I would think twice if you have a wide foot go for one with the pull on handles. The bright spot is they do keep my feet dry and warm.

Verified Buyer

Reviewed by Kramermom from Detroit, MI on Tuesday, February 12, 2013

I like these more than the regular Bogs that looked too bulk and clunky on me. These are a little more feminine, and I have very large feet so they look better than the regular Bogs.
I am disappointed a bit tho that I don't think they are warm enough. One of the reasons I wanted to purchase Bogs was bc I needed a warm, waterproof boot. These are warm with a very thick ski type sock. But with a regular sock, my feet are cold very quickly. Not a huge deal, but kinda irritates me.

Verified Buyer

Reviewed by Jean from South Dakota on Monday, February 11, 2013

These are great for everyday use. I wouldn't want to walk 5 miles in these, but they work great for to and from work.

Verified Buyer

Reviewed by Zoewoof from Maine on Thursday, January 17, 2013

I love that I can have my hands full and slip into these boots easily. I just wore them on a snowy slushy day and they were great. I love that they are not as bulky and more feminine than original Bogs. I am a true size 9. They fit a little big and move around a bit with regular thin socks, but OK. Plenty of space for warm bulky socks if I want.

Reviewed by Kim from Western Washington on Wednesday, January 16, 2013

I really liked these boots. They were comfortable and easy to get on and off. But after 3 months of use one boot developed a hole on the top of the foot. It was in a crease where my foot bends. I was very disappointed with these boots because I liked them so much..But I bought them because I need waterproof boots. Customer service was very helpful however.