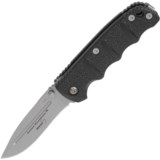 Closeouts. A more compact version of the popular Kalashnikov 74 series, Boker's Plus Kalashnikov KAL Mini folding pocket knife features a rugged aluminum handle with structured finger grooves, button lock mechanism and black-coated AUS-8 stainless steel blade with a plain edge.
Average Rating based on
8
reviews
4.125000
0
5
Verified Buyer

Reviewed by Anonymous from Connecticut on Wednesday, July 15, 2015

I'm very impressed by the quality of the knife. Awesome Aus8 steel blade. Very smooth opening. A super bargain. Far, far better than I anticipated.

Verified Buyer

Reviewed by redeyehawk from New Hampshire on Tuesday, January 20, 2015

2.5" AUS 8 Blade...that's the story. Bought this knife because of the reputation of this steel. Its truly a pocket knife 3.25" OAL, due to short lengthy, thumb stud opening is not efficient...I open it by using the thumbnail in the blade groove...not an emergency knife, but very capable otherwise and sturdy. Worth every penny to own AUS 8.

Verified Buyer

Reviewed by Chuckyl from Northeast on Monday, November 3, 2014

Nice size knife, fits in a forward pocket very well. Very sharp and did I say it's a nice size? Probably would get a higher rating if it was easier to open one-handed. Even after properly lubricating this knife, it is still quite difficult to open one-handed compared to other knives of this size.

Verified Buyer

Reviewed by ariel the camper from fl on Tuesday, April 15, 2014

Bokers Plus Mini folding knife is a good over all. Its balanced and very sharp.

Reviewed by Mark from Utah on Wednesday, March 26, 2014

This knife is really small, easy to carry in pocket. The blade is sharp out of box, the handle feels good. The only down side is the size.

Reviewed by Zippy from NorCal on Saturday, February 22, 2014

A small excellent in the pocket or clip carry knife. Easy one hand open and close! I like it!

Reviewed by Chan from Utah on Wednesday, January 22, 2014

I looked this knife up before buying it, or so I thought, which lead me to believe that it had a spring-assisted blade (like a switchblade, but more legal, I guess?), and the "button lock mechanism" mentioned in the description supported that assumption. Well, it's not; Boker makes an automatic version of this knife with a push button near the main screw. This is not it.

So, I was disappointed when I received the knife and realized that it wasn't an automatic opening knife, and I'm a little miffed that the description mentions a push-button lock. There is no push button lock. Automatic or spring-assisted knives will often have button locks that keep them from flipping open in your pocket, so I think the bit in the description about the button lock is not only incorrect, but also misleading, considering that this knife comes in a nearly identical automatic version.

That said, it's a good knife. I as my everyday carry, slicing open packages and the like at the office and home, nothing heavy-duty, and been a fun little knife for that. The handle is powder-coated aluminum, contrary to what the previous review says. It might seem a little plastic-y, but it's not; I actually really like the handle. The blade comes with a decent edge, and I assume the steel is fine at this price point, if nothing extraordinary. The clip lets the knife sit almost completely out of sight in your pocket, which I like, and the knife opens snappily with a flick of the thumb stud. The press on the liner lock is nearly flush with the handle of the knife, which took some getting used to, but now that I've used it a couple days I don't mind it. If I had done it over, I probably would have put my money towards the automatic version, which doesn't cost much more, but as is, I like the knife for what it is and don't want to hassle with returns--so I'm keeping it.

Reviewed by Steve from Wisconsin on Monday, January 20, 2014

Unfortunately description is a little misleading. This is a linerlock knife not a "button lock" and the handles are plastic not "rugged aluminum"