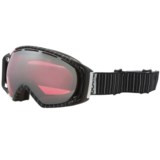 Closeouts. Bolle Gravity goggles offer an impeccable balance of performance and comfort, with a spherical shield design for a wide field of vision and FlowTech venting technology to prevent fogging.
Average Rating based on
12
reviews
4.166666
0
5
Verified Buyer

Reviewed by Kath from Colorado on Monday, March 2, 2015

I wore these last weekend snowboarding. They preformed well. It was snowing and about 20 degrees out. They did fog up (at the top, between my eyes), but it didn't impede my boarding and mostly happened on the chair. They fit nicely in my helmet clasp.

Verified Buyer

Reviewed by Mark from Vermont on Wednesday, April 23, 2014

...even those with conflicting opinions. Yes, they feel a bit small to me (though provide excellent field of vision), compared to my other goggles. With their snug fit (and on a warm day) I was quick to lift these off my face for a cool down on the lift ride up. However, from an appearance standpoint, they look properly proportioned. What appears to be a red/red-orange design color on my computer screen is more of a dark pink, but I can handle that :) The rose lens is outstanding, and a nice complement to my other goggle choices. On a recent spring day that began cloudy and transitioned to sunny, these were terrific, especially while the light was flat. The silicone-lined strap is indeed a nice perk, especially since the gizmo at the back of my helmet designed to hold a goggle strap in place recently broke.

Verified Buyer

Reviewed by Mountain John from Colorado Mountains on Tuesday, April 15, 2014

These arrived and my wife used them the following weekend. She was very pleased with them. They did not fog and the peripheral vision is good. They were comfortable for her to wear with her ski helmet.

Reviewed by Becky from Rochester ny on Wednesday, March 26, 2014

Won't be able to try these on the slopes until next season, but they look great! Nice fit, good lenses, and nice look to them!

Reviewed by Ruffles from Central Pa. on Monday, March 10, 2014

They work very well, are comfortable and I love looking at the world through rose colored lenses. the fit is supposed to be good for small faces, but Idid 't notice that they are small.

Reviewed by nicolaroy from Horse Shoe, North Caroina on Friday, February 28, 2014

Thiese googles fit and feel very comfortably. Great price from you folks. Thanks

Reviewed by frankie from Virginia on Wednesday, February 12, 2014

My first with the spherical lenses, and it definitely improved your field of vision. They look good too.

Reviewed by surf missle from Teton Valley on Wednesday, January 22, 2014

These goggles really fit my helmet great.....no air gap brain freeze!! And the reddish tint works awesome in flat light. The lenses seem to be designed to offer the greatest amount of " field of view" .

Reviewed by Chris the Patroller from Minnesota on Friday, January 17, 2014

I'm a 6', 190# guy, with what I would call a "medium" face. I don't find these too small at all. The bigger issue is how LARGE other goggles have become. They fit fine with my Bern Helmet (it's a large), and provide a good seal and snug fit, quite similar to an Oakley A Frame, but with a superior lens. The Vermillion has been my favorite lens since the 90's - excellent day lens, flat light lens, and even night if the lighting is decent. I also like the silicone-lined band, as it holds on my helmet better, and minimizes strap slippage.

I now own three sets!

Reviewed by michael from torrington ct on Saturday, March 16, 2013

Put google on. They coved my face form my eyelids to my top of my cheek bone. Very small fit & especially the feel of the goggles on my face. Otherwise they look ok. If my children needed a pair. I would of kept them.