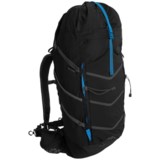 Closeouts. Extraordinarily breathable, ultralight and spacious, the Boreas Buttermilks backpack has a removable frame sheet and a z-foam back panel with deep grooves that pump cool air across your back.
Average Rating based on
4
reviews
5.000000
0
5
Verified Buyer

Reviewed by Serhii from DE on Thursday, April 14, 2016

Comfortable, lightweight backpack. All located conveniently. I`m fully satisfied

Reviewed by Packerbackerdru from Upper Peninsula on Sunday, February 21, 2016

Though not a u.l. pack at 3 lbs its close enough for me. Yes you can make it lighter by removing frame, I pulled it out once, but decided I like the frame. I took it for 2 week a.t. trail hike early april. And again for 2 weeks on [...] early may. So it certainly can go for weeks. I love the daisychain loops. I mounted bags for wet stuff/platy bags on loops. Front stretch pocket is deep enough my size 12 river shoes remain hidden,also nice spot for rain gear. Top zip pocket is probably 5x9. I dont miss the days of lids on top, and I am quickly into my pack at lunch. Side pockets do stretch quite a bit. Only downside I can see is Im a 34 waist and belt wont fit many sizes above mine. If you purchase consider waterproofing it.

Reviewed by Packerbackerdru from Upper Pennisula, Michigan on Tuesday, January 26, 2016

I was leary backpacking for 2 weeks last April with a 55 liter on a.t. trail from harpers ferry. It worked out perfectly. Temps from 20 to 80 degrees. This pack is listed as weekend pack, but imo people pack less the more miles they put on. I also tested 2 weeks on [...] in minn. In early May. 2 side compartments and huge front pocket are stretchy. I was concerned when I first overloaded these it would have left Them stretched out, which so far they are holding shape and I now don't plan on them being a problem. Side pocket with fully loaded pack held 2_32 oz gatorade bottles per side plus 1 tall smart water bottle(which is alot). It is difficult to get equipment out of front stretch pocket while pack is fully loaded. I kept 1 pair size 12 minimulist shoes there and had to keep in plastic shopping bag to slide them in. Also jammed rain gear in there. At 1 point I had to carry tent poles and just slid them right in. Top zipped pocket 7x12 can fit more than you would think. I pack it full of everything I need when hiking during the day. I did not put hydration bladder inside of pack. Also I put sleeping bag standing upright with clothes stuffed next to it instead of traditional way. This greatly increases chance of utilizing every sq. Inch of pack. I did mount a tent on the top of pack for part of both trips. While not made for it, I used sinching strap then top compartment compression strap. This made it more difficult to access inside of pack at lunch, but was worth it not to carry tent using bottom straps. I did add a zipped pocket to mollys on exterior for water filter for quick access. Also hip pockets while not huge are very nice to have.
Pros= fantastic price, bang for buck.lightweight, with capability to make even lighter, yet durable and quality made. Back panel design is uniquely designed to allow airflow which is my number one complaint with internal frames while hiking in heat. Shoulder straps while thinner than most are comfortabe, with venting for armpitsweat and hidden molly straps. Larger side pockets than most packs. Stitched in molly straps for mounting external gear is a huge plus lacking on many packs.

Cons=while advertised as extreamly breathable, which is good for airing out, after an all day hike in rain it was soaked with pack cover on. Multiple days it had at least some moisture on it. Easy solution is waterproof it. I cant comment on pack cover that is included.
Lacking top lid compartment. If your used to a top lid it feels like it is missing, but in reality Its useless.
Somewhere online I read load capacity is 35 pounds. I loaded ,40 pounds with no problem.

Verified Buyer

Reviewed by Jonathan from Oregon on Friday, May 23, 2014

I really like this backpack. It's sturdy, has a lot of pockets, and fits very comfortably. When I bought it, I wasn't sure how many pockets it had, just hoped it had spots to put extra things that I didn't want loose in the bag. Turns out, the whole front is a stretchy pocket to the top stripe, and both sides have large pockets, up to the middle stripe. I'm taking this backpack to Europe for two and a half months, and I feel like this will be the perfect pack for the occasion.