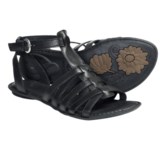 Closeouts. A strappy, criss-crossing leather upper, wrap-around gladiator-inspired design and a cushy leather footbed: All key elements to the masterfully made Born Saffron sandal, a stylish, comfortable dream.
Average Rating based on
25
reviews
4.400000
0
5
Reviewed by STPshopper from Minnesota on Tuesday, July 2, 2013

VERY comfortable and stylish too. Feel like old favorites right out of the box.

Reviewed by Hikin' Mama from Eastern WA on Tuesday, June 18, 2013

When it comes to my feet, I am all about comfort. But it is fun sometimes to get a pair of shoes which are pretty and can be worn with clothes dressier than my usual walking gear!

These Born sandals really fit the bill in all of the above respects:
~They are comfortable--soft, flexible yet also well made enough to stand up to a serious walk.
~The ankle strap has enough length to easily wrap around just about any size ankle.
I will probably be wearing these sandals when I attend the wedding of a friend later this month. They will be perfect for standing around, dancing, walking around the wedding venue, etc! As mentioned before: they are pretty AND comfortable!

Reviewed by Blue Ridge gal from Virginia on Monday, June 17, 2013

Fit is perfect, and they are adorable.

Reviewed by dalildago from Utah on Monday, June 3, 2013

Got these in both brown and black. Like the fact that they aren't ornate. Very comfortable!

Reviewed by Robyn from New Orleans on Friday, May 31, 2013

I walk quite a bit during the day and these stood up to the test and were some of the sturdiest and most comfortable sandals I've ever worn...until I tried to put them on the third time. The little sleeve on the heel which holds the ankle strap ripped away when I tried to put them on. I wasn't exercising Herculean strength or anything so it caught me a little off-guard. I'm planning on MacGyvering something together to fix them; I could technically still wear them but the heel part would be flapping around and looking a bit silly.

Reviewed by Natalie casual from Bend, OR on Wednesday, May 29, 2013

Super cute, comfy and stylish

Reviewed by liza from portland on Wednesday, May 22, 2013

I wear my stylish Born gladiators with long skirts, pencil skirts and jeans. The straps are a little wide in the front of the shoe, but the ankle strap is so fitted that it makes up for the difference. I have feet on the narrow side, though. These shoes would be excellent for walking in hot weather. The base is a soft leather cushion. Everyone needs a pair of stylish and utilitarian sandals like these.

Reviewed by Decatur mom from Georgia on Tuesday, May 21, 2013

I bought these for my daughter who is in high school. She is rough on shoes and needed some basic summer sandals. She loves them and they look great with a variety of different outfits.

Reviewed by D Baker from Missouri on Friday, May 17, 2013

Attractive looking shoe. Good Fit and accurate sizing. Recommend purchase.

Reviewed by idesignmore from Wisconsin on Thursday, May 16, 2013

I normally love Born shoes, and was anxious to get these. While the leather is comfortable, the deeply textured insole is not.