Boston Traders Reviews

Popular Boston Traders Searches
Boston Traders' clothing has been crafting outstanding sweaters, shirts and apparel for men since the early 1980s. By combining a modern sportswear aesthetic with vintage-inspired New England heritage, Boston Traders is able to fill a unique niche in the menswear market. Known for original and comfortable designs as well as a superb attention to detail, quality and value, Boston Traders' sweaters and clothing represent a new kind of outdoor lifestyle brand. Whether you live in Mission Hill or San Francisco, you can be sure Boston Traders' clothing will add a distinctive look to your wardrobe.
About the Boston Traders Brand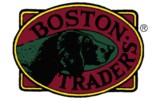 Verified Buyer

Reviewed by Hatchet Joe from Colorado on Wednesday, August 24, 2016

Great, comfortable jacket and roomy enough to allow for layers to be worn underneath. I cant wait for it to get colder so i can wear it!

Verified Buyer

Reviewed by Chicago Native from Chicago on Tuesday, August 9, 2016

The shirt is good for cool/cold weather which is the purpose I have for it. The Chicago winters are cold so I will wear the shirt with a wool vest and down jacket during our cold months. It seems well made and the pattern is attractive. I am 6' tall and weigh 190 pounds with little or no paunch. The size L fits well. I think an XL for me would be too large. The sleeves are about 33-34 inches in length.

Verified Buyer

Reviewed by outdoorsman from Oregon on Monday, July 18, 2016

The shirt is well-made, however I found it to run a little short in the body length and not quite what I would call a true large in size .

Verified Buyer

Reviewed by Stan from Stan on Thursday, July 7, 2016

Love it. Very well made.

Verified Buyer

Reviewed by Unplug from Empire, MI on Tuesday, May 3, 2016

I am between a large and an XL in shirts of this type. I loved the green color and loved the shirt. The material and style were exactly what I was looking for. I took the chance on the size but will need an XL which is not available. I'm disappointed to have to send it back. Very clean and casual look, nice material. The sizing was maybe a tick small and with the cotton Chambray I was worried about a little shrink making it unwearable for me. If they have your size I would encourage you to order. I'm a challenging fit at 6'4" 180lbs with short legs and a long torso.

Verified Buyer

Reviewed by Sierra from Minnesota on Tuesday, February 2, 2016

This is a nice shirt. It is a typical flannel exterior with sherpa fleece lining in the body. The sleeves are lined so they are wind resistant but not bulky. husband is 190 6'1 with a L that fits well. Seems well made and warm. It is has a more modern cut and the sleeves are long enough for him. Great shirt! He's worn it every day since it came.

Reviewed by nope from New Hampshire on Tuesday, December 29, 2015

Bought this for my husband as a Christmas gift. One of the button holes was half-sewn on the shirt, half-sewn off of the shirt (in the button hole, so half of the button hole was raw fabric edge), so I have to stitch it up to fix it. Given that this wasn't labeled 2nds (or priced accordingly) I'm not thrilled. Thankfully I can sew, but I shouldn't have to, this was not labeled 2nds.

Verified Buyer

Reviewed by Evanston Mom from Evanston, IL on Thursday, December 24, 2015

I bought this as a Chanukkah gift for my 80 something year old father-in-law. He literally will not take it off. He loves the look, feel, and fit. It is his favorite item of clothing. My mother-in-law loves it too.

Reviewed by Lee Butcher from USA on Wednesday, October 7, 2015

First, I'll say I where a medium, but they are usually too tight in the shoulders and chest, so I order large when it may have to go over something (t-shirt, insulated undershirt, etc.) This shirt fits well right out of the box, but I'm curious to see how it fits after washed. The flannel is really nice, but thin. Sort of like my old flannel shirts after I'd worn them for years. What I wasn't expecting, and didn't notice when I ordered it, is the band of material sewn into the top of the left pocket edge. It seems to have little hearts (or something) in that 1/2" band, and instead of hiding it out of site, it is raised slightly above the pocket edge. Not only is this ugly, and, in my opinion, doesn't match and looks sort of 'sissy-ish', but they didn't even sew it evenly. (about 3/32' to the center and sloping down to about 1/16" toward the arm). I guess this is supposed to be to support pens, but it looks terrible, even if it were straight. I had to get back on here to see if it was a mistake, but it's on the pic on STP, too. (Guess I should have blown it up, but who would have guessed a man's flannel shirt would have an unnecessary non-matching strip across the pocket?) Anyway, it does fit (now), it is a nice pattern and color much like the one's I wore back in the 70's as a teenager, although very thin for new, and it was at an affordable price (although I believe anything "MADE IN CHINA" should start off at this price and just be reduced to even lower, rather than pricing it at American made prices and dropping it to Chinese slave labor prices for the sale price. Not a bad purchase at $20, but not a good one with the ugly pocket strip and third world manufacturing level.

Verified Buyer

Reviewed by Mike from NYC on Tuesday, September 29, 2015

Great value