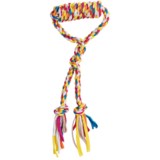 Closeouts. Give your dog something you both can enjoy with Bow-Wow Pet's Tug-N'-Play rope dog toy, a roped fabric handle with attached strings for hours of tugging and chewing enjoyment.
Average Rating based on
12
reviews
3.333333
0
5
Reviewed by Goat from Utah on Tuesday, November 18, 2014

I bought this for my friends dog who loves to play tug o war with me. hours of tug o war was played, but the dog chewed through the "rope" in less that 24 hours. Normally tug o war ropes last 1 week to 1 month with this dog(small/medium size). But for the price (using deal flyer discount) I'd get it again for some puppy lovin from my favorite dog

Verified Buyer

Reviewed by Laura from Columbus on Thursday, November 6, 2014

My dog shredded it in 5 minutes. The picture looks bigger than the actual toy. Not worth the money.

Verified Buyer

Reviewed by old fatihful from California on Friday, July 11, 2014

Of course it is a winner with my GSP and she loves all her toys. This one will get some good wear and tear before she destroys it. My dogs love to run and chase each other with the rope toys. The price was worth it.

Reviewed by InTheWoods from New Hampshire on Tuesday, July 8, 2014

I liked this when I first opened it, colorful and a nice smooth fabric - not the sharp prickly feel of actual rope. My 23 pound dog liked it too but unfortunately it only lasted about 10 minutes - if that. We didn't even get a chance to play tug with it. She chewed on it for a few minutes and then were just pieces of fabric strips all over the floor and it had completely fallen apart. She's not wild or especially rough either, she doesn't even shake toys, she just puts it in her front paws and chews. She has a thing for fabric toys so I've cut old t-shirts into strips and tied them in knots as toys and she plays with them for ages so I thought I'd give her an upgrade but this was ridiculously flimsy. It wasn't even worth the sale price I'm sorry to say.

Verified Buyer

Reviewed by Cape girl from Cape Cod on Friday, May 23, 2014

I bought a couple of these for my dog. She constantly wants to play and was in desperate need to refill her bag of goodies. For the price of STP it was perfect to stock up. These toys Are Steart sturdy and should provide some entertainment for quite a while

Reviewed by Evan from Illinois on Thursday, April 17, 2014

I don't know why I keep falling for these toys. It came looking like it was ready to fall apart. It lasted about 5 minutes and provided hardly any tugging or enjoyment. At least I only paid $3 for it.

Reviewed by Sierra Trader fan in DE from Delaware on Sunday, October 6, 2013

My dog demolishes rope toys. This is made of fabric strips instead. He's not been able to destroy it yet.

Reviewed by MurMac from Vallejo, CA on Wednesday, September 11, 2013

It fell apart pretty quickly with tug-of-war play. He still like to play with it though, even if it's in shreds! Not sure if he's swallowed any of the nylon (?) strings, but haven't seen any harmful effects. Worth the $3 or so I paid, for the amount of fun he had/has with it!

Reviewed by Mild West from San Francisco on Saturday, August 24, 2013

Our small dog loves this, but medium-to-large dogs would also like it. Don't know if it's suitable for large dogs, but maybe. The rope it's made with is not rough--very comfy in my hand & I think it's easy on the dog's teeth. It's very sturdy, too.

Reviewed by Mela from Hawaii on Saturday, August 24, 2013

Our Jack Russell loved this toy, at least for the 3 days it lasted. He made it part way through the rope on the first day while playing with my son, then a few days later we had two pieces. We've braided the broken parts back in and will keep letting him play with it until it is too broken to repair, but I wouldn't recommend this one for any dogs that are strong chewers.....