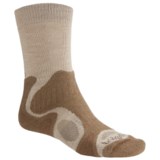 2nds. Employing CoolFusion technology, Bridgedale Trailblaze Long socks combine both natural and synthetic fabrics to provide maximum moisture control, cushioning and ventilation, even in the warmest of conditions.
Average Rating based on
13
reviews
5.000000
0
5
Reviewed by quickshot from Nebraska on Thursday, February 6, 2014

This is a great sock and runs true to size. It has good support in the ankle area and arch. It is warm and nice looking.

Reviewed by misspeabodi from CO on Saturday, November 30, 2013

Socks fit true to size, just pay attention to the sizing guide and you will be ok. It helps to know your 'mens' size if you are a woman purchasing these. These are worth the money all the way around. They keep my feet warm but not hot...no complaints! :)

Reviewed by Questions Questions from Dallas on Wednesday, November 20, 2013

Husband loved this comfortable warm sock...ordered more!

Reviewed by Overthrow from NY on Sunday, November 17, 2013

I just came back from intense climbing in the rain and the rest of the day. I took my boots off and the socks are still dry!

Reviewed by Weaverville traveler from NC on Saturday, November 16, 2013

Ordered these socks foe winter wear. He is very happy with the fit and comfort. Just what he needed.

Reviewed by Matt K from St. Louis, Missouri on Tuesday, November 12, 2013

These socks are fantastic! Ordered them from Sierra Trading Post and they arrived yesterday and EXCEEDED my expectations! They are super lightweight, breathable, hug my feet but not constricting, and the seam at the end doesn't poke into my toes like a lot of socks do. And I have no idea how they can be this comfortable. It feels like there's an inch of padding on the bottom but there's not! These are perfect! We'll see how long they hold up. I'm taking them on a week backpacking trip so we'll see if they're still comfortable and in one piece by the end! Great job Bridgedale! I've never heard of you but I'll definitely be looking through more of your products!

Reviewed by BW from Colorado on Thursday, October 17, 2013

These were the most comfortable hiking socks I've ever worn. They are on the lighter side, which I prefer, and never once did I think about my feet while hiking around the Colorado mountains. They were listed as 2nds, but I can't see anything wrong with them...!

Reviewed by Avid camper from Indiana on Wednesday, September 25, 2013

These were a little thicker than I anticipated but I wasn't disappointed. They wick very well and kept feet dry during a 7 mile hike. Great quality.

Reviewed by Avid camper from Indiana on Tuesday, September 17, 2013

I used these on a recent 2 day camping trip and they worked great. Not too thick but not too thin. True to size(I wear an 11.5-12 and L fit great). Feet didnt feel wet from sweat and they breath very well. Good socks!

Reviewed by wv mtn runner from West Virginia the mountain state on Saturday, September 14, 2013

I'm sitting here wearing my new socks ! They have been washed daily since I received them, as I can not go a day without having them on. The merino wool is comfortable and cool when it is warm outside and warm when it is cool outside. This morning I woke to 40 degree temps and immediately pull these babies out of the dryer and put them on. Toasty! I bought a pair of these socks a year ago ( in the 1/4 length) for a Trilogy Ultra. They performed beautifully and are still in good shape after hundreds of miles on Appalachian wet and rocky trails. Buy these socks, you won't be disappointed.