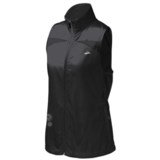 Closeouts. It's not called the essential for nothing; Brooks made the Essential Run vest to accommodate your running routine from chilly mornings to toasty afternoons -- the perfect temperature-conscious piece for all-season wear.
Average Rating based on
12
reviews
4.333333
0
5
Verified Buyer

Reviewed by Runner Karen from Arkansas on Wednesday, December 31, 2014

I am so happy with this vest. It is long enough and the pockets are nice. I really love the plaid patter.

Verified Buyer

Reviewed by Katherine from Pittsburgh on Thursday, November 13, 2014

Great vest for layering, with big pockets hold lots of gels, gloves, neat inside pocket for phones. Size medium fits 34 b or c with room for layering shirts. Some folks have issue with the waist and hips being too tight, but medium fits size 4 with room to move. These also wash well and don't hold on to odor. Perfect for running in 30-40 degree weather. This plaid color is much more subdued; my others are hi-viz pink and green. Can't beat the price with coupon--thanks STP!

Verified Buyer

Reviewed by Mary The Tennis Player from New Jersey on Wednesday, October 1, 2014

I was looking for a light vest to wear when I play tennis outdoors; we usually play all winter. This is a beautiful jacket, it is light weight yet breathable, and also rain resistant for that passing shower.
I am 5'1' and weigh 140. Unfortunately, the jacket was too tight around the hips, I like a little space for movement, it fit too snug for a medium. A Large would have been too big around the shoulders. Sadly I had to return it. Some sports jackets have a zipper that can pull up and give a little extra space for running, this did not. I would recommend it to someone who is not 'pear' shaped, very cute.

Reviewed by Active Mom from Alabama on Monday, December 16, 2013

Perfect amount of warmth for 30-40 degrees when fleece is too much.

Reviewed by Jayme the nomadic do-gooder from Kansas City on Monday, August 12, 2013

I bought this to wear daily bike commuting and training for a marathon. I wore it just about every day for several months.Though it's definitely not water proof, it does help a ton with keeping me dry in snow/rain and cutting down the wind. The zippered pockets are quite roomy, which is amazing for long runs (I normally carry keys, a snack or two, ID, phone, head band and gloves).

Since this is classic cut, the overall fit is quite roomy too. I'm 5'2 with 34A and 29 waist, and there's room to spare in the small size vest. Great for if you plan to layer a thicker fleece underneath, not so great if you're someone who wants all your workout clothes to be super form fitting for better aerodynamics and/or showing off your body.

I'd give this 5 stars except for 2 things. The length is too long (why can't there be more petite outdoor/workout clothes options?) and the color is BRIGHT. The picture showed a fairly tame green color, but out of the box it is neon green. This is good for visibility, but not what I was expecting.

Reviewed by love the run girl from Princeton on Thursday, March 7, 2013

Love the vest. Agreed what others say about the need for more room on top with those more favorably endowed. However, get a larger size and cinch the waste with the draw string tabs in the pockets to keep everything intact. Love the illumination, as I look like a neon light for the early morning drivers to see in the pre-dawn hours, rainy days, and also late nights on the road. I wish there was a back pocket, much like the saucony products, as makes keys and drivers license move less, but for this price you cannot beat the value. Recommend this for the perfect (I repeat PERFECT) weight for 32 degree running as long as no rain or strong winds. Loved it so much bought one for my running buddy too!

Verified Buyer

Reviewed by RAH from Sioux Center IA on Friday, February 22, 2013

Running, biking, hiking

Reviewed by Oregonian99 from Oregon on Saturday, January 19, 2013

Got this to be more visible while running. Doesn't get much brighter! I'm not generally a fan of running vests because I get too hot, but this is really light and breathable. I have a small upper body, and the XS fits me perfectly (no sliding around).

Verified Buyer

Reviewed by Walker from Seattle on Wednesday, December 19, 2012

I was so disappointed because the vests are perfect EXCEPT FOR THE SMALL CUT OF THE BUST LINE.
I have similar vests made by other companies in the same size XL; they all fit just fine. But this Brooks design is way too snug in the chest. I hated to return them, but the fabric was pulled taut at the zipper and under the arms. It would have been intolerable and probably caused chafing.

Verified Buyer

Reviewed by Linda from Shreveport, LA on Thursday, December 13, 2012

I love this vest! It is perfect for cool weather running--keeps you warm without getting too hot. There are plenty of pockets to keep tissue, keys, gloves, etc. Wish the music pocket was large enough to handle an iPhone.