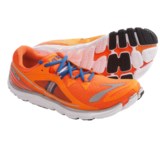 Closeouts. Weighing in at a mere 13.2 oz. per pair, Brooks' PureDrift running shoes are a minimalist runner's dream, complete with highly breathable micro-mesh upper and wide, split grooves in the toe box for extra forefoot space.
Average Rating based on
21
reviews
4.380952
0
5
Verified Buyer

Reviewed by Mike from Largo FL on Monday, January 19, 2015

This is my third pair. I bought these from Sierra Trading Post at less than half of what I paid for my pair prior to this pair. It is a great shoe, too bad Brooks changed to another style. Sierra is great to deal with as well.

Verified Buyer

Reviewed by Rob from Connecticut on Monday, December 15, 2014

I was concerned over the lack of cushioning and what it would mean for my knees. I told myself I would ease into them and do half a mile per day to let my body get used to them. The first time I bothered to check I'd gone 3.5. If you're running in shoes with a higher drop like I used to, don't hesitate and make the switch today!

Verified Buyer

Reviewed by Ling from MD on Friday, December 5, 2014

Very nice, very light weight and very comfortable. Very happy I got this. I am size 5 but wear size 5.5 or 6 with close shoes.
I bought size 6 with this shoes. There's a little extra space but I like it that way. When I run it won't touches the tip and my toes don't hurt.
Never feel any pain at all.

Verified Buyer

Reviewed by GHP from Huntington Beach CA on Thursday, November 13, 2014

Looking forward to wearing these soon!! These are my first pair of Brooks. Tried them on, they feel great !

Verified Buyer

Reviewed by fishyboy from ca on Monday, October 27, 2014

like the big toe box. 1/2 size bigger is right. on trails you feel the ground. you are in control

Verified Buyer

Reviewed by Saveufromit from Louisiana on Wednesday, October 15, 2014

This shoes are Minimalist but have great support and are comfortable. I don't run in them but use them on the cycle, elliptical and working out. Very impressed with them.

Verified Buyer

Reviewed by Run Boy Run from Oakland, California on Monday, October 13, 2014

I prefer minimalist running shoes and love Brooks' PureConnect model. I decided to test the PureDrift because it's their most minimalist model and was disappointed. The support was not as firm around the bridge of my foot so my foot slid around with each step, resulting in a few blisters. I'm downgrading this pair to just walking.

Verified Buyer

Reviewed by Jake from Jenks, OK on Monday, October 13, 2014

These shoes are awesome for people who prefer a minimalist shoe. Love them!

Verified Buyer

Reviewed by Wags from Jupiter, FL on Thursday, October 9, 2014

I like the features of the shoe. In particular, I like the "burrito wrap" style (there's not a separate tongue per se, the outer side of the shoe is connected and just folds under the inner side if that makes sense). I always hated how the tongue would always shift to one side on athletic shoes and this eliminates that issue.

The one odd "defect" that almost made me send back the shoes was in the toe box. On top above the third toe or so, the fabric started kind of puckering on only the left shoe strangely enough. It's right where there in an indentation on the sole on the outer part of the toe area. At first, the fabric would kind pop back and forth in and out of shape when just walking and it was annoyingly distracting. It's kind of softened to where it's just kind of indented now. My size isn't too large as you might think. It's just a quirk in the design. After buying them, I actually found a running blog post review that complained about the same thing on both the right and left shoe in her case! If you google "Pure Drift pucker," you'll find the review.

The good news is that it doesn't rub at all when running. Therefore, I decided to keep them and not hassle with returning them, because otherwise they are good shoes. I don't think I'd order them again though.

Verified Buyer

Reviewed by Mountain Mark from Idaho on Tuesday, September 16, 2014

did not get these for running- just wearing around as casual shoes - so I cannot speak to that - but they are super light and comfortable - and the most breathable shoes I have owned - like ever. Coming out of the grocery store on a windy day - I actually felt the wind on my feet. nice.