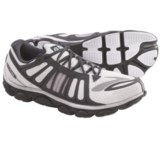 Closeouts. A minimalist designed for cushion? Yes, cushion addicts, your dream is now a reality, thanks to Brooks' PureFlow 2 running shoes. These superlight shoes weigh in at a mere 14.4 oz., but offer cushy comfort underfoot and all along the collar and heel.
Average Rating based on
25
reviews
4.680000
0
5
Verified Buyer

Reviewed by JC from Knoxville, TN on Tuesday, September 30, 2014

Out of the box, these are great. They are relatively light compared to others in this category. I only run in them twice, but felt pretty good about their fit and feel; however, I don't see them holding up after a couple hundred miles. I've had other pairs that could go longer, but I think Brooks is going for a light comfy shoe over one that is long lasting.

Verified Buyer

Reviewed by Earl from Oregon, the Rainy side on Sunday, September 14, 2014

I have run in the Brooks Ghost for about two years. I switch to these and I like them for everything under 8 to 10 miles. after that the elastic under the laces gets too tight and my toes start to go number. Love these shoes for 5k and 10k races. A lot of websites say to order a half size big, so I did. Do NOT do this. These were true to size for me. When I put on my normal size they felt too small but after the first 3 miles the loosen up and fit right ever after. If you have a disposition to heel strike these will work your calves and Achilles pretty bad.

Verified Buyer

Reviewed by Diane from Blacksburg on Friday, August 1, 2014

I'd never tried the Brooks line before, so I was very surprised to slip my feet into heaven! Wow, they are "flat" in a minimalist way, but still have a wonderful cushioned footbed! love them!

Verified Buyer

Reviewed by Dan from PA on Sunday, June 29, 2014

Feels slightly narrow.

Verified Buyer

Reviewed by Zippy from Rhode Island on Sunday, June 29, 2014

It's a good shoe - really light weight and pretty durable for a minimalist type shoe. However, it takes a few runs for your feet and legs to get used to them if you've been using a traditional running shoe.

Verified Buyer

Reviewed by LM from WI on Tuesday, June 24, 2014

These shoes are great. Feel great while our for a run. I love these shoes, I hope they last!

Verified Buyer

Reviewed by Kenny G from Orange, CA on Saturday, June 21, 2014

Up until about 1.5 years ago I was trying different shoes across the manufacturer spectrum. While these are called minimalist, they aren't cushion-less. These shoes are light, while remaining comfortable. An element that I really appreciate is the size of the toe box. Rather than being tight around the toes they have a shaped toe box to give you space and air. They run well in heat and cold, they are breathable, and just easy to run.

The first run with the first pair was a little odd because of the asymmetrical lacing, but the laces sit true. Just something for my feet to get used to.

This is my 5th pair, and I hope to keep finding closeouts... I'm frankly worried about what PureFlow3 has changed!

Verified Buyer

Reviewed by Bargain Hunter from Mississippi on Tuesday, June 3, 2014

My grandson tried them on and immediately began exclaiming about their comfort and his ability to bend his feet. He is now using them almost daily, but specifically to participate in an exercise program at high school this summer to prepare for school sports.

Verified Buyer

Reviewed by Colin from Oregon on Friday, May 30, 2014

Minimal drop but plenty of cushion for road running? Sign me up! I had a previous version of this shoe and now the PureFlow2 and really like them. Minimal drop makes mid and fore-foot striking much easier and yet saves my knees by reducing impact. Brooks PureFlow have a nice wide toe-box but the sole sort of cuts in on the sides then the upper bulges out over that side. Was more pronounced on the previous version, less so with these. On the previous version it was fine up to 10k but longer or if I'm pushing harder and for some reason blister issues develop. Never a problem on shorter or easier paced runs so maybe it's just me. I think this second version will have less issues as the sole to upper connection is a bit more vertical. Run up to 10k a few times in them so far with nothing but happy feet. Do note that if you have never run in a minimalist style shoe (and everyone should IMO as doing so fixed my over-pronation and knee issues) should expect some sore calf muscles the first few runs.

Verified Buyer

Reviewed by CORunner from Colorado on Wednesday, May 21, 2014

Shoes are really comfortable and feel fast. I don't anticipate them being a high mileage shoe (maybe 300-400 miles), but they are a great price, so I consider them a good deal. The construction is fine, I just think the cushion will break down quicker than a more built-up shoe. There really is a lot of cushion to them, but I take out the insoles and they feel a little more 'stiff' (just my preference). I don't agree with the suggestion to buy a half size up, I bought my normal shoe size and they fit great. Taking out the insole also gives a bit more room in the shoe if desired, plenty of room for the toes to spread out. The tongue is a bit weird (offset to the side) but I haven't had any issues with it yet. Overall, I would recommend these shoes for someone used to a 4mm drop.