Brooks

Sizes

Style

Gender

Sleeves

Features

Sock weight

Sock height

Colors

Reviews

Events

Prices

Made in USA

Popular Brooks Products

Search Within

The people behind Brooks running shoes are more than a little obsessed with running. From studying foot biomechanics to creating new kinds of shock absorption compounds, the Brooks lab is always striving to make the running experience more comfortable, more efficient and more fun. For nearly a century, Brooks shoes have evolved to include progressively more advanced technologies and materials, from DNA adaptive cushioning to midsole Guide Rails for enhanced stability. And this brand doesn't just make running shoes, either. Brooks clothing and accessories are just as advanced. Whether you're a
... Learn more about Brooks
seasoned marathoner, a weekend trail runner or just starting out, you can trust Brooks running shoes and apparel to deliver unmatched support, comfort and style. Run happy. ... Less
About the Brooks Brand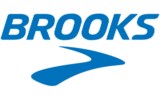 Verified Buyer

Reviewed by Erin from Minnesota on Monday, July 25, 2016

These shoes are just as cushioned as marketed, and are made for those with a neutral stride. When you first put them on, they don't seem to have much arch support, but after wearing a few days, the sole starts to mold to your foot and provides more support. I had left tibial sesamoid repair 9 weeks ago, and the 10mm heel/toe drop in this shoe helps to put less pressure on my forefoot while the cushioning helps to protect the area as it heals as well. The sizing is as expected: I wear an 8 in dress shoes but an 8.5 in most running shoes, and Brooks Glycerin and Ghost models are no exception. My left foot is a little bit on the wide side, but these shoes accommodate just fine. Due to the surgery, I haven't done much walking or running in these shoes yet, but I recommended them to my sister so she got a pair and says running in them is great! I always stock up on Brooks shoes in June/July when they closeout the old models. I love that Sierra Trading Post has them for such an incredibly great deal!!!

Verified Buyer

Reviewed by Lisa from New Mexico on Sunday, July 24, 2016

Great fit and great for long work out

Verified Buyer

Reviewed by TerryDarc from Oregon on Sunday, July 24, 2016

Nicely made and good looking but a bit expensive. My problem is that the two pockets are each big enough for a credit card of a small bunch of keys, not a wallet so these are not strolling around in shorts, but swim trunks.
I think the size is accurate - 33-34 in waste into a L size. Overall a good pair of swim trunks.
Receive email updates for new Brooks items