Brooks

Sizes

Style

Gender

Features

Sleeves

Sock weight

Sock height

Colors

Reviews

Events

Prices

Made in USA

Popular Brooks Products

Search Within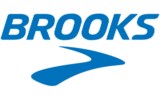 About

the

Brooks

Brand
The people behind Brooks running shoes are more than a little obsessed with running. From studying foot biomechanics to creating new kinds of shock absorption compounds, the Brooks lab is always striving to make the running experience more comfortable, more efficient and more fun. For nearly a century, Brooks shoes have evolved to include progressively more advanced technologies and materials, from DNA adaptive cushioning to midsole Guide Rails for enhanced stability. And this brand doesn't just make running shoes, either. Brooks clothing and accessories are just as advanced. Whether you're a seasoned marathoner, a weekend trail runner or just starting out, you can trust Brooks running shoes and apparel to deliver unmatched support, comfort and style. Run happy.
Verified Buyer

Reviewed by Mountain girl from Georgia on Thursday, January 19, 2017

Really like Brooks, never have to break in. Ran 8 miles and not one issue with numbness etc. Only thing I wish they would change is the bottom, so that they don't wear so quickly.

Reviewed by Marcel from Marcel on Thursday, January 19, 2017

This was my first pair of Brooks. They fit great and true to size. Felt amazing right out of the box, no break in time needed. I was able to get out on the trails with my dogs and they felt amazing. Grip on the trails was great. I can't comment on the long term durability. Overall, so far, I am extremely pleased with these shoes.

Verified Buyer

Reviewed by cat the mom from fort mill, sc on Thursday, January 19, 2017

great shoes. sad they are close outs.

Receive email updates for new Brooks items