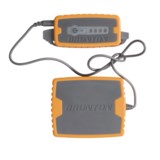 Closeouts. Recharge your gadgets when you're off the grid and keep thousands of batteries out of the landfill with Brunton's Sync portable power device. The backpack-friendly design includes a rubberized shell that's impact- and water-resistant and a modular design that allows you to clip the control module onto your pack strap while keeping the power pack in your backpack.
Ideal for backpackers and campers
Rubberized shell withstands minor impacts and resists water
Lithium polymer battery can be recharged from a home electrical outlet, your car's power supply or via a computer's USB 2.0 port or with a Brunton solar panel (sold separately)
Fully charged Sync battery will recharge most cell phones 9 to 10 times, a smart phone 6 to 7 times or a digital music player 11 to 12 times before requiring its own recharge
Included adapter converts from mini USB female to micro USB male so you can charge your small electronic device
Backpack-friendly modular design
Monitor your power usage with the LED display
Automatic shut-off turns off the Sync when the charging of your electronic device is complete
Output voltage: 5V (USB 2.0 compatible) with auto shut-off
Output current: 2000 mA
Output wattage: 10W
Battery capacity: 33Wh
Sync battery pack: ¾x3-½x4-½"
USB 2.0 plug: 1x5x2"
Weight: 10.7 oz.
Material: Rechargeable battery lithium polymer, composite with rubberized shell (waterproof)
Made in China
Average Rating based on
12
reviews
3.083333
0
5
Reviewed by Lon from Portland, OR. on Wednesday, December 28, 2011

descent product but you can find better for less out there. there's lots of small solar chargers for charging cell phones and mp3 players and other small devices that are much better and cost a lot less. when I'm camping and hiking I can care less about what name is on my gear for other people to see as long as its quality and serves my needs.

Cons: Find better for less, Over priced mediocre
Describe Yourself: Buys quality, Buys value, Frequent Traveler, Gear Head
Pros: Lightweight, Small light weight
Was this a gift?: No

Verified Buyer

Reviewed by Alice from Greenfield, already lost power this wint on Tuesday, November 29, 2011

I charged my Iphone twice, and I still have 4 blue lights lit. It was easy and worked fine. With STP discounts, its a great buy and well worth the peace of mind Ill have this winter. Just what I was looking for.

Describe Yourself: Technically Challenged
Pros: Charges older iphone, Durable, Easy To Use, Improves Functionality
Was this a gift?: No

Verified Buyer

Reviewed by wow from TX on Monday, October 17, 2011

Awesome to have power to charge phones for a couple of days so no need to panic if you can't get to an electric point.

Best Uses: Sports, Travel
Cons: Bulky
Describe Yourself: Frequent Traveler
Pros: Durable, Easy To Use
Was this a gift?: No

Reviewed by pzampino from Shamong, NJ on Wednesday, August 3, 2011

I've only used it once, at home, to make sure that it works. The unit charged in 4 hours from an AC wall outlet(as advertised), and then my Android phone (HTC Droid Eris) charged from it overnight. I haven't verified the time it took to charge the phone, but it was less than 7 hours, and I would expect that it was within the 1-2 hours advertised; the sync was off when I checked in the morning thanks to the auto-shutoff feature.

The sync control is still showing between 75%-100% charge remaining. They claim that I should be able to get 5-6 "smartphone" charges from a single sync charge; We'll see...

At 12oz., it's not ultralight, but it's well worth the weight if you need portable juice.

Overall, it works as expected so far. I'm giving it 4 stars because I was surprised to read, on the package I received, that it's good for only about 500 sync charges. That was a surprise.

Best Uses: Backpacking, Camping, Travel
Describe Yourself: Engineer, Father, Outdoorsman
Pros: Durable, Easy To Use, Versatile
Was this a gift?: No

Reviewed by Buggy from Stone Mountain, GA on Tuesday, July 19, 2011

While the design and the promised features looked good, the electronics were poorly designed. Did not stay powered up when turned after only 2 uses. Was charging an iPhone 3. When it was on, very sensitive. Couldn't move it or it would lose connection. Two part system is cumbersome. Will be going with a solar mat. Not worth the purchase. Sent back. Sierra's return policy is incredible.

Best Uses: None
Cons: Did not stay on
Describe Yourself: Backcountry Backpacker, Frequent Traveler
Pros: None
Was this a gift?: No

Verified Buyer

Reviewed by nick from maine on Saturday, May 28, 2011

haven't had a chance to use this in the bush. Looks compact, durable, charged easily and linked up easy to my solar panel. fairly lightweight. came with a decent charge

Best Uses: Sports, Travel
Describe Yourself: Gear Head
Pros: Durable, Easy To Use, Great Interface, Lightweight
Was this a gift?: No

Verified Buyer

Reviewed by jhmayer from seattle on Saturday, May 14, 2011

most devices out now are one unit.

Best Uses: Recreation
Pros: Reliable

Verified Buyer

Reviewed by Bo from PA on Saturday, May 7, 2011

The Brunton Sync thingy is a really nice piece of equipment. I bought the i6 Solar charger to charge up my phone. But it didn't work with my iPhone. It worked with my wife's iPod. But not with the iPhone. After talking with the Tech Support guy at Brunton, he said that the iPhone needs a consistent charge. So, even if you get the solar panels working to charge your iPhone (the provided cable with the solar charger doesn't work. You have to use a converter like the one I happened to have from Griffin Technologies), it will take a long, long, long time--like days-- to charge up.

The solution is this power sync. It's a little heavy for light hikers. But the solar panels work great with it. And it charges my iPhone great. You plug in the white usb cable that came with your phone into the usb slot/port thingy, and then push the power button. It then charges your phone.

Having two separate units connected by a cord is a little weird. But, if that's the only con, (hence 4 stars instead of 5) it's not that much of a downside at all. A really nice device to have to power up your portables.

Best Uses: Hikingcamping
Car/Motorcycle Describe yourself: Hiker
Cons: Plug is easy to lose, Strange design
Pros: Big battery

Reviewed by bikegirl from TX on Wednesday, April 27, 2011

It doesn't seem to charge a smart phone as many times as it claims, but it will charge a smart phone a few times. 3 or 4 times. But... if it moves, wiggles, bumps, or anything, it will stop charging! That makes it not very useful for backpacking. I tried it on my night stand several nights and I had to fight with it to get it to charge throughout the night. Then on the way to a camping trip, I tried to charge my phone in the car while driving 6 hours. Any little bump or disturbance and it stopped charging. I left it in the car, didn't even take it out for the camping trip. I am not impressed and will likely return this item.

Verified Buyer

Reviewed by Bike Girl from Texas on Wednesday, April 13, 2011

It WILL charge my SmartPhone (Motorola Cliq) about 4 times. BUT... it has to be left sitting PERFECTLY STILL! It can not be moved AT ALL or it will quit charging. I can not imagine how it would charge something while hiking with it in your back pack?? I have not taken it outdoors. I charged it with the wall plug, then put it on my night stand to charge my phone over night. Any time I bumped it or nudged it, it would shut off. I don't know if there is a wire loose or something?? Maybe it is just this particular one?? But I will be sending it back. Not sure if I will try to get a replacement or a refund??