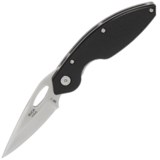 Closeouts. Buck Knives' Odyssey I folding pocket knife features a durable thermoplastic handle, stainless steel drop-point blade and secure liner lock for reliable everyday use.
Average Rating based on
12
reviews
4.250000
0
5
Reviewed by Dslayer121 from Nebraska on Thursday, February 6, 2014

I am the kind of guy who can't feel comfortable walking out the door in the morning without a pocket knife on me. I often hand it to someone or use it myself throughout the day to open boxes, cut up meat, trim loose threads, whatever. This knife has become one of my favorites in just a few weeks. It's sharp, holds it's edge well, and has a smooth opening action that allows me to open it with either the left or right hand. It stays locked open, but closes easy enough when I want to close it to restore it to my pocket, and the pocket clip isn't too stiff or too loose. It goes in where I want it without effort, and comes out just as easily, but it stays put during normal daily activity. I highly recommend this knife. Great job, BUCK.

Reviewed by Hiking Harry from Lewiston, ME on Saturday, January 18, 2014

The knife is a Buck, and Buck stands for quality and American made. Like a lot of STP products, these might be cosmetic blems or seconds. The handle on my knife was slightly rough, and needed just a touch with a fingernail file to remove a small burr. The blade is sharp and very high quality steel. The mechanism is smooth and with one drop of oil on the pivot, becomes even smoother. The knife is slightly large for every day carry in a jeans pocket, but the knife feels great in the hand. The knife falls into the "good in the pocket, great in the hand" category - while I prefer to carry a "great in the pocket, good in the hand" knife as my EDC. I work and carry a knife in one pocket and a small tactical flashlight in another, so I want light functional well-made tools. This is a well made knife and if it fits your carrying needs, you will not be disappointed. I keep it around for occasional use, though I carry a CRKT Onion Ripple serrated as my EDC. Lots of good knives out there today, and this one makes an impressive and handsome inexpensive gift for a knife collector or outdoorsy guy or gal on your list, good for gardening, hiking or camping. Wait for the coupon and snatch one up for around $20. it's a great knife in that price range.

Reviewed by Perry P. from SC on Thursday, December 26, 2013

The lock works but does not feel as secure as other more expensive knives. Excellent for the price.

Reviewed by The Bulkhead pro from Syracuse, NY on Tuesday, December 24, 2013

I am an advocate for buying American whenever possible so when I had the opportunity to purchase the American made Buck folder I jumped on it. I was however disappointed in the finish and overall quality of this knife. the edges of the handle liners are rough ground, then plated, the scales are crude and not finished and the knife is assembled with pins vs. removable screws used by all of the other major knife makers. I have purchased many knives ( including other Buck knives) and looked at even more, that are made in America, China, Taiwan, etc and many are of higher quality and for a lower or comparable price.

Reviewed by TK from California on Tuesday, October 22, 2013

Great product.

Reviewed by kath031 from ohio on Friday, September 27, 2013

hi this is a great knife not too big nor heavy, I have had several Buck knives of this size They are useful and not overly large. The scales on this seem to be of a pleasing color and somewhat slip resistant. The opening hole is of a longer size and it easy to open mit my thumb.. It is easy to open. I can open this with a flick of my wrist to a locked position. It locks when I flick it to open and stays open and with that and is ready to use. I love Buck knives They work well and they always function right Made in AMERICA YEAH!!!! I like the color too, it looks like a dark stained rawhide. Love Buck construction and I never had a problem with Buck Knives . It arrived very sharp. No need to sharpen. Yes I am a woman and appreciate these things. You will too. Most knives at this price are not so good. You will not be disappointed Hmm there are always some that get by quality control hmmm cant guarantee that I guess. What I got was a good one Hope you do too.

Reviewed by Mark J from Wisconsin on Thursday, August 22, 2013

I really wanted to like this, being USA made and all. However, the liner lock is too big/mal-adjusted such that it doesn't slide over to lock the blade. I could manually put it into place with some effort. Overall, a disaster waiting to happen as it doesn't lock. The rest of the knife looked and felt good, but the safety is poor.

Reviewed by George Goode from West Virginia on Tuesday, August 20, 2013

Great American Made Knife. I owned an Odyssey which was stolen and loved my knife so when I saw it for sale from Sierra Trading I would have paid a lot more for the knife.

Reviewed by George Goode from WEST VIRGINIA on Sunday, August 11, 2013

One Beautiful folding knife. I like Buck knives and this was one of the last knives I purchased with my father.

Reviewed by IdahoAussie from Idaho on Friday, May 3, 2013

I am a big fan of items Made in the USA. This is a great example at an excellent price point. Blade rubs on liner when opening but minor issue. Great tactile feel for the handle, blade is very sharp as expected for this company.