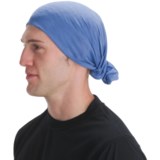 Closeouts. Made for multi-sport use and able to be worn 12 different ways, Buff's Original Buff headwear is a must-have for active lifestyles and fortified with moisture-wicking fabric.
Average Rating based on
17
reviews
4.352941
0
5
Reviewed by Queenie from Virginia on Thursday, November 21, 2013

Love, love, love this item. Keep the new fabrics coming!!!! So many uses and practical. I think I will give one as a gift, then see it in person and end up keeping it.

Reviewed by Ardemis from Seattle on Friday, November 15, 2013

Love these Buffs! I wear two at once, at the neck and as a headband, year round. Great colors and patterns, too. Thanks for the great price and selection SUerra Trading Post.

Reviewed by Marianna from CA on Tuesday, October 8, 2013

The fabric is not very stretchy, and is a nit rough to the touch. I would not want to wear this. I returned it and ordered a different item

Reviewed by TX Farmgirl from Texas on Tuesday, September 24, 2013

I already have multiple buffs, and again was not disappointed when I got this. Will help keep me warm and cozy during the coming winter!
But I also use it to soak up sweat in the summer. So very versatile item.


Reviewed by jenny from chicago on Tuesday, September 17, 2013

I liked this for keeping the sun off my neck and it worked shockingly well as a scrunchie, however, it's a tube of fabric--it's not that exciting. I didn't see any wonderous properties in the fabric though I did like the pattern.

Reviewed by photojon from Chicago suburbs on Monday, August 26, 2013

I have several Buffs, and would buy more from STP if they would show some more colors on the display page, rather than those "coming soon" boxes where the color samples should be. A Buff fits virtually unnoticed under a bike helmet for sun protection in summer in the "Sahariane" configuration, with its protective flap shading the back of one's neck. The ride seems much cooler with the neck shaded. In winter the Buff can be worn several ways, as a cap, ear band, neck gator, or balaclava. When off of the bike for lunch, the Buff in the "pirate" configuration looks much neater than "helmet hair." Thin and lightweight, the Buff can also be easily folded up in a jersey pocket in the rare moments that it is not in use.

Reviewed by Wide Loops from 305 on Monday, August 26, 2013

Living in South Florida, too much sun can be a problem. Buff provides
protection without covering your hands, fly lines and glasses with a
slippery coating. I like the pattern (Skullhead); fish now have a reason
to fear me.

Reviewed by Roche from Knoxville TN on Monday, August 12, 2013

I can wear Buffs while hiking in the summer without that "overheating feel" while keeping sweat out of my eyes. Good gear.

Reviewed by Great Northwest from Shelton wa. on Monday, August 5, 2013

We wanted something to wear at Disneyland's Halloween night in October. This will fit the bill for the basic costume. The product seemed a little bit on the unfinished side the ends are not finished a raw edge not turned seems cheap. But will work for the purpose we bought them for a night at Disneyland. Ours had the skull on both side of the headgear. For the price I would recommend


Reviewed by Desertblonde from California on Sunday, May 26, 2013

These are the perfect accessory for all kinds of activities! Worn in so many ways. I use mine as a headband for boot camp, kickboxing (they really control the sweat) under my motorcycle helmet, they keep the dust out when worn across my nose when desert riding, and over my nose and face for early morning runs in the winter. I love them and look forward to adding more to my collection.