Buff

Gender

Colors

Reviews

Prices

Search Within
What exactly is a Buff? The ultimate multifunction, multi-use accessory, Buff headwear is essentially a stretchy, tube-shaped piece of fleece or cloth that can be worn as a hat, headband, balaclava, face mask or a neck warmer. Versatility is what makes Buff headbands so great. You can wear them skiing, snowboarding, hunting, bike riding, hiking, climbing or just walking the dog on a cold, windy day. If you appreciate on-the-go adaptability, you'll love Buff headwear. Some Buff headbands are even reversible, which is basically like getting two Buffs in one!
About the Buff Brand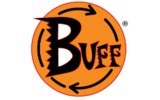 Verified Buyer

Reviewed by Mainer from Maine on Tuesday, October 25, 2016

I was a little skeptical at first but I really like my Buff. I unusually wear it as a neck cover, as an alternative to my scarfs, and because I got a great design it works. This means I'm not constantly moving my scarf ends out of my way to wash my hands, zip my coat, etc. I'm thinking of getting some more!

Verified Buyer

Reviewed by Jojo from Oregon on Monday, October 24, 2016

So soft, warm and light....both sides are wonderful.

Verified Buyer

Reviewed by Trish from The Woodlands on Wednesday, October 19, 2016

I've used Buff headgear for a decade... This edition seems just as good as earlier issues, just a different color for my growing mini-collection. I use them 3 to 4 times a week, mostly while out walking or running. They've done well in the wash, no fading or stretching/shrinkage. As the ads show there are many ways to use them. Lightweight and easy to pack on trips. They wash/dry easily. Idea for another use - I tied a neon one to my backpack while hiking during hunting season.
Receive email updates for new Buff items