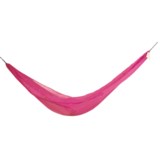 Closeouts. Superlight, Byer of Maine's Traveller Lite hammock is made of durable parachute silk and includes a storage bag for quick packing.
Average Rating based on
17
reviews
4.000000
0
5
Reviewed by Eric from Ohio on Tuesday, March 25, 2014

It's lightweight, very pink, packs up small, and would be very easy to travel with anywhere.

Reviewed by Olev Olevipoeg from Minnesota on Monday, March 24, 2014

This is the perfect choice for a light weight hammock to take on your trip.

Reviewed by Momma Suz from New York on Thursday, March 6, 2014

Awesome hammocks for the price. Backpack hiker/campers. Perfect to get us off the ground. Love that the pouch attaches to the outside of the backpack! Can't wait to use them this year.

Reviewed by Carowack from Virginia on Sunday, December 22, 2013

It really is just basically a slip of parachute fabric.
Incredibly lightweight and easy to pack in the attached bag, even with suspension ropes and all.
It does not come with a suspension system, but it's so easy to make one for it.
Just buy a few feet of webbing for each side (I went with 5ft of climbing grade webbing on each end) and get a couple of sturdy cinch buckles or metal rings to adjust the length.
Dr. Hammock on YouTube shows you how to set it up really easily with a few simple knots and tricks.
The hammock was $7 through STP and the suspension system I made for myself cost $12, which is a sweet deal compared to ENO hammocks and hanging systems.
My only complaint with this hammock was the length.
This hammock feels too short.
I am very tall for a girl though, and I am thinking now I might've done better with a double-sized hammock.
Word of warning: this is not a good hammock to use if you intent to attempt cold weather hammocking.
It is not quite long enough to easily fit a sleeping pad in, which makes it difficult to insulate well.
I had to double up sleeping bags in 28 degree weather and was still half frozen in the morning.
Probably my own fault for camping in November in a hammock.
Oh well!
Can't wait to use this in the summertime!

Reviewed by paddleOARnothin from Sarasota FL on Friday, November 29, 2013

Gift for my nephew when he goes camping.

Reviewed by Adam from Jackson Heights, NY on Monday, November 4, 2013

I'd bought a pair of boots here on STP and they didn't work out. On a whim, I decided I'd pick up a hammock. For the price, why wouldn't I? When I got it, I found I had to get suspension, so I purchased 30' of 1" webbing, an Adjustable Structural Ridgeline, and some Amsteel. All-in-all, for less than $50, I have a hang system. I'd already owned an 11' x 11' tarp and some 550, so I have a complete sleep system with protection from the elements for < $100. Look, you can go out and spend hundreds on a complete hammock system, but why would you? This hammock fits the bill for lightweight, comfortable enjoyment of the outdoors.

Reviewed by GoGo Mama from Wyoming on Monday, October 7, 2013

My boys each have one of these hammocks. They really enjoy to sleep outdoors and indoors in them. They take them camping because they are lighter then a tent and just as comfortable. They have one hanging from the top bunk in their room and they take turns sleeping in it.

Reviewed by mattsbug from Illinois on Thursday, September 12, 2013

Small and light no frills backpacking hammock. Love it at the end of a hard day hiking. Really just a piece of nylon with two loops of cord on the ends, but works great! Color is really really bright.

Reviewed by River Runner from Maryland on Wednesday, September 11, 2013

This is a perfectly functional hammock. I slept in it a few nights ago, and it was certainly more comfortable than sleeping on the ground without a sleeping pad. Unlike a tent, you can put it up anywhere you can find two trees about 9-12 feet apart, regardless of whether the ground is level or rocky or wet. However, in order to be useful for camping when there's a possibility of rain, a tarp would be necessary, and it's hard to find lightweight ones that have sufficient coverage.

Also, keep in mind that this hammock does not include any straps. I used one inch tubular webbing, which you can purchase by the foot at any store that sells rock climbing gear (eg. REI, EMS, etc.). Two 12-15 foot lengths should be sufficient. For that matter, 1/2 inch tubular webbing would be more than sufficient and weighs very little. Just be sure not to use overhand knots in webbing because they are very difficult to untie once weighted. I prefer to use figure 8s since they are stronger and easier to untie.

The bottom line: This hammock works. It's nothing fancy, just a piece of polyester fabric with a loop of rock climbing accessory cord run through each end, but it's lightweight, functional, comfortable, and versatile. I would give it 5 stars if it came with straps and an inexpensive, lightweight rain fly was also available.

Reviewed by dollarhiker from Connecticut on Tuesday, August 13, 2013

Very light. Anything less would be uncivilized. Those of you fretting about straps, go to your local Army Navy for some parachute cord, triple wrap, learn to tie knots, done.