Caddis PRO 2000 Fly Fishing Float Tube-Fin Combo
Item #3369C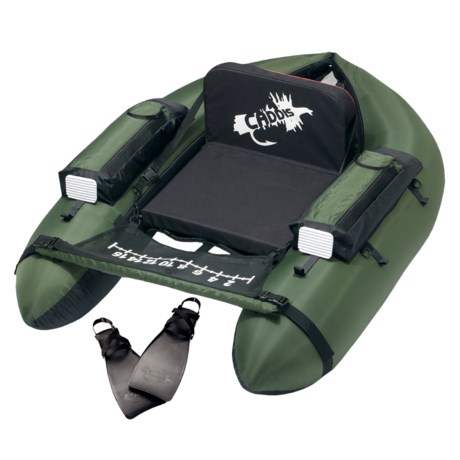 Sorry this item is not yet available for sale. Please check back at a later date.
Overview
About Caddis PRO 2000 Fly Fishing Float Tube-Fin Combo
Closeouts. Navigate to remote fishing locations with the Caddis PRO 2000 fly fishing float tube. It features 420 denier ripstop nylon for lasting durability, with a foam seat and back rest that provide comfort throughout your day on the water.
Unique tear-drop shape for improved maneuverability
Auxiliary pocket
Main equipment pocket
Nylon-mesh stripping apron
Stabilizer bar
Extra cargo area behind seat
Adjustable 2" foam seat and back rest
Boston-style valves
Removable foam fly patches
Float tube:
Dimensions (HxWxD): 16x44x58" (H=seat back height)
Folds to: 9x19-½x20"
Weight: 9 lb. 14 oz.
Fins:
Dimensions (LxW): 22x9"
Weight: 1 lb. 12 oz. pr.
Capacity: 250 lb.
Material: 420 denier ripstop nylon with a nylon-mesh stripping apron
Made in China
About Caddis
Explore new territory and rediscover your favorite fishing spots with the go-anywhere versatility of a Caddis float tube. Designed to meet the performance, comfort and durability standards of the most demanding fishermen, Caddis float tubes and fishing accessories are some of the best on the market. Easier to transport than a boat or canoe, a Caddis float tube makes it that much simpler to fish hard-to-reach areas, and with a set of kick fins, navigating your tube is even easier and faster. Whether you're new to fishing or an experienced angler, be sure to check out the great deals on Caddis tubes, kick fins, fly box cases and more.