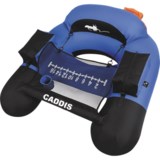 Closeouts. Caddis' Wyoming U-Shaped float tube provides enhanced stability and maneuverability for anglers, with ripstop nylon construction, two equipment pockets and a comfortable backrest.
Average Rating based on
15
reviews
4.600000
0
5
Verified Buyer

Reviewed by Avery from Nevada on Sunday, June 28, 2015

Backpacked into a mountain lake. Little bulky for my kelly but got the job done.

Verified Buyer

Reviewed by Phil from California on Tuesday, September 30, 2014

Great price for a great tube. Very easy with the twist open/close valve. Cant beat it.

Verified Buyer

Reviewed by Jim in East Lansing from Michigan on Tuesday, August 12, 2014

I'm the kind of person who isn't satisfied with a lot of stock products and modifies/customizes them until they do pretty much exactly what I want. I've only used this float tube on three short excursions and think it's basically fine. That doesn't mean I won't be trying to tweak it as ideas come to me though. The problems I'm thinking about so far don't seem so much faults with the tube but with the limitations inherent in trying to fish from such a compact platform where everything you bring is pretty much right up close against you. So more storage space, for instance, might seem like a good thing until you try to figure out where it could possible go and not end up either being more of a hindrance than it's worth from being in the way than it's worth or beong behind you where you can't reach it without actually getting all the way out. Or suppose you want to bring a small anchor with you? Me too but, again, where are you going to store it so that it's both ready at hand and not in the way? Maybe clipping it to a loop sewn to the cordura covering on the outside rim would work. Anyways, overall I think it's a very servicable unit at a great price.

Reviewed by Gone Fishin from Illinois on Tuesday, June 24, 2014

Purchased this tube so I could retire two 15-year-old Caddis tubes that had lost bungies, bladders and clips. Be aware that the seat is a simple piece of fabric that is permanently sewn in. There is no clip system that allows you to punch out and free yourself from the tube quickly and cleanly if the need arises. The mesh "table" attaches with two bungies that clip to the D-rings at the back of the tube (zoom in the picture to see them). When the table is attached, the fisher is sort of strapped into the tube and the clips are very difficult to reach back there behind you. They are also just plain hard to unfasten due to their design. I would not feel comfortable using this tube if there was any chance that I might turn over due to surf, boat wakes, or rapids. The pvc piece that is inserted to make a rigid crossbar at the front of the tube is roughly cut with sharp ends and may result in a wear point at each end of the crossbar. I would recommend rounding them off with a sander before use. That said, I do use this tube, but in my small local lake with no boat traffic and no chance of waves or surf. It is a nice, light weight tube otherwise, and the U shape does allow for easier kicking and casting. Sierra pricing and service are top notch.

Verified Buyer

Reviewed by Chris Morris from North Carolina on Tuesday, May 13, 2014

Haven't used the tube yet,but will be taking it with me in june to Colorado. Upon inspection the tube is made of high quality materials and the price was right for being a u-shape tube.It weights 8lbs and along with fins can easily be packed in a medium to large duffle.I'm very pleased.

Verified Buyer

Reviewed by dnt66 from ny on Thursday, May 1, 2014

havent used it yet but you cant beat the price

i have a riund one but exceeded the weight limit
they so no weight limitfor this one i hope so

Reviewed by Frank from Texas on Wednesday, September 11, 2013

Really well designed. Would like to have a picture of the assembly to go by. I believe it will have a long use. My friend has one. He recommened it.

Reviewed by Steve the Outdoors lover from Folsom, CA on Thursday, May 30, 2013

I purchased this float tube for my son(11 years old but 5'5" tall); he was able to fish from it immediately w/o little trial and error. It was easy to inflate and launch, right out of the box. I highly recommend this tube for beginners/intermediate fisher "people". Make sure to get fins! It is very difficult to control any float tube w/o them.

Reviewed by JW from Oregon on Thursday, April 18, 2013

A far better product at a netter price than my first Caddis tube

Reviewed by Don Baldridge from Springfield, Missouri on Wednesday, March 20, 2013

One of the main advantages of a U-shaped float tube is the ease of entry and exit as opposed to round tubes. Plus, you sit higher in the water and can fish more comfortably. The Caddis Wyoming tube also features durable 600 denier ripstop nylon construction, a drink holder built into the measuring/stripping apron, and an inflatable back seat rest. It is simple to assemble, lightweight 8 lb, 8 oz, and has a 'stabilizer bar' at the front which keeps the tube in proper configuration. Lots of room for tackle and gear in the two storage pockets and easy access to the flotation nozzles (main bladder and back seat rest) make this a very fishable platform.