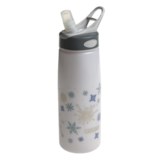 Closeouts. The CamelBak Better Bottle water bottle makes on-the-go drinking an easy, spill-proof task thanks to a Flip, Bite-N-Sip valve -- you don't even have to tip the bottle to drink!
Average Rating based on
93
reviews
4.677419
0
5
Reviewed by yy from ky on Monday, December 9, 2013

like it so much. easy easy to use.

Reviewed by German from Russia on Thursday, May 30, 2013

I am very happy with it. It very convenient. Water doesn't pour out. Very much it is pleasant to me.

Reviewed by javaonline from Greenville, SC on Friday, April 26, 2013

We've got multiples of these in our house. Durable and handy to make sure you're drinking plenty of water.

Reviewed by AndyJ from Ann Arbor, MI on Wednesday, April 17, 2013

Great bottle overall; shatter proof; almost 100% leak-proof (I wouldn't store it upside down in gym bag); easy to drink from (no need to suck golf ball through gardne hose); easy to clean

Reviewed by SierraNevadaGirl from Nevada on Wednesday, March 27, 2013

I like drinking from water bottles with straws, but after one day of using this style, my jaw hurt from having to bite down on the valve to drink. Also, the flow of water was slower through the bite valve than I'm used to, so it felt frustrating to not get much water...

Also, after less than a week of use, the plastic "flip" piece broke off. This is the piece of plastic that you press on to flip up the drinking valve. Now, in order to flip up the valve, I have to touch the tip of the valve where I drink from - not very sanitary...

Reviewed by Missjen from North Carolina on Friday, March 22, 2013

I got this water bottle because my friend told me how great it was and how much she liked it. I needed one to carry around with me. She told me how all you have to do is bite the top to sip and how a study was shown you drink 20-25% more water (I forgot what # it was) so I was like, "well, that is neat." The thing I do like is that it has ounces on the side so you can measure your intake. I gave it 2 stars off because I can't tell you how much I hate biting the top just to sip. I feel like my front teeth are going buck because you have to bite it fairly hard so what I do is just use the side of my mouth with my side teeth. Haha.

Reviewed by awaywego from Wisconsin on Wednesday, March 13, 2013

We're happy with our purchase of these bottles - one of each color. CamelBak's bite top allows water flow only when you want it. Great for in the car - no more unscrewing tops to drink. Although it does fit in the cup holder, it is a tight fit, and sticks in both of our cars' holders. A bit annoying, but not a deal-breaker. We only put water in, no other drinks, as cleaning could be a problem, even though the straw section is detachable. Would buy again.

Reviewed by snapsom02 from Washington on Thursday, March 7, 2013

Already have some of these bottles, but wanted some of the smaller size. Love how all of the tops are interchangeable between the sizes!

Reviewed by lyssm from Missouri on Wednesday, March 6, 2013

I love this bottle, it is a great size and fits into my cupholders and mesh pockets on my backpack. I have had no problems with leaking and I have knocked it over several times. Typical cambelbak good quality.

Reviewed by Lone Eagle from SF Bay Area, CA on Monday, March 4, 2013

A great price for a great bottle. I use this for my bedside bottle of water and cannot spill it no matter how I ":try". Usually I knock over my water at night reaching for it, not this one. The spout, which can be folded under the "handlle" for storage, when in the open position has to be squeezed or boitten much like those nblow up valves in wading pools or summer beach touys to get the water to come out. Even in my half sleep I manage to do so and the BPA free and size labelled (for quantitiy in ml) hard plastic is partly recycled too. All in all a great purchse !