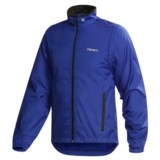 Closeouts. Canari's Razor Eclipse cycling jacket was made to slice through fierce headwinds. Polyester ripstop nylon is lightweight and packable as well as windproof and water-resistant for riding, in peak or off season. If the temperature rises, simply zip off the sleeves to convert the jacket into a vest.
Average Rating based on
191
reviews
4.324607
0
5
Verified Buyer

Reviewed by Jeff from GA on Thursday, March 26, 2015

Zip off sleeves that turn it into a vest. Zip outside back pocket that turns inside out and the rest of the jacket (including sleeves and my iPhone) can be squooshed into it, and an elastic waist belt then gives you a way of carrying it while on your bike. Plus a couple good sized interior pockets make this a wonderful jacket. The reason for 4 stars, not 5, is that it is not breathable, and it's water resistance makes it really warm in moderate temperatures (it is a shell, so it needs insulation beneath it in cold weather. Of course, if it were a breathable fabric it would also be much more expensive.

Verified Buyer

Reviewed by Maceem from Philly on Friday, January 30, 2015

I have gone through a number of Canari Eclipse jackets and I have yet to find another product that works better. The cut is very comfortable and does not bind. The high neck is lined for no rub. Best of all, the zippers are heavy enogh that they last, rarely jam and work with one hand (grab the collar in your teeth and you can zip all the way down and open with one hand). The jacket packs down really small and yet will be enough to get you home when the weather turns sour.
Oh, and did I mention that this superior product sells for less than competitor's jackets?

Verified Buyer

Reviewed by Jason from Florida on Friday, January 16, 2015

Used this jacket for a 3 hour ride in 40 degree weather and it was perfect. It blocked the wind and kept me warm.

Verified Buyer

Reviewed by Billy Goat from California on Monday, December 29, 2014

I bought this for riding by scooter and it really works well as a windbreaker. Very comfortable. Like all the features especially the pockets. The styling is very tasteful as well.

Verified Buyer

Reviewed by the stylish biker from Boise, Idaho on Wednesday, October 8, 2014

I bought a couple of different jackets and hands down this was the most comfortable jacket with the best safety/useful options. The zip off sleeves come in handy for those not as cold days and the internal stuff sack gives you the option to pack this thing down small. It is also very comfortable with the soft neck and it is very light and breathable so it doesnt feel like youre wearing a plastic bag. Great product by canari

Verified Buyer

Reviewed by willis from SLC on Monday, June 23, 2014

I ordered this jacket for myself... I am female but couldn't find what I was looking for in the female section. that said, quality and price make this jacket a keeper!

however, possibly the conversion to a vest feature ? created a very broad shoulder look that I did not care for. Plus, I was looking for a jacket so I would most likely not wear the jacket as a vest? I ordered the Niagara jacket (still in the mens department) in size S and I am very happy! I usually wear a ladies M and the mans S is a great fit!

Verified Buyer

Reviewed by Chipsah from NH on Friday, May 30, 2014

I love this jacket - well made and appears durable. It is perfect for carrying on the bike or wearing as needed if weather warrants. Color and sizing is true.

Verified Buyer

Reviewed by Richmond from Delaware on Wednesday, May 7, 2014

Jacket seemed to be decent quality. However, item had to be returned due to sleeves. They were very big for some reason. I ordered a large, body fit well but sleeves were enormous.

Reviewed by Va Scouter from Northern Virginia on Monday, February 3, 2014

Good windbreaker. Lightweight. Fit is perfect (I wear a large). Pit zippers help vent body heat. Felt comfortable on a sub-50 degree ride. I'm not a long-distance cyclist (hour or so at a time) so I can't just how it would work on a day-long haul, but perfect for my purposes.

Reviewed by BillW from MA on Monday, December 30, 2013

A very nice lightweight jacket where the sleeves zip on and off. Good as a wind breaker and the color makes you very noticeable to traffic which is very important. The fit was just right so be sure to use the size chart on the website.

Reviewed by sdauerbach from Portland, OR on Sunday, December 8, 2013

I have used this jacket twice in cool weather and it is an excellent outer layer. Only reason it is not 5* is it's lack of breathability.

Reviewed by K9chiro from Cave Creek AZ on Wednesday, December 4, 2013

Great functionality and color.

Reviewed by nick from ny on Saturday, November 30, 2013

jacket :)

Reviewed by Dr. el jefe from Indiana on Thursday, November 21, 2013

I ended up ordering the next size down, because this was huge. I'm not "race cut" by any stretch of the imagination, and often in jackets I wear an XL, but I could have fit multiple jackets under the XL. Unfortunately, the sleeves on the L are a little short, and movement feels a bit restricted, but even the L isn't really a "trim" fit. I like that the sleeves zip off. Because breathability is somewhat limited, you will be using this more as a vest.

Reviewed by Mike do what you can from Arizona on Sunday, November 17, 2013

I finally replaced my old cycling jacket with the Canari Convertible! My wife said that it was about time, which was definitely true. The Canari proved to be exactly what the description said. For me biking in the cool to cold early mornings is what I enjoy. The Canari is windproof, lightweight, and has the zip pockets which were the major factors in my choice. I have not had the occasion to remove the sleeves to convert it to a vest. Be that as it may, I recommend the Canari for its characteristic, value, and adaptability to the conditions.

Reviewed by Sr Biker from North Carolina on Saturday, November 16, 2013

After trying a few different lightweight jackets I've finally found the ideal shell. The others have been baggy and the venting was inadequate or nonexistent.

I ordered this one in my normal size (M) and the fit is just right. It's not baggy or flappy and the venting works. I wasn't wet after my ride.

Get it while on sale and it's a very good bargain.

Reviewed by drh from Southeast on Tuesday, November 12, 2013

Great jacket. It has all the options you will need in this type of jacket. It looks great and the "killer yellow" is a
high vis. color. The jacket is very well made and keeps the wind out. Love it.

Reviewed by Ben from St. Louis, MO on Tuesday, November 5, 2013

Nice jacket for the price. Keeps wind out and reasonably keeps rain off unless a downpour. It is kinda noisy on a windy day and will really balloon up if used as a vest only. Don't buy a size up if you are normal/thin build. I'm 6'1, 190 and the Large works just fine. Also realized that wearing a messenger bag blocks the entire back vent...so here's a tip. I realized that if I opened the sleeve zippers about 4 inches, I have instant pit zips! Doing that and keeping front zipper only half way allows for good ventilation.

Reviewed by FieldScientist from New Jersey on Monday, November 4, 2013

My husband loved these jackets so much that he was in morning when it was lost and got the exact same jacket a month later!

Reviewed by Jeff from Grosse Ile, Michigan on Tuesday, October 22, 2013

Bought this for fall riding here in Michigan, and the vest conversion comes in handy as the temp increases. It also saves the expense of buying a separate vest.. I'm 5'11",175 lbs with a 35" sleeve and the large fits perfectly with room for a winter jersey or fleece underneath. Have a few other Canari items and have yet to be disappointed. This jacket is well made and has nice features. Fabric is light, but blocks the wind nicely. The Killer Yellow color is very hi-viz and looks good, too.

Reviewed by Anonymous from Wisconsin on Tuesday, October 22, 2013

Nice lightweight very bright orange jacket. Zipper is a two-way. Nice option to take off the sleeves, and provides great visability with the reflective piping. Definitely a jacket that I will use over polar fleece in the colder months. Size fit is accurate.

Reviewed by CWL from Colorado on Friday, June 14, 2013

Comfortable fit and very visible! Perfect for its purpose...

Reviewed by Starke Raving from Fishersville VA on Saturday, May 25, 2013

Was very cool in Virginia this morning so I gave the new Jacket a try! It does everything they advertise and I was completely comfortable while the temperature was cool and was able to take it off and place it in one pocket in my shirt; when things warmed up.

Reviewed by Bobby G from New Jersey on Friday, May 17, 2013

I'm 6'3" with a slender build (long arms!) and the XL fits perfectly! The orange is super-bright, and the reflective piping really lets you be seen at night when the headlights hit you. The clever venting prevents the windbreaker from "ballooning" when you pick up speed. It's comfortable, well-tailored, and I couldn't be happier with it, especially on the crowded central NJ roads. The pockets are plentiful and roomy, and the attention to detail is outstanding.

Reviewed by Yeti from Seattle on Friday, March 29, 2013

For what you'll pay at STP, it's fine. No way would I pay retail for it though. It's good if you want it to be expendable (i.e. - commuting or mountain riding because of the muck and dirt, etc.). Probably not the best choice if you're a roadie or club rider type though. Think of it as buying a cheap tent vs. spending more for that really nice tent where every detail is well thought out.

PROS: Visibility, converts to a vest, blocks the wind, pockets, the collar is nice.
CONS: Fit (too baggy in the torso, too short in the sleeves), zippers are heavy & clunky, material is heavier/thicker than you might expect which blocks wind nicely but can also trap humidity inside the jacket.

Reviewed by dtomlinson from South Dakota on Friday, March 22, 2013

This is my second Canari Eclipse jacket. I was involved in a head on collision with a car while riding my bike and wearing this jacket. I survived the crash with only cuts and bruises, plus road rash and a bum shoulder. I helmet cracked and my Canari jacket had a few tears in the back, but saved my back from further damage. That's not reason for replacing it. I love the jacket for its versatility of being either a jacket or vest. I am trying the orange model, maybe better visability than the yellow.

Reviewed by Denverite from Denver on Monday, March 18, 2013

My husband wanted something to block the wind and be bright as he commutes to work. He was very impressed at the wind block on this...and it sure is bright!

Reviewed by Seattle Bike Commuter from Seattle WA on Thursday, March 14, 2013

I'm 6'3 185 so this jacket (in an XL) was pretty baggy and the arms were short....but for the price I can almost overlook that.

Reviewed by Girl that rides bikes from AL on Wednesday, March 6, 2013

The orange is VERY visible. I love the cinch cord at the bottom hem, rather than elastic. It allows the jacket to lay flat rather than ride up. The zippers are easy to use.

Reviewed by Skip from Colorado on Saturday, March 2, 2013

Great jacket for riding my bike. Easily seen!!