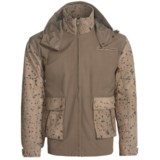 Closeouts. A cool weather companion that makes a statement, this cotton canvas jacket features leather panels with a bold black-speckled print and features a snap-off hood.
Average Rating based on
91
reviews
4.351648
0
5
Reviewed by Lolita from Virginia on Wednesday, January 21, 2015

The best thing with this jacket is price. It is true to size, but not very comfortable. Pockets are to small, a hood has just 3 buttons, without a zip. The jacket is overrated.

Reviewed by Shopper of the family - online rules in-person shopping from OKLAHOMA USA on Monday, December 8, 2014

Although I thought this jacket was a real Loro Piana, it appears not to be. I found it to be better than average quality and both the waxed canvas and leather accents feel genuine and of high quality. Unfortunately, my husband and son are athletic and bulky built so this jacket will not work for either of them. I would love to keep it for me because it is an excellent buy but the sleeves are much too long for me. So, STP will have no problem refunding me for the two that I purchased.

STP has a no fuss return/full refund (or exchange) policy and I have used it many, many times. STP allows me to return the items that do not fit without any fuss. No restocking fees, no excessive shipping fees, no troubles at all. Better return policy than any retailer I know including Walmart, Target, Sears, Dillards, Macy's, Kmart, Amazon, etc. I DO ALL MY SHOPPING ON-LINE. I have at least 10 years experience with on-line shopping and the need for returning items. You will love STP! I have shopped with them for about 5 years now and they have never failed me.

Reviewed by jeffo from Connecticut on Friday, December 5, 2014

Well made...silly cheap..true to size...snaps aren't as snug as they need to be (hood comes free too often)....leather is printed with rain drop designs ...does look a little like a "camo" jacket...have had clients order one for them.

Verified Buyer

Reviewed by Ronnie the trail boss from South Carolina on Friday, November 14, 2014

This jacket is not only comfortable , it has the quality that you would want in your clothing expectations. I'm very satisfied with mine, and am sure you will be also !

Verified Buyer

Reviewed by Matt from Connecticut on Friday, November 14, 2014

This jacket is quite light, and appears to be well made. It isn't baggy, but I am going to have my tailor bring in the waist a little (I'm six foot four with a 34" waist and purchased a large).

Verified Buyer

Reviewed by Ocho from Seattle on Tuesday, November 11, 2014

This is sized a bit too tight in the belly for XXL. It is a beautiful jacket. The last one I gave away as a gift and this will be a gift also. My tummy is on the too big side for this, but it is a wonderful fall jacket and very well made.

Verified Buyer

Reviewed by mike-pier from ny. on Monday, November 3, 2014

This is a great jacket for the spring and fall and for the price you can't beat it. I don't understand how someone could give it one star or say STP was selling knock offs when they tell you its made in China, some people don't read the add just the review.

Verified Buyer

Reviewed by tdragonwolf from Ohio on Friday, October 31, 2014

I'd been looking at this lightweight jacket for some time before I purchased... I am EXTREMEMLY happy with this purchase. The canvas is darker than appears in the photo - the marking on the leather looks better in person than it does in the photo also. The metal pieces were individually wrapped! This is a very high end jacket.

Verified Buyer

Reviewed by Skeptical One from El Paso, TX on Thursday, October 30, 2014

a great product at an unbelievable price. I got one for myself, and it was such a hit that I had to order another 4 for friends.

Verified Buyer

Reviewed by Michael from NY on Thursday, October 30, 2014

Ordered the jacket in XL and it was a bit too roomy. Ordered another in L and it fit perfectly. Gave the XL to my brother-in-law who loved it. Aside from people asking me if it's raining outside (the dots are a bit funky), I love it too. Exceptionally well made.