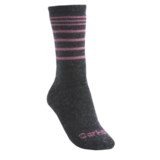 2nds. Puffy stripes encircle the leg of Carhartt's Extremes Puffy Stripe socks, crafted from a heavyweight blend featuring wool for warmth.
Average Rating based on
25
reviews
4.440000
0
5
Reviewed by Enginerd from VA on Friday, April 19, 2013

My wife wears a size 6 shoe, and is very happy with the thickness and warmth of these.

Reviewed by Sunauctions from CT on Saturday, March 23, 2013

These socks are the best! Warm, comfortable! I love them and should have bought 6 pairs!!

Verified Buyer

Reviewed by panama red53 from greece ny on Monday, February 18, 2013

live in the northeast- was looking for warm socks to wear at home and on the trails

Verified Buyer

Reviewed by girlofsteel from San Francisco on Tuesday, February 12, 2013

I'm an ironworker and on my feet a lot. These socks are a pleasure to put on in the mornings under my work boots.

Verified Buyer

Reviewed by peapod from seattle, wa on Friday, February 8, 2013

I like these socks, they a cool looking and do not wear out quickly.

Verified Buyer

Reviewed by razz from Palo Alto, CA on Tuesday, January 29, 2013

These socks are seriously puffy and warm. They seem a little bulky for regular walking wear, so I wouldn't wear them hiking unless the temperature was extreme, but if you put them on at night or in your cold cold house you will be so happy.

Verified Buyer

Reviewed by Goat Goddess from New England on Monday, January 21, 2013

The 2nds status is meaningless; a tiny flaw in the knitting design takes nothing away from these great socks. Love Carhartt products and these socks are a perfect example: cushy, warm, good insulation, fit inside my other shoes too, launder well. Will add them to the 8 OTHER pairs of Carhartt socks I own.

Verified Buyer

Reviewed by Mel from Ellensburg, WA on Tuesday, January 1, 2013

I have a feeling these socks will be the first ones to slip down my calf. They also say "Irregulars" on them but don't seem to have any major issues. Probably wouldn't buy again. I'd save the money for a more expensive pair.

Verified Buyer

Reviewed by Mountain Girl from Prescott Arizona on Monday, December 31, 2012

These socks are perfect for someone who has cold feet. I always had a problem finding socks that would keep my feet warm and these do just that. Even on the coldest nights. These are thick but that is what I wanted and they fit well in my snow boots too.

Reviewed by Boofie from San Jose, CA on Friday, December 28, 2012

These socks are not long but wide which makes them very sloppy and slip around in my shoes. Will not be wearing them hiking.