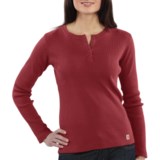 2nds. Carhartt gave this women's long sleeve henley shirt all the famous Carhartt quality and durability, plus a cut that's perfect for a woman's body.
Average Rating based on
746
reviews
4.408847
0
5
Verified Buyer

Reviewed by sailor from ME on Thursday, June 25, 2015

Well made and comfortable, true to size

Reviewed by Returning Oregonian from Los Angeles, CA on Saturday, April 12, 2014

The small fit true-to-size and wasn't too long (I'm 5'7, 125lbs), but I was really not crazy about the fabric: super, super hard and thick. I think this would be an okay work shirt, but it also gets hot very quickly -- and if you're out in the sun, watch out -- the buttons get SUPER hot. I wouldn't purchase it again.

Reviewed by SAinOH from Cincinnati, OH on Friday, January 3, 2014

I purchased this shirt in an XS for my daughter for Christmas. She's about 5'1" and 110, and the shirt fits great. She loves it.

Reviewed by Mnt Ma from Colorado on Sunday, December 29, 2013

Yes the sleeves are long - I like them that way! Cut perfectly (trim fit) but plenty of shoulder room. Great layer and/or outer shirt.

Reviewed by healthteanut from Seattle on Tuesday, December 17, 2013

These are excellent quality cotton tops, nice color, & very comfortable, too bad the petites are gone, the sleeves were too long for me, but I can fix that, the price is so dirt cheap, you wouldn't find them elsewhere except STP!

Reviewed by Dog Walker from NYC on Sunday, December 15, 2013

Nice heavy cotton, trim fit. I probably could have sized up.

Reviewed by Sale Magnet from Morehead City, NC on Sunday, December 8, 2013

This Henley is medium thick ribbed fabric which fits nicely & is hip length. It is slightly form fitting & great for layering in winter months. Washes well.

Reviewed by Sale Magnet from Morehead City, NC on Sunday, December 8, 2013

This Henley is medium thick ribbed fabric which fits nicely & is hip length. It is slightly form fitting & great for layering in winter months. Washes well.

Reviewed by Binary Tree from Berkeley, CA on Wednesday, December 4, 2013

The ribbed cotton fabric is thick and high-quality, but the way it handles curves is not flattering in my opinion. In the photo of the shirt, the way the sleeves bunch up around the elbows is basically what this shirt does around my [...]. I'm 5'6", 120lbs, and I got the XS.

Reviewed by Bee from NYC, NY on Tuesday, December 3, 2013

Great quality, as I expect from Carhartt. However, it is a little tight under the arms. I am 6'6', 118# and usually wear a size 4, so I ordered size XS. I almost wish that I had gotten an S instead, but it was fine under a flannel shirt during a chilly Long Island Thanksgiving weekend. Also, the color is more of a brownish, brick red-than the clearer red shown.

Reviewed by BHarris from Ashland, VA on Sunday, October 20, 2013

This is a warm, comfortable shirt. However, it runs a bit large, especially in the length of the sleeves. (I got an XS and am 5'0", 105#). It shrank a bit after the first washing.

Reviewed by kylesgigi from Bucks County, PA on Saturday, June 8, 2013

I have found Carhartt to be a quality brand, and I have been quite satisfied with their women's line. This henley shirt is sized correctly with snap buttons. The sleeves and length are spot on for sizing, and although it states they are "seconds", I have not found the defect. It washes beautifully and comes out of the dryer ready to wear.

Reviewed by Ama from MN on Thursday, June 6, 2013

Well, I bought the xs for my 11 year old, but the sleeves are so long. It actually almost fits me (size M), but I would need the next size up to keep it. Too bad because it's actually a nicely made shirt and the color is great.

Reviewed by Sharynka from Western Mass. on Friday, April 12, 2013

This henley is a great underlayer to a dress I felt needed more warmth. Ribbed, with snaps. Love it.

Reviewed by kkf from Olympia, WA on Friday, April 5, 2013

I ordered an XS, which often will fit me but not this time. It was way too big. I am 4'11" tall.

Reviewed by Nicole from California on Wednesday, March 13, 2013

Its a high quality shirt. it does run a teensy bit small but within limits and without issues.

Reviewed by Cindi from NYC on Monday, March 4, 2013

I like this heavier weight, plain henley shirt. The color seems to have a hint of olive tone in the brown. It's bodice is long, so are the sleeves, both a good thing. The closeout price was fantastic. It is very comfortable on, looks rugged, good for the outdoors activities, easy to layer.

Verified Buyer

Reviewed by teacher from Moscow, ID on Monday, February 18, 2013

I purchased both a XS as well as a S in different colors. They both fit so similar it is hard to tell which fits better. They are form fitting and have long enough sleeves even in smaller sizes which is nice. Nice thick material which should last a long time.

Verified Buyer

Reviewed by Uwett from Guilford, CT on Thursday, February 14, 2013

Love the color! Great as layer to stay warm on cold days. Good looking enough for casual ware with a pair of jeans. "Upgrade" with a nice scarf.

Verified Buyer

Reviewed by avocet from idaho on Thursday, February 7, 2013

Soft, comfortable, well-made shirt.

Verified Buyer

Reviewed by MiminId from Boise, Id on Thursday, January 24, 2013

Works well going out and about with jeans, but also looks dressy enough for a casual work top.

Verified Buyer

Reviewed by Pondo from Nederland, CO on Wednesday, January 23, 2013

The only thing I don't love about this shirt is the softness. I expected it to be softer cotton, instead it's a very sturdy knit.
Sized well, I got a small and it's not too tight or short (5'3, 145).

Verified Buyer

Reviewed by CA grrl from SF Bay area on Wednesday, January 23, 2013

This shirt is really basic but a young restaurant employee asked me if I work out and said I look like I'm in great shape while I was wearing it. I'm 50 and thin but I really dont work out at all so the shirt must have has something to do with it!

Verified Buyer

Reviewed by VS from Ohio on Sunday, January 13, 2013

Shirt feels nice on. The sleeves are the perfect length and after washing it in cold water and not drying it, it fits well. If you like a long length it isn't very long, but covers the tops of my jeans just fine.

Verified Buyer

Reviewed by Brighteyes from Port Hueneme, CA on Sunday, January 6, 2013

I mostly live a casual life style. I seem to be in jeans so much,henleys are great to wear with them. I have them in a lot of colors. Quality merchandise, terrific price and fast shipping.

Verified Buyer

Reviewed by outdoor girl from south dakota on Saturday, December 29, 2012

purchased to layer with other clothing , but once spring arrives will be warm enough by itself

Verified Buyer

Reviewed by Tmh from Abq, NM on Wednesday, December 26, 2012

Great color, good fit, comfortable style. I am slender and long waisted and the medium fit me great (5'6", 120lbs). Long enough body and sleeves. Thick fabric - it is stiff on first wearing but I haven't washed it yet. Will probably last for years from the feel of it. Not really a "sexy" henley - button flap is not long and stays overlapping even when unbuttoned. Will use for layering during the winter.

Verified Buyer

Reviewed by Colorado Cat from St. George, UT on Saturday, December 22, 2012

Nice heavy-weight material that makes this warm during the cold weather.

Verified Buyer

Reviewed by apple from Houston, tx on Saturday, December 22, 2012

Durable shirt

Verified Buyer

Reviewed by PJ the farmgirl from North Carolina on Friday, December 21, 2012

This is the eighth one that I have purchased from Sierra Trading (three for myself, five for gifts) and all us girls just love these shirts. I will buy more as the need arises.