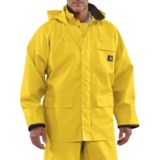 2nds. Carhartt's PVC-coated polyester rain coat has waterproof protection that's rugged enough to take on tough jobs in the worst weather.
Average Rating based on
25
reviews
4.400000
0
5
Reviewed by Rob the tree guy from Michigan on Thursday, March 13, 2014

I have a yellow one I purchased about 7 years ago…showing wear. I purchased this one from STP for a back up, same great quality. Love the wrist bands, thickness, and color too!(brown) I'm a tree guy, so strength in clothing is important, good job Carhartt and STP!

Reviewed by Llp7 from Alaska on Monday, May 20, 2013

WOW! As soon as you slip this jacket on you'll know you made the right choice. The sleeves have an inner comfy cuff with tabs to keep them as tight as you like. The knit fabric of the inner cuff feels great, especially compared to the alternative of the rubberized polyester flopping around while you work or fish or do whatever it is you want to do in this jacket. I also like that it has a corderoy coller instead of cold rubber against my neck.

I'm so glad I took the time to slip this thing on. I had ordered some Helley Hansen PVC coated pants at the same time and since they didn't match the jacket I was gonna ship it back. Boy am I glad I decided to put it on. I wouldn't wear any other rainwear now that I've tried this. I'm tellin' ya....you'll love this inner cuff to keep wind and rain out of your jacket. Keeps you warm, dry, and draft free.

You won't be disappointed.

Verified Buyer

Reviewed by MF from Weston, VT on Tuesday, February 5, 2013

When you have no choice but to be out in the rain this is the coat. Don't expect to be nimble but DO expcet to be dry

Verified Buyer

Reviewed by oakland carpenter from oakland ca on Saturday, January 12, 2013

way better than the standary lumber yard rain gear.

Verified Buyer

Reviewed by Swellwaters from Chicago, IL on Thursday, January 3, 2013

My 23 y.o. son saw this in a previous catalogue, found it on the website, and requested it for Christmas. He is pleased with the product, although he has not had a chance to test it yet. I am impressed with the construction of the coat, although breathing "holes" or slits, I think, would be recommended for this waterproof coat.

Verified Buyer

Reviewed by Stressed Out from Hudson, OH on Wednesday, January 2, 2013

Needed a good heavy raincoat for occasionally working in the rain. This fit the bill perfectly!

Verified Buyer

Reviewed by joesixpakio from ny,ny on Saturday, December 22, 2012

Bought this for work when my el cheapo rain coat's zipper messed up. This is a heavy, durable raincoat. Very warm too! I could not be happier. It may prove to be too heavy for summer work, not sure. Nice coat!

Verified Buyer

Reviewed by Working Man from MT on Saturday, December 22, 2012

Does a great job, so I can

Verified Buyer

Reviewed by NOT Wet anymore from Denver CO on Friday, December 21, 2012

Out doors

Verified Buyer

Reviewed by Opie on the Honest from Glenford, New York on Thursday, December 13, 2012

...i tried this product on in a store originally, but then ordered it online because it was a better buy...it's a great jacket...heavy duty, nice design, etc...the only problem i had was that the jacket ordered online did not fit the same as the store version even though it was the same exact size and model...i understand that variations may exist, but essentially, the area that went from shoulder to shoulder across my back was very tight and would press against my neck when moving...

...i ordered a sweatshirt from another company, carhartt as well, and same story, except the one i ordered online had sleeve cuffs that were extremely tight...once again, not a problem with the ones i trid on in the store...

...unfortunately these things happen, i'm just get to the point of wondering if it's worth the hassle of buying online as it appears they often send inferior products (or seconds) when compared to the ones i've tried personally in the stores...coincidence?...i leave it to you to decide if it's worth the hassle to return things and possibly repeat scenarios vs. spending a few extra bucks locally...