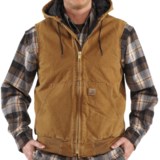 2nds. Work-ready, super-durable performance in a layer-friendly design, Carhartt's Sandstone hooded active vest features a rugged, insulated design with a hardcore 12 oz. cotton sandstone duck.
Average Rating based on
57
reviews
4.684210
0
5
Reviewed by Cam from Killington on Wednesday, November 18, 2015

Awesome hood and shape. Very durable as with most Carhartt products. Wear it all the time. Love it.

Verified Buyer

Reviewed by Bill E. Boy from New Mexico on Sunday, March 22, 2015

This is nice, it has large openings on the pockets so it's not a chore to get your hands in and out. There's a nice inside pocket with an earbud grommet for those folks that are into that - I use mine for my house keys mostly. The zipper is big, brass and will probably last forever. There's never any trouble getting it to work. It's longer than my other vest which is great for me, I am not quite a standard fit and a lot of things are just a bit too short but this is perfect. It's warm but not too bulky. The hood is nice and warm; it's a little stiff so if you want it to move with your head you have to cinch it down but like I said it's _warm_.

Verified Buyer

Reviewed by EVW251o from Georgia on Wednesday, January 7, 2015

Great looking vest and very much needed during this COLD weather!

Verified Buyer

Reviewed by 1bluecowgirl from California on Friday, January 2, 2015

This is classic Carhartt.
Not much else needs to be said.
My man has worn Carhartt for years and this vest is up to par.

This was the first vest I bought that had a hood and his only comment was that the hood was made to use
like a hood. It goes up on head and stays there. It doesn't slide back and fall off or move forward and cover his eyes.
Couldn't be happier.

Verified Buyer

Reviewed by Lovinmydogz from New York on Tuesday, December 23, 2014

I purchased this vest for may husband. He already has an insulated vest that he spent nearly $100 at a local reatail store on. The prices on sierra trading post is almost unbelievable. The vest is that same quality and durability as the other one he has and less than half the price. I am very happy with my purchase.

Verified Buyer

Reviewed by mountainman from Montana on Saturday, December 20, 2014

Love the vest , was worried about color Red ( was only one they had that fit ) but when it came I liked it . A Dark Red , I call
it barn Red , Hood is great , just what I needed . after reading reviews I ordered next size up , mistake , the sizes are running
true . They exchanged mine for the L size and did it fast with no questions . Very well built , of course it's Carhartt , If you need
a warm vest with hood , get this one , you won't regret it . And the pockets ? well my gloves fit in them perfect , deep and stay in .

Verified Buyer

Reviewed by Andrew from Upstate NY on Wednesday, November 26, 2014

Got a super deal from STP on this vest. Its stil stiff, but I expect it to soften up after a few washes. I really like the pocket inside the pocket. One of several nice touches.

Verified Buyer

Reviewed by Parson from Utah, USA on Monday, November 24, 2014

I love a hood--on sweatshirt, on a rain jacket, on a winter coat. What, then, could improve a toasty vest? A vest with a hood. Perfect. Useful pockets and even a special place for my iPod and earbuds. Usual rugged Carhart look.

Verified Buyer

Reviewed by FG42 from Queens, NY on Sunday, November 23, 2014

Vest is well made, will last me 10+ years. Good investment into a warm, durable, hooded, vest.

Verified Buyer

Reviewed by Sierra regular from California on Tuesday, November 18, 2014

My husband hasn't taken this off since he got it!