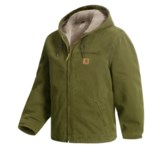 2nds. Legendary durability plus rugged good looks make Carhartt's Sandstone Sierra jacket a perennial favorite for work, chores and casual wear. Warm, soft sherpa pile lining takes this classic over the top when temps start to drop.
Average Rating based on
178
reviews
4.662921
0
5
Verified Buyer

Reviewed by Griffy from Vermont on Wednesday, February 8, 2017

Fits well, comfortable, warm. Sleeves are long enough.

Verified Buyer

Reviewed by Lori R from South Dakota on Tuesday, January 10, 2017

My son is so happy that I ordered this coat for him. It fits perfectly and is so warm.

Verified Buyer

Reviewed by The Mack man from Pennsylvania on Tuesday, December 27, 2016

I'm thrilled with this jacket! Very well made and fit is right on. Rugged material

Verified Buyer

Reviewed by Yoli from Texas on Friday, December 23, 2016

I was unaware this product was an irregular. I'm deciding if I want to return it. I would have purchased this item from another seller if I had known this was an irregular. This is a gift.

Verified Buyer

Reviewed by Grandma Joan from Minnesota on Tuesday, December 13, 2016

Bought for my son that is an electrical lineman, he only wears Carhartt clothing for work. His last jacket he had for many years and although well worn he still likes it. It was also a Carhartt.

Verified Buyer

Reviewed by Patti from New Oxford on Sunday, December 4, 2016

Grandson loves it

Verified Buyer

Reviewed by mlb from Northern Colorado on Friday, November 25, 2016

I am 6'5", 190 lbs, and this jacket in Tall Large fits perfectly. The sleeves are plenty long enough. It is not as baggy fitting as I have found some Carhartt products to be. The outer material seems very durable, but is not overly stiff. It seems like it will be warm enough for all but the coldest weather. Although this is a 2nd or irregular, I haven't seen anything wrong with it. I'm very happy with this purchase and with Sierra Trading Post.

Verified Buyer

Reviewed by BJE1019 from Iowa on Tuesday, November 1, 2016

Fits well, price is wonderful, keeps them warm, and looks great1


Verified Buyer

Reviewed by Jamie from NJ on Friday, October 28, 2016

I love this coat! It fits me really well, yet cut in all the right places to let me move around and carry things easily. I'm 6'3" and 220 pounds. I got the Large Tall.

Verified Buyer

Reviewed by mrloidolt from St Cloud mn on Wednesday, December 23, 2015

I was very satisfied with my order .It came very quick in the mail an was just what I ordered.

Verified Buyer

Reviewed by Follow the trail Tim from Northern Wisconsin on Monday, November 23, 2015

Excellent mid to low temperature jacket. Layer for temps below freezing. Nice looking jacket. The hood is nice for breezy days. This may be a 2nds jacket but I couldn't find an obvious flaw. The only con was the size was too larger. That was a me problem when ordering. I will exchange it for a smaller size.

Verified Buyer

Reviewed by Ozzy the atv tour guide from Las vegas nv on Tuesday, October 6, 2015

Can't wait for it to get cold so I can ride in these, bought a few for the cold weather and can already tell these are well worth the value and quality.. these are tough jackets

Verified Buyer

Reviewed by WFS from ozarks on Tuesday, March 17, 2015

There are no negatives with this working man's cold weather jacket. The sleeves are plenty long, the hood is really warm, the pile lining is excellent. Good all-round cold weather jacket.

Verified Buyer

Reviewed by SandyG from Indiana on Monday, December 8, 2014

I will let you know on this Christmas gift when I give it to my grandson. It appears to be in excellent condition and says it is for tall people. My grandson is 6 ft 5 in and will know on Christmas eve it is going to fit properly. Your service was excellent and the packages arrived in good condition and quickly. Thank you for the fast prompt service. The five star rating is for fast prompt delivery and condition of the boxes.
Sandy Gray

Verified Buyer

Reviewed by Iowaegian from Iowa on Friday, November 28, 2014

Love this style Carhartt- longer in the back for coverage when bending, my husband's favorite coat. Good deal!!

Verified Buyer

Reviewed by Phil from Santa Fe on Wednesday, October 29, 2014

I have ordered a couple of these now, 2 for work and one for play, and I cant find a thing wrong with any of them though it says there is some defect. You cant go wrong getting carhartt quality at STP prices!

Verified Buyer

Reviewed by Woodmannnnn from Ohio on Sunday, June 29, 2014

Couldn't find a flaw to make this jacket a 2nd. Nice heavyweight with the toughest shell of canvas in a jacket.

Verified Buyer

Reviewed by sup409 from New jersey on Friday, April 11, 2014

Great jacket and awesome price...Will be buying more for my workers.....Thanks

Reviewed by RickyPheromone from mississippi on Wednesday, March 26, 2014

i bought a large tall. im 6'4 205lb. i wear 36" sleeve length, 42-44" chest, 34"waist. large tall is a perfect fit. Not baggy in the waist. Regular/athletic/slim guys will like the v-shape cut. if you have a belly, an XL may fit you better.

cannot find why this jacket was considered irregular. it seems first quality in every aspect of fit, finish, and color.

fleece lining on mine looks different than the picture its more of a dark charcoal gray.



Reviewed by Dan the elkchaser from Washington on Thursday, March 6, 2014

An all around grab and go jacket. Great for the changing Washington weather.

Reviewed by Michael from North Carolina on Thursday, February 13, 2014

Plenty of extra room in the sleeves. Lets you move around with lots of freedom.

Reviewed by wes hikes from ohio on Wednesday, February 12, 2014

I was unable to find a reason for this jacket being a 2nd.I usually wear a XL,but bought a XL TALL,which fits perfect.Attractive and warm.

Reviewed by Picklelady from Winchester on Sunday, January 19, 2014

I purchased two jackets for my sons for Christmas. I knew I was buying the best because they both were Carhardt. The boys said they were awesome and warm as toast with the Sherpa Lining. Also said they were really sharp looking. So that is the review I got from my boys. (ages 54 and soon to be 50) They would definitely recommend these Carhardt jackets with Sherpa Lining.

Reviewed by Lena from Chicago on Friday, December 27, 2013

Seconds or not, this coat is fabulous. I bought it coat for my husband who is 6'4" and needs the tall sizes. This fit him perfectly and the price couldn't be beat. He loves this coat.

Reviewed by Mom the Shopper from Washington state on Wednesday, December 18, 2013

Great price on a product we know is of quality materials and workmanship. States it is a 2nd but so far we haven't found anything wrong with this jacket. My son is 6' 2" and about 205#...this jacket in a large tall fits him perfectly.
Great buy and fast shipping.

Reviewed by Marko from Tennessee on Friday, December 13, 2013

Used the Carhartt sizing chart on their website,and this jacket fit my son perfectly.Warm,built well,just like the description.

Reviewed by Carhartt Girlfriend from Iowa on Wednesday, December 4, 2013

I gave this to my boyfriend as an early Christmas present. He's tall (~6'3") and this jacket fits him perfectly! I ordered the jacket in the dark brown which in reality is almost black. He loves it.

Reviewed by Garrett from Texas on Saturday, November 30, 2013

Jacket was in great condition with only a slight stitching imperfection on the cuff area. I'm 6'2" And it's the perfect length in the back. It fits me very well unlike most regular XL jackets.

Reviewed by Cindy from Georgia on Wednesday, November 6, 2013

My son loves his jacket. It fits perfectly and very good quality. Fast delivery.

Reviewed by Old man from Minnesota on Sunday, April 28, 2013

I'm 6' 3" and buying a coat the fits my arms and shoulders is tough, this coat was made for a taller guys, arm length is great (I buy 36" sleeve dress shirts). I can't find why this was considered a 2nd. My last Carhartt jacket has lasted me 14 years of hard use and this is a great replacement.