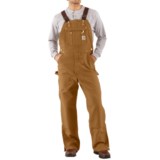 2nds. Carhartt Dual Hammer Loop bib overalls are built from heavy duck, reinforced in all the right places, joined with heavy duty snaps, zippers and rivets, and outfitted with all the pockets, pouches, loops and slots a guy needs. You'd think the people who made these bibs know something about hard work. They do!
Average Rating based on
37
reviews
4.486486
0
5
Verified Buyer

Reviewed by Richard C from NE Pa on Monday, April 24, 2017

These are Great coveralls and they look 1st rate to me. The only think that I saw was maybe some stitching that would have caused them to be rated 2nds ?? Carhartts are the best and their quality control and products are top notch. Thanks to Sierra Trading Post offering them at a great price and immediate shipping. I'll never wear these coveralls out, but if I did I would come back to STP to buy another pair.

Verified Buyer

Reviewed by The chicken guy from Maine on Friday, April 7, 2017

These are great bibs, they have the features I need for grubby, wet or cold weather - and more! Carharrt quality and fit have made them a personal favorite.
We have been shopping STP now for over 20 years (!) and keep coming back for the best in outdoor clothing and gear. In those rare times when we have had a problem with an order, STP reps and service has been the best, most helpful.

Verified Buyer

Reviewed by Kim from Indiana on Monday, March 27, 2017

Grandson loves them for 4 wheeling. He likes the unlined for when it's not cold out.

Verified Buyer

Reviewed by Rocking Robin from SC on Tuesday, February 28, 2017

I love the color, fit, material of these carhartt overalls. They can be used for work or just casual. Very durable.

Verified Buyer

Reviewed by Paul from Vermont on Wednesday, November 30, 2016

This review process is too cumbersome!

Verified Buyer

Reviewed by Tara Coventry from Illinois on Friday, October 28, 2016

My husband doesn't like change but loves the duck bibs. The pockets are a bit different and he hasn't had the button leg but he loves them! Great service!

Verified Buyer

Reviewed by macsheep from Arizona on Monday, September 19, 2016

If you are doing something where you need to unzip these overall legs all the way up to your hip then they are for you. But I don't need to unzip the legs and that large metal zipper is really uncomfortable against my knee and leg. I returned these overalls because STP did not state in their description that they were zip-to-thigh.

Verified Buyer

Reviewed by Cosmo from Michigan on Wednesday, November 11, 2015

Fit well, strong material. Use them for yard work around the house, who cares if they get dirty. Besides, more dirt and grime make it look like I'm doing something. The front bib pockets are helpful and the zip legs work well with boots.

Verified Buyer

Reviewed by NorCal Mom from Californa - Sierra Nevad on Wednesday, May 13, 2015

This is the 2nd pair of these that I've bought for my son - the first pair lasted through 5 years of welding, weed whipping, chain sawing, etc. In fact, that pair is in great shape except that he accidentally caught the pocket on a nail which resulted in a huge rip. Otherwise, he'd still be wearing that first pair for another 5 years...

We order these large, to wear over other stuff - he wears a size 32 waist jeans, but we order a size 36 overall, which works well, for wearing over sweatpants, etc. in the winter.

Verified Buyer

Reviewed by badm0j0 from maryland on Tuesday, May 5, 2015

great overalls

Verified Buyer

Reviewed by Onelegorf from Colorado on Thursday, April 9, 2015

Fast shipping it was here in no time

Verified Buyer

Reviewed by Jeddar from Western Massachusetts on Tuesday, April 7, 2015

Great product, well made. Helps keep your pants clean while working. Even though these are not thermal lined, they do help keep you warm by breaking wind. Nice at the end of the day to just slip them off and your under clothes are clean. Pockets are very handy for holding many necessary tools of most trades. Dual hammer holders are nice for either carrying two tools or switching from left to right hand in different situations.

Verified Buyer

Reviewed by mplaks from PA on Tuesday, March 24, 2015

These are great. The quality is fantastic and they'll suit my needs quite well. However, my overalls seem to be coming a bit undone where the front/back meet what you might call the waist (below the buttons). I sent back my first pair because of that issue, and these are only marginally better. I'm only keeping these because I cannot afford to wait on work clothes while the issue is sorted out. I'll just have to sew/reinforce them myself. All that said, I'm not sure if the issue lies in the fact that these are seconds or if it's just a general quality issue with overalls like these.



Verified Buyer

Reviewed by Kate from Wisconsin on Monday, March 9, 2015

Needed new Bibs and for the price I could not pass them up.


Verified Buyer

Reviewed by Camper from alabama on Thursday, March 5, 2015

Love the ankle to waist leg zipper Excellent product

Verified Buyer

Reviewed by Jim from Missouri on Thursday, October 23, 2014

I'm 6'1, 205 lb. I usually wear 36x34 in most jeans, and these fit great. Not too baggy, not too tight. These will be perfect for chopping wood for the fire.

Verified Buyer

Reviewed by Capt. Bob from Medina, OH on Tuesday, August 19, 2014

These were purchased for the outer leg zippers that ease the donning while wearing footwear. Typical Carharrt construction with brass zippers and catches. The duck fabric is stiff, as usual, and multiple laundering are needed to soften it up. Otherwise, just as expected.

Reviewed by Lorijay4 from Rocku on Tuesday, January 28, 2014

Noticed my husband's work jeans were ripped and torn in the same place, exactly where these overalls are reinforced. I bought these hoping they might last a bit longer. The come a bit stiff but wash well and haven't shrunk much if at all, getting softer. He has a 36" waist but a bit of belly, I ordered the 40" waist and he's able to move comfortably and hang all his instruments of destruction in the many loops and pockets. He hates the black, shows mud and grout and such too well, but they were too cheap to pass up. I'll be looking for a deal on another color for sure.

Reviewed by contractor from wv on Sunday, January 19, 2014

carhartt for work is always a winner and stp always = great price

Reviewed by Retired from Marin County, California on Wednesday, January 8, 2014

My other Carharttt Overalls just lost their support because the elastic straps were old. The new overalls I purchased in December are better than my other ones because they have more features like a zipper fly, zipper sides to open up the pant legs when it gets hot. These are a bit stiff but after a few washings I'm sure they will surpass my needs. Great product at a very good price $35.12, they were on special sale.

Reviewed by Larry from SSF on Tuesday, January 7, 2014

These fit well, are well made, and so far, i cannot understand how these are rated as 2nds? These bib overalls are working and look perfect to me, thanks for selling such great overalls that are easy to get in and out of while fully clothed! Also, the legs "vent" easily enough with zippers, snap buttons, and easy release straps.

Reviewed by Wood Carver from Berkshires on Friday, January 3, 2014

The texture of the fabric holds wood chips. Size of waist runs small.

Reviewed by Mitch from Virginia on Tuesday, December 17, 2013

Great for work! The ladies just love them. One hell of a good fit.

Reviewed by Kolorado Kid from Colorado on Sunday, December 15, 2013

My current pair from 2001 is nearly faded white, with many patches along the front of the thighs, and the elastic shoulder straps have long lost their recoil, but they keep me covered, all of me, when I am bent over doing the dirty work. The hammer loops are just right, the front bib pockets hold my chapstick, carpenter's pencil and pocket watch perfectly. The side seam pockets are perfect for my everyday pocket knife on one side and my cell phone on the other.

Reviewed by Brad from Virginia on Tuesday, December 3, 2013

As with the Carhartt Zip-to-Thigh Bib Overalls - Quilted Lining I previously ordered from Sierra Trading post it was unclear why these were seconds as could find nothing obviously wrong with them. This time I did know to order the 30" inseam as the 32" were just a bit too long. Otherwise the sizing chart Charhartt provides is a great resource and specific to the style. Quite pleased with the features: Zip to thigh zipper means do not need to take boots off. Found number/placement of pockets to be quite satisfactory. "Cleanout bottoms" feature not noted by STP but both insulated pair and these had this feature. I've never had a pair of double fronts with these ~3" openings at the bottom of the double front to insert knee pads, but seems incredibly useful. Found some pads on Amazon (less than four bucks for a set of four sealed US Army surplus knee/elbow pads). Looking forward to using them as they fit perfectly - much better than cutting foam, being contoured and not too thick or bulky.

Reviewed by larry the fitter from Idaho on Monday, June 17, 2013

Just what you need for the hard jobs,double knees,easy in and out,all the pockets where you need them.

Reviewed by Nick from missouri on Thursday, June 13, 2013

carhartt makes the best "Working Mans Overalls" on the market............ I wear them everyday and they beat the
competition hands down. I've worn overalls for 40 plus years. Carhartt isn't the cheapest but then again
Ya get what you Pay For...........

Reviewed by Brandi M. from Fairbanks, AK on Wednesday, May 22, 2013

haven't put them to the test yet b/c it is summer here, but they will undoubtedly do the job. Carhartts are Carhartts.

Reviewed by Farmer Scott from Rural Indiana on Sunday, May 12, 2013

Made in USA and a great price. It's a no brainer.

Reviewed by James from VT on Friday, May 10, 2013

Product fit well but zipper broke. I sent them back and not received any further info on my order, would really like a new pair.