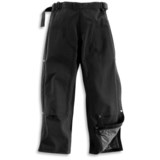 2nds. These rugged and ready waist overall pants are, like all Carhartt gear, made to keep you comfortable in some of the worst conditions out there.
Average Rating based on
52
reviews
4.365384
0
5
Verified Buyer

Reviewed by Kandis from Seattle on Thursday, February 19, 2015

This is the second pair of these I have ordered from STP. One for home and one for work. With knee pads in place they keep me fully protected from any thing I might get into and are still light enough to be comfortable in all weather. The adjustable sides allow me to wear them over shorts or flannel lined pants.

Verified Buyer

Reviewed by Sandy railroad switchman from chicago area on Wednesday, February 4, 2015

Love these pant! I work outside for the railroad and these are great, warm, windproof and water proof. I love every thing about them except that they don't have a front opening such a zipper or button. They are pull on with a little elastic that does not have enough strech to make it comfortable to pull on, that is my only reason for giving them 4 stars. They are also very durable. Great quality.

Verified Buyer

Reviewed by Tina from Maine on Thursday, January 15, 2015

These do what they are supposed to, keep you and your pants underneath dry in wet slushy snow.

Verified Buyer

Reviewed by RuralGrl from San Francisco on Wednesday, January 14, 2015

Great product and well made. Perfect for wintery ranch work, as they are quite heavy. Size up if you want to wear your jeans or insulating clothing under them, and they aren't great for warmth all alone.

Reviewed by Willametta from Corvallis OR on Saturday, January 10, 2015

I loved my pair so much I got these for my fiance to wear for Oregon bike commuting and farm work. Right now there's not a carhartt men's pair of rainpants that is made of the same heavy nylon duck fabric as the shoreline men's jacket, and these pants fill the bill. He commented that though the inseam is less roomy than on typical men's rain pants, it is still plenty comfy and actually less apt to trip him up. A size medium fits us both: he's men's size 34, I wear sizes 6-8.

I'll also add that I've worn these pants for cross country skiing, fieldwork in farm and back-country settings, and applying herbicide to blackberry and hawthorne. When having durable and waterproof fabric is essential, these pants do not disapoint.

After about a year the sides of the knees can wear through if used for biking or frequent kneeling.

Verified Buyer

Reviewed by Bikergirl from New York on Saturday, December 27, 2014

I was searching for great waterproof pants for a long time; one that's sturdy and tough against abrasions; one that will zip over my rain boots and long. These are it! They are rather heavy and more suitable for cooler temps but thats fine for now. I'm very pleased with them.

Now the search for something lighter and packable for warmer temperatures....

Reviewed by Emily is a Rainbow from California on Tuesday, December 16, 2014

Nothing comes in my size and these are no exception... thankfully they have adjustable velcro on the sides to cinch them smaller... unfortunately the velcro strips aren't quite long enough to cinch the waist to the point that I won't need to wear a belt still.

Other than that, I am STOKED on the idea of these. I wore some at work this summer, hiking through thick brush during and right after heavy rainstorms, and I knew I needed to buy some for myself. They are women's so they fit the female form as they should, they are double-front so they stand up to heavy abuse, they were the most waterproof pants I wore all summer (I had 3 different ones I wore trying to find ones that worked better), and they are easy zip-offs up the sides (with double layer waterproofing flaps over them to stay dry) so you don't have to take off your boots, or struggle to get them over boots, to put them on or take them off.

Reviewed by Dana from NJ on Thursday, December 11, 2014

Got these to use as snow pants and am very happy with them. They are a little on the heavy side due to the thick material and the side zippers and buttons but I'm not using them for hiking so its fine. They have a mesh lining and are perfect over a base layer. I've used them in one snowstorm so far and I stayed warm and dry. The Velcro pull tabs on the waist adjust easily to get a good fit and gives some flexibility to fit over difference base layers. I'm about 5' and 115 lbs and the xs in (I think) the 28 length fits perfect and ends right before touching the ground. Although I'd probably go up to a small if I was going to wear really heavy base layers.

Verified Buyer

Reviewed by Tina from Maine on Monday, December 8, 2014

Very well made, sturdy and tough, will stand up to a rigorous days of working out in the cold.

Verified Buyer

Reviewed by Julia Cutshall King from Somerville, MA on Wednesday, November 19, 2014

My issue with these pants regards Carhartts, not STP. I were a small size, which these were advertised as, and they look like clown pants on me. I work construction, I've never found a Carhartt product for petite women that isn't "cutesy" and lacking in functionality--i.e. pockets (above pants had 1), actual workability (clearly, women don't do construction in Carhartt land), and prices that were, if it weren't for STP, far more expensive then men's clothes.
These pants will make great snow pants; I'd never have even kept them had they not been discounted.