Whether you're a dyed-in-the-wool racer or a weekend warrior, Castelli cycling apparel is engineered to provide unmatched fit and exceptional performance in the saddle. Founded in Italy by Armando Castelli, this brand has been outfitting cyclists with cutting-edge products for more than seventy years. Today, Castelli bib shorts, cycling tights, jerseys, jackets and accessories are trusted by some of the best athletes in the sport, including the entire Cannondale Pro Cycling Team. If you're looking for cycling clothing that is built on decades of innovation and a true racing pedigree, consider
... Learn more about Castelli
choosing Castelli jerseys, bike shorts and bib tights. These products are so well designed, it's almost an unfair advantage. ... Less
About the Castelli Brand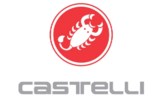 Verified Buyer

Reviewed by Abraxaas from Vermont on Tuesday, September 27, 2016

So I bought this needing something to take me through the fall for trail riding. I loved the style and that it wasn't too road bike looking. It is far too nice for me to trash it trail riding so now it will become my go to layer heading to the office. As I have found with Castelli clothing, the sizing runs a bit small so order up- I typically wear a size small and found the medium to be a good fit. Not too loose, but not tight either. The only thing that would make this better is to have zippers on the pockets.

Reviewed by Lana from Virginia on Monday, September 26, 2016

This jersey last for few times wearing......the first date wearing it, jersey got ruin everywhere from my finger nails, from the helmet belt, from the bench...it made from the extremely delicate fabric can be easily damage. Bad purchased for me...

Reviewed by BelleNC from NC on Tuesday, September 20, 2016

For these to be the lower end of the Castelli brand, they are really nice shorts. The chamois is perfect. I have been cycling for about 2 years and these are the first shorts I've put on that didn't bother me in some way. They do come up rather high in the back, but that doesn't bother me as you don't have to worry about showing any skin just in case your jersey comes up. I can wear a small in most cycling clothing, but I am probably on the cusp between small and medium. I got these in a small and they are definitely tight, but not in a bad way (I'm 5'6'" 125 lbs). The only thing that might be an issue is them becoming see through after a lot of washes and wears, but hopefully that won't happen for a while. I'm definitely going to keep my eye out for more Castelli!

Reviewed by Peppers from Utah on Friday, September 16, 2016

Just got these rode this morning about 35 degrees fingers hot cold stayed cold.

Verified Buyer

Reviewed by Eagle Dad from San Diego, CA on Friday, September 16, 2016

These are the thinnest pair of legwarmers that I have. I got them because they are perfect for Southern California winters where you don't need the heavy fleece-backed leg warmers. Because they are thin, they are easy to take off when the weather warms up and stow in your jersey pocket. These are made of lightweight lycra with no insulation at all. These are perfect for Southern California fall and spring riding (most winters also) but would not recommend these for other colder places especially in winter. I'd say these are good for 55-65 deg temperatures with a slight breeze. Bought a pair of mediums and they are a little on the tight side because of my muscular legs (e.g., track sprinter). For most "skinny" cyclists, normal sizing should be okay. They do run a little long so they may be perfect for the taller crowd.

Reviewed by Colette's mom from California on Thursday, September 15, 2016

Great shorts, I've ordered three pairs! I'm 5'6" and weight 122 lbs and the small fits perfectly.

Verified Buyer

Reviewed by Lana from Virginia on Tuesday, September 13, 2016

Very nice looking and comfortable. I ride 20-40 miles every day and these shorts are great. Fit true to size, i am 5 feet 112 bls, got size small. I will get more of these if they have other colors

Verified Buyer

Reviewed by JAY from Texas on Tuesday, September 13, 2016

Great bibs...comfortable for longer rides. Fit a bit small as other reviewers have commented. I'm 6'1" 185 and the XL fit pretty well.

Verified Buyer

Reviewed by Rockinazmom from Arizona on Saturday, September 10, 2016

These gloves are super cute but they aren't the easiest to get on because they are pull on gloves - no velcro opening. The cushioning is just ok not great.

Verified Buyer

Reviewed by CHRISTINA from Squaw Valley, Ca on Thursday, September 8, 2016

Got these gloves for thicker gel pads. Hands go to sleep and I can't even brake effectively. Only used them twice but they seem to have helped.