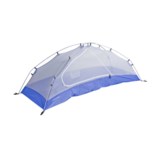 Closeouts. The Catoma Outdoors Limbo 1 tent tips the scales at 3 lb. 6 oz. and answers the question "How low can you go?" with a free-standing, solo backpacking tent. Catoma Outdoors has made tents for military and wilderness firefighting applications since 1993.
Freestanding, lightweight solo tent for backpacking and camping
Bathtub floor and taped seams on floor and fly
Internal mesh storage pocket
Includes aluminum tent stakes
1-person, 3-season
Floor: 96x36", 24 sq.ft.
Vestibule: 9 sq.ft.
Height: 30"
Stuff size: 21x6"
Weight: 3 lb. 6 oz.
Material:
Floor and fly: 40 denier ripstop nylon with 2000mm waterproof polyurethane coating
Poles: DAC Featherlite NSL 8.84mm diameter
Closeouts. China.
Average Rating based on
12
reviews
4.083333
0
5
Reviewed by konadawg from Grande Prairie, Alberta, Canada on Wednesday, December 16, 2009

You cant ask for any more from this tent, what it does it does it well.

Best Uses: Backpacking, Car Camping, Hiking, Mountaineering
Describe Yourself: Casual/ Recreational
Pros: Comfortable, Easy To Set Up, Fly Works Well, Lightweight, Sturdy
What Is Your Gear Style: Comfort Driven

Verified Buyer

Reviewed by Happygodavid from Saint Paul, MN on Thursday, July 9, 2009

I've tried several solo tents, and for the money, this was the best. Tried REI T1, Big Agnes Seedhouse, and the Marmot EOS (my favorite). Then I saw this tent at Sierra for cheap, thought I'd give it a try, and I like it almost as much as the Marmot. Sturdy construction (minus the zipper; it feels flimsy, but so far hasn't given me grief), wide floor space for a solo (topped only by the Seedhouse). Con would be the height for some folks, but I don't mind it. Solid tent.
I also contacted Catoma and bought a footprint; they were extremely helpful. I really hope this company sticks around.

Best Uses: Backpacking, Hiking
Describe Yourself: Avid Adventurer
Pros: Comfortable, Easy To Set Up, Fly Works Well, Lightweight, Sturdy, Waterproof
What Is Your Gear Style: Minimalist

Verified Buyer

Reviewed by erchen from Farmington on Wednesday, July 1, 2009

t flipped open easily. But the ends curved up. And it is small - room only to lie down. And it took 2 of us with directions over a half hour to figure how to put it away. Didn't bother to try the fly, the tent itself was so limited.

Best Uses: Car Camping
Cons: Flimsy Construction, Too Cramped
Describe Yourself: Casual Adventurer
Pros: Easy To Set Up
What Is Your Gear Style: Comfort Driven

Verified Buyer

Reviewed by Bikin' Nate from Minnesota on Monday, June 8, 2009

I really liked what I saw in terms of the size of the tent (the dimensions for a solo are pretty big in its class). It was very easy to set up--both the tent itself and to put the fly on. However, I would have really liked to see internal guy line loops that are attached to the poles like some of my other tents. Where I tent, it can get pretty windy in the open. To save the time (and I'm a little lazy) I often don't set up the guy lines. But it's nice to have the option from inside the tent if I need to should it get very windy. Otherwise, because of the larger size, ease of setup, weight, color, I still recommend this to a friend if they know it'll work for them. Having the entrance in the middle of the tent is the reason I bought this one (as opposed to solos where you come in from the end).

Best Uses: Backpacking, Bike Touring, Hiking
Cons: Flimsy Construction, No guy lines
Describe Yourself: Casual Adventurer
Pros: Dimensions, Easy To Set Up, Lightweight
What Is Your Gear Style: Minimalist

Verified Buyer

Reviewed by sue from albany ny on Tuesday, May 26, 2009

I took this tent on the Kalalau trail on Kauai. It was light weight, easy to set up. It never rained, I solved the un-tight fly by using a small bungee cord on the back of the fly. It looked like the rain would run off nicely. Lots of room for me, I'm 5'2". Zipper a little flimsy, I was just careful with it. Good deal for the price.

Best Uses: Backpacking, Hiking
Cons: Flimsy Construction
Describe Yourself: Casual Adventurer
Pros: Comfortable, Easy To Set Up, Lightweight, Waterproof
What Is Your Gear Style: Comfort Driven

Verified Buyer

Reviewed by noctiluca from Sedona, AZ on Saturday, May 23, 2009

At 5'10" this tent is very roomy. Set up is a breeze. Construction is high quality! Could use more pockets. With the 40D, floor I would recommend getting the footprint directly from Catoma. Fly doesn't come with guy lines but then again...most tents don't. ULTRALIGHT!!!!!

Best Uses: Backpacking, Car Camping, Motorcycle Camping
Describe Yourself: Avid Adventurer
Pros: Comfortable, Easy To Set Up, Fly Works Well, Lightweight, Sturdy, Waterproof
What Is Your Gear Style: Minimalist

Verified Buyer

Reviewed by Coffee in your cup from Denver, CO on Friday, May 22, 2009

I like this tent. It is light weight, and if you have the right kind of pack that allows you to strap it on easily, you are good to go. I like the design, I like how I have equal room for my feet and my head, I like how the whole tent is mesh, it is kind of like sleeping out doors!! The tent is very easy to set up (thankfully, because for some reason it did not come with directions!!), and breaks down just as easily. Cons I would say, are that I did get rained on and the tent did collect condensation, although I think that might have something to do with the fact that I didn't set the fly up correctly the first time (and it didn't rain after I set it up correctly). Also, there is not enough room to sit straight up, which is kinda annoying, but once I got used to it, I was cool with the hunching! All-in-all, I would say for the price, and weight, this tent is a great buy!! Happy camping!

Best Uses: Backpacking, Car Camping, Hiking
Cons: Collects Condensation, Too Cramped
Describe Yourself: Avid Adventurer
Pros: Easy To Set Up, Fly Works Well, Lightweight, Sturdy
What Is Your Gear Style: Comfort Driven

Verified Buyer

Reviewed by Drewski from Spartanburg, SC on Wednesday, May 20, 2009

Looks very small on the outside. Very surprising how much room the tent offers when on the inside. Very easy to set up. Great for lightweight backpacking!

Best Uses: Backpacking, Hiking, Mountaineering
Describe Yourself: Avid Adventurer
Pros: Easy To Set Up, Fly Works Well, Lightweight, Waterproof
What Is Your Gear Style: Comfort Driven

Reviewed by GeoStudent from San Diego, CA on Thursday, April 30, 2009

I'm a little confused, size listed is 96x56" but the width is 35" at its widest in the middle, and tapers to 32.5" at head and foot. It sets up really easy and appears to be sturdy. The vestibule is tiny... not large enough to cook in even if you were sitting in your tent; it is perhaps large enough to store your boots out of the rain, or a camelback. I am disappointed about the lack of width, but it seems like a nice tent.

Best Uses: Backpacking, Hiking
Cons: Too Cramped
Describe Yourself: Outdoor Professional
Pros: Easy To Set Up, Lightweight
What Is Your Gear Style: Minimalist

Verified Buyer

Reviewed by Bill D; scout leader from Cleveland OH on Wednesday, April 1, 2009

I'm planning to use the Catoma Limbo 1 on a scout trip to Colorado. It looks to be perfect - light, packable, plenty of room for 1 and quality construction

Best Uses: Backpacking, Car Camping, Hiking
Describe Yourself: Casual Adventurer
Pros: Comfortable, Easy To Set Up, Fly Works Well, Lightweight, Sturdy, Waterproof
What Is Your Gear Style: Comfort Driven