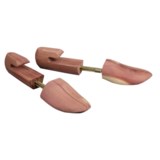 2nds. Throw open your closet door and breathe in the fragrant, forest-fresh scent of cedar. Cedarbrooke shoe trees by Woodlore naturally protect against moths and can be aromatically rejuvenated with light sanding.
Average Rating based on
302
reviews
4.688741
0
5
Verified Buyer

Reviewed by Ziggy from Pittsburgh on Saturday, April 4, 2015

At the sale price there is no reason not to order sets for all your fine footwear.

Verified Buyer

Reviewed by Tyler from Illinois on Tuesday, March 31, 2015

I was very pleased with the shoe trees I bought! They kill the smell from my shoes, plus keep them looking much better than they would have sans-tree. I'm thinking about buying more pairs for my other shoes!

Verified Buyer

Reviewed by Vaca Mac from San Francisco on Wednesday, February 4, 2015

I enjoy having cedar shoe trees to treat my good shoes appropriately.

Verified Buyer

Reviewed by DWE from Northern California on Tuesday, February 3, 2015

these are excellent quality products. I purchase them when I am able to get them on sale.

Verified Buyer

Reviewed by crusoe from Hawaii on Tuesday, February 3, 2015

Very well made and constructed. The medium is appropriate for my 9.5 shoes without the spring portion extending much. The toe section has a slight downward slope to it, and I've noticed they fill out my dress shoes better than casual shoes or boots with more voluminous front portions.

Verified Buyer

Reviewed by VinceG from Pa on Tuesday, February 3, 2015

With shoe trees inserted in shoes, your footwear will keep their shape and have a longer useful life.

Verified Buyer

Reviewed by daputtputt from USA on Monday, February 2, 2015

Just as described,

Work great: they are shoe trees who cares if they are seconds?

Price was right. I ordered some more they are that good.


Verified Buyer

Reviewed by no style without quality from boston on Thursday, December 18, 2014

these are sufficient. not high end; that's a different thing altogether. but given that you can get these for around $12 on average, if you have a lot of shoes, these are the choice. the next step up in quality costs $35. and great shoe trees cost $60-120. so these are a great deal.

Verified Buyer

Reviewed by Walter from NYC from New York on Tuesday, December 16, 2014

A very low cost item such as shoes trees add years to the life of a pair of shoes. Men's shoes are expensive and this small item will assist in protecting your investments. With every new pair of shoes I purchase, I buy a pair of shoe trees. Sierra Trading Post offers high quality shoes trees at the best available price. Do the research and you'll find most high-end shoe stores selling shoe trees at prices equivalent to a pair of shoes.

Verified Buyer

Reviewed by William from NY on Saturday, December 13, 2014

Cedar is completely pink/red (as opposed to tan), indicating it's made of high quality heartwood.