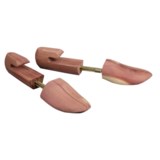 2nds. Throw open your closet door and breathe in the fragrant, forest-fresh scent of cedar. Cedarbrooke shoe trees by Woodlore naturally protect against moths and can be aromatically rejuvenated with light sanding.
Average Rating based on
298
reviews
4.684563
0
5
Verified Buyer

Reviewed by The Dresser from California on Wednesday, January 18, 2017

These are a great price and perfect for preserving your investment.

Verified Buyer

Reviewed by The Dresser from California on Wednesday, January 18, 2017

These are a great price and perfect for preserving your investment.

Verified Buyer

Reviewed by Jacobo Peterman from NYC on Tuesday, January 10, 2017

I've become a big believer in quality footwear over the years, having been burned by cheap shoes. One of the recommendations I see most often is to use cedar shoe trees for your leather shoes between wears, as it helps absorbs the moisture and keep the proper shape. It also helps stretch them out when first breaking them in. I got a new pair of Red Wings for Christmas and quickly purchased these. I've had a few pairs of these cedar shoe trees before so I know they function just as they're supposed to. I've also had trees from other manufactures and will say these have the same quality and function as those. No need to pay 2-3x the price.

Reviewed by Sweb from Cal on Thursday, January 5, 2017

One set perfect, one set not so perfect. Great cedar smell, functionable.

Verified Buyer

Reviewed by Jack from Michigan from Michigan on Thursday, January 5, 2017

Have you priced shoe trees lately? Costly! I have bought a ton of these from STP over the years, and I stock up whenever they go on sale. These are high quality trees. You will not find better nor less expensive.

Verified Buyer

Reviewed by Art from Carlisle, PA on Wednesday, December 7, 2016

I bought these for a new pair of golf shoes and they are of good quality. I am prone to this style of heel section as it is easier to get in/out and I believe it is better for the shoes.

Reviewed by Jacobo Peterman from NYC on Tuesday, October 4, 2016

I once was told to not pinch pennies on those things that connect you with the ground. Things like tires, mattresses, desk chairs and--especially--shoes. Taking care of a fine pair of shoes is much better than buying cheap stuff every year. As you're probably aware, cedar shoe trees help shape the shoe, stretching the leather and help keep the leather dry. Moisture, especially from sweat, is a huge factor in quality shoes breaking down. These go a long way to preventing that. Pair it with regular cleaning and conditioner and you should have years, if not decades, out of your quality footwear. These are every bit as good as shoe trees 2-3x the price.

Verified Buyer

Reviewed by Brian from Southwest on Sunday, October 2, 2016

I discovered these shoe trees after I had purchased a pair of Red Wing Iron Rangers seconds from Sierra. I knew this was an accessory I needed to help he longevity of my new boots and when I discovered Sierra had these from Woodlore I decided to give them a shot since the boots turned out so wonderfully. I had always heard Woodlore made quality shoe trees and at the price that Sierra was offering was just too good to pass on. I was not disappointed. They had a strong scent of cedar and fit exactly as into my boots as needed. I can tell they are quality and will serve me for years to come. I cannot tell why these are seconds but I can tell they are worth the reputation and a great deal to take advantage of here at Sierra.

Verified Buyer

Reviewed by Zeeman the Beeman from Maryland on Tuesday, September 27, 2016

Very sturdy shoe tree. I am a 'gym rat' and put these in my shoes after each workout -- have greatly extended the shoe life. My gym shoes are dry and fresh the next day. Would recommend lightly sanding them occasionally. Have to disagree with other raters who say that the mechanism is not good quality. I have had many shoe trees from several different manufacturers -- they all have 'spring' problems and will eventually wear out if you are not careful with them. Take your time placing them in your shoes. I also like the big heel on these shoe trees versus the 'rinky dinky' heel on most others. For this price they are a steal.

Reviewed by The Rising Wind from Barad-Dur, Mordor on Friday, September 9, 2016

This is the first pair of shoe trees I've ever purchased, so really can't judge as to how nice they are, but they seem to do what they're supposed to do. They fit in my shoes perfectly and smell refreshing. Great product for the price!

Verified Buyer

Reviewed by Mr. Philadelphia from Philadelphia on Wednesday, August 3, 2016

Keeps my work boots nice and dry. You may want to round of the edges with some sand paper.

Verified Buyer

Reviewed by Bocce from Napa on Tuesday, July 12, 2016

Use these and your shoes will look better longer.

Verified Buyer

Reviewed by bob from louisville, ky on Wednesday, July 6, 2016

Great price. Needed a few extra in case I make some more purchases.

Verified Buyer

Reviewed by Don from California on Saturday, May 21, 2016

Exactly what I wanted!

Verified Buyer

Reviewed by Steego from California on Saturday, April 30, 2016

I have always used these for my nicer shoes. It makes them look new for years.

Verified Buyer

Reviewed by John L from Louisiana on Wednesday, April 20, 2016

I have too many shoes to count and have bought shoe trees from just about everywhere. Wish I had known I could've saved some money by coming on here. I have at least 30 pairs of Allen Edmonds shoe trees which are made by Woodlore. Just wanted to mention that for those of you who aren't familiar with this company...I would imagine they sell more shoe trees than anyone else in the US.

Verified Buyer

Reviewed by Chicago native from Chicago on Sunday, April 17, 2016

The shoe trees in the size I ordered fit properly in the shoes for which they were intended.

Verified Buyer

Reviewed by Alfein from SLC, Utah on Tuesday, March 15, 2016

Sizing was appropriate and these are constructed well. This is the style of shoe tree that I prefer for men's shoes (don't know how they fit in women's shoes) and at the prices STP offers, acquiring these was a no-brainer. In fact I plan to acquire a few more before they disappear. Good buy.

Verified Buyer

Reviewed by Ihor from New York City on Wednesday, March 2, 2016

Great to keep shoes looking fantastic and smelling great

Verified Buyer

Reviewed by boot man from San Diego on Tuesday, February 23, 2016

Good value , good quality ,(however one pair did have wood splinter chips). Over all I would buy again. I also ordered one size larger and that worked for me.

Verified Buyer

Reviewed by pima1234 from Michigan on Monday, February 8, 2016

What I like most about these are the handles, of course. They support the heel better than the straight handle shoe trees. So far, they do the job well. I feel as though maybe durability could be an issue, as they don't feel as sturdy as other higher end shoe trees I have.

Verified Buyer

Reviewed by PDub from Winston-Salem on Friday, January 8, 2016

I only have two of these, one from STP and one from another company. The heel on this is narrow, not as full as the other brand, and I personally prefer the fuller heel. Functionally, these work great, smell great, and keep the shoe upper in good shape. Still worth purchasing.

I had a little trouble deciding on the size I wanted, so here is my finding on sizing. I wear a 10-10.5 in most shoes. I use these in Johnston & Murphy's (size 10 and 10.5) and Allen Edmonds (size 10). I purchased the Large Shoe tree and the fit is perfect.

Verified Buyer

Reviewed by Joshua in VA from Virginia on Wednesday, January 6, 2016

Untreated cedar deodorizes and dried shoes while the dual direction expanding foot keeps their shape. Great quality and an absolute must for anyone owning quality footwear.

Verified Buyer

Reviewed by Rdc51 from Massachusetts on Tuesday, December 29, 2015

I have quite a few pairs of shoes and most have these shoe trees in them. With the finger grooves they are easy to insert and remove. They also keep the shoes dry and hold their shape. I have tried more expensive ones but I always come back to this brand and style.

Verified Buyer

Reviewed by CP Colorado from Colorado on Monday, December 7, 2015

not too much to mess up with this item

Verified Buyer

Reviewed by ManMan from California on Wednesday, November 11, 2015

I couldn't find any flaws with these 2nds

Verified Buyer

Reviewed by Josh from Louisiana on Thursday, October 22, 2015

I used to buy these at Nordstrom Rack when I lived near one, but it's great that they have these here. I have bought several and never had anything wrong with them.

Verified Buyer

Reviewed by mak from Delaware on Tuesday, October 20, 2015

I previously ordered six and then ordered another six. I wear a 10 or 10 EE depending on the shoe and the large fit all my shoes well. I like that the heel portion is a bit wider than many other shoe trees so the heel is kept rounded. As for these being seconds, in this order, four of the six had no perceptible flaws and two had small and very minor rough spots that didn't affect their use. I recall the first order being about the same. If I buy more shoes, I'll return to STP to buy more of theser.

Verified Buyer

Reviewed by AT Hiker in training from Virginia on Thursday, October 15, 2015

Great product at half what you would pay at a retail store. May be labeled 2nds but unable to find flaw. Size advertised fit perfect. One pair initially did not have a strong strong aroma of cedar but when it was sanded slightly it came to life. Shoe trees help shoes keep their shape and absorb moisture. Shoes trees extend the life and appearance of even inexpensive shoes

Verified Buyer

Reviewed by Amadea from MN on Thursday, October 8, 2015

My husband wants another pair. They are just what he was looking for at half the usual price.